I've tried to write this story so many times since June 10th, 2016. I'm afraid that I'll write it wrong, that I won't have the skill to turn my memories into A Real Birth Story – not just a retelling of facts and events, but a real story, with tension, rising and falling action, and a really moving message.
And that's probably where it stops. Did my birth have a message? Does it have to? Maybe the message that birth is raw and messy and painful and never exactly what you expect, just like life? Or… Wow, look what the human female body can do with the help of – or in spite of – a supporting cast of loved ones and medical professionals? That there's never been a birth like mine, so let me tell you about every tedious, exhausting centimeter of it?
Additionally, I was hoping to have this written and posted before I had another birth story to tell. I almost met my goal, but not quite; as I am finishing, my first-birthed child is doing arts and crafts at daycare while my second-birthed, two-month-old child is napping in her crib (like a g.d. angel). I'm feeling compelled to look back at what I've written here – all 7,000 words, if that can be believed – but should I edit? I don't know. My instinct is to let my words and feeling be. This is what my memories were like a few months ago, when I only had one birth under my belt: loquacious, dramatic, and – in my own, loquaciously dramatic way – reverent. Now that I've done this twice, I have a new perspective about what was happening the first time around, with me and my firstborn. I can see the struggle – invisible to me, even just months ago – between badly wanting to be a mother and fearing for my health, my marriage, and my identity. The pregnancy (and preceding Planning to Be Pregnant) the long overture; the birth the loud and sudden shift into the opening number; the strum of apprehension and anxiety the theme churning below it all.
The message?
That there is probably nothing as physically, mentally, and spiritually frightening as bringing another life into the world.
That sometimes everything can go wrong while simultaneously going exactly right.
That the lead-up might be pointless, the story mostly boring, and the aftermath of anecdotes only the "you had to be there" kind of funny, but it's all part of the drama of being human – of perpetuating the human race – and there's really only one way I can figure out how to tell it, so here it goes.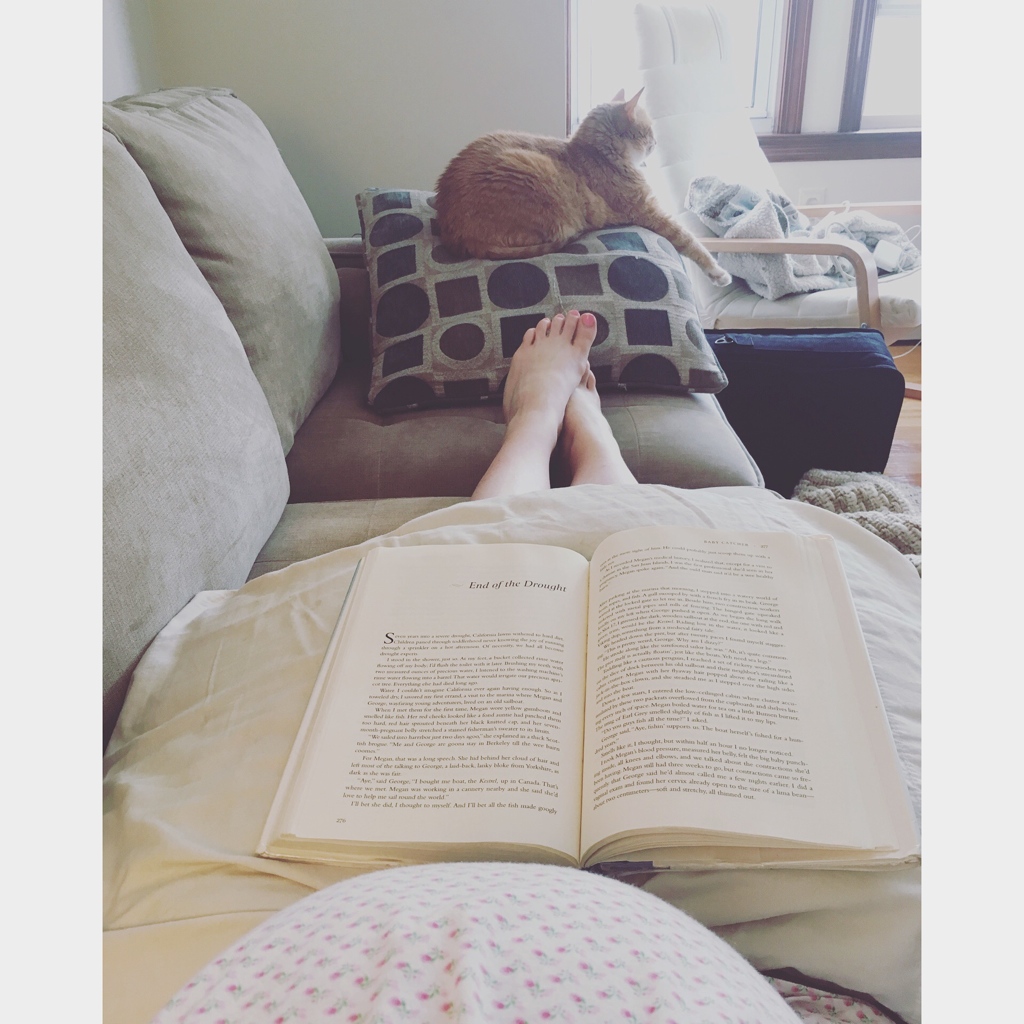 Part I: The Pointless Backstory
I felt fine all day. Unremarkable. As normal as could be, given my pretty-dang-huge state. According to photos taken on my phone, the concerns of the day – June 9th – were exceptionally mundane. We got a parking ticket. I found the mailbox closest to our new apartment. I sent a screenshot of my terrible sleep stats to my sister. I went to CVS, where I received a ream of coupons.
This was my newly late-third-trimester utilitarian life. After months of planning to bring our baby home to our 450-square-foot, one-bedroom apartment, we'd finally been granted an opportunity to relocate into something more suitable for a growing family. So we moved. My miles long "To-Do Before Baby" list vanished in face of the daily labors and concerns of moving house. Every day there was something to pack, to unpack, to clean, to shuttle, to buy, to locate. Work was more of the same – wrapping up projects, sending emails, and leaving instructions for coworkers – with breaks to lumber over to my weekly doctors' visits.
That day, I lumbered home from work at five. My husband called me on his way home from an end of the school year Teachers Drinking type event. He sounded somewhere between cheerful and tipsy. His band was playing that night at a restaurant in our neighborhood – did I want to get dinner with him before they played?
Sure. Why not. The food's not great, but it's food, and we were about to have a baby! We were supposed to be getting out of the house for quality couple time while we still could! While I waited for my ride, I triaged the new apartment and set upon the second bedroom. It was slowly filling with "homeless" items, like my husband's musty sheet music collection, but it was also where potential houseguests with air mattresses might land. I cleared off the surface of my desk – the only piece of furniture in the room – and plugged in a lamp. I investigated the sheet music. Lance called, and I hopped into the car. Slid into the car? Plopped into the car? I was 38 weeks pregnant. I probably plopped.
I went from feeling normal to irritated pretty quickly. There was a coworker in the car, hitching a ride home. My arrival did not pause their loud, too jovial banter. They were, in my estimation, tipsy, and my husband was not driving like a cautious tipsy person ought. When his friend got out of the car, I asked for the keys and grumpily drove us both to the restaurant where we sat down for a mediocre meal.
Shameless, starving pregnant lady that I was, I ordered both an appetizer – grocery-store quality guacamole and chips – and a burger. Quality couple time, here we come? But by the time my entrée was served, my husband's band started to arrive. And by arrive, I mean barrel into the small restaurant, pull a chair up to our table, and talk shit with my still jovial and tipsy husband. Romantic.
I finished my burger as quickly as I could and left with the car: tipsy husband can stumble home later. We had so much to get done – if I had to do it by myself, I would. I drove to our old apartment and started loading up the car with very important items that I needed right this second. Like a bulletin board, so I could finish setting up my entryway table. And the hanging bins containing 100% of our unborn child's clothing and blankets.
When I parked my car outside of our new apartment, I remembered I was hugely pregnant and left basically everything in the car. Make my deadbeat, annoying, tipsy husband deal with it later.
I went upstairs. I set up my entryway table. I unpacked some stuff. I got dressed for bed and thought I'd sit and read in my pajamas.
Then my water broke. Two weeks before my due date.