Full disclosure: of all the lists of books I make for myself, this is the list I never follow. Let's look at last year why don't we? I wanted to read ten books. I read one – See You at Harry's. I read 3 more before the end of 2012, but that is a rare and unusual feat.
In the interest of giving-myself-a-break, can you please look at my summer life lately?
2009 – Jumped from 24 hrs/wk to 32 hrs/wk + Summer Reading Program + Preparing to Move to Boston + Moving to Boston
2010 – One intense summer class + Working 20 hrs/wk + Internship across the river 16 hrs/wk + Moving to a new apartment
2011 – Two intense summer classes + Working 20+ hrs/wk
2012 – Working retail + Applying for jobs and job interviews + No place to live come September + New job + Moving
2013 – Planning a wedding + Getting married + Taking a long international trip for the first time + Moving
I would like to pat myself on the back for merely surviving FIVE YEARS of RIDICULOUS SUMMERS. However, I would like to mention that come hell, high water, exhaustion, stress, or Boston real estate… I still read plenty of books. Why I eschew my selected summer reading titles, I do not know.
I do not suspect that this summer will be any different. Not only am I doing all of the above tasks, I also have an impressive stack of review books on my docket for the next months. If I want to retain any hope of meeting my deadlines, I must attack those titles before addressing any arbitrary reading list.
But will that stop me from creating an arbitrary reading list?
No. Of course not.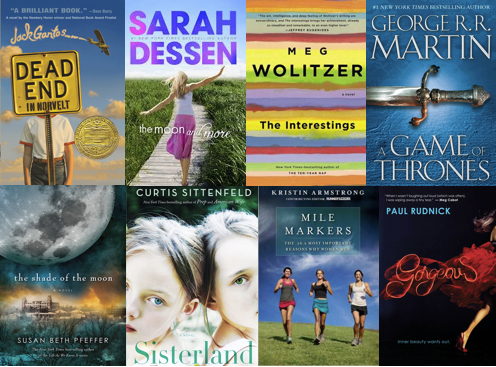 Dead End in Norvelt by Jack Gantos
Alright, I am GOING TO READ THIS ONE THIS SUMMER. In fact, I have the audio completely downloaded and ready to listen to. You see, since last year's post, I have gained the power to select and purchase children's and teen audio books. Such kismet.
The Moon and More by Sarah Dessen
A freebie. I'll take it!
The Interestings by Meg Wolitzer
The hold list for this one is 10 miles long, but it's a summer camp book. I LOVE summer camp books. A hyped up summer camp book with a rainbow cover? Sign me up. Immediately.
A Game of Thrones by George R. R. Martin
You guys, I am having a problem. Regarding fantasy. And me. And how I might like it. Give me a few months, I need to process my thoughts. Also, while I am usually a staunch "Read the book before you see the movie/show" practitioner, I am thinking that watching the appropriate series and then reading the appropriate book(s) will probably be enjoyable in this case? There is so much going on in each episode that I can imagine there is tons more that just couldn't be squeezed into the show…
The Shade of the Moon by Susan Beth Pfeffer
I love this series even though it scares the absolute CRAP out of me. I've blogged about it before since I consider it to be one of my favorite dystopias, even though it's not really a dystopia… I had no idea a 4th book was in the works, and it comes out in August!
Sisterland by Curtis Sittenfeld
I like Curtis Sittenfeld in a way that I usually reserve for YA authors: although I haven't liked all of her books equally and there's nothing about her writing that particularly impresses me, I just like what she does. If she writes a book, I will give it a go. Also: Sister Story
Mile Markers: The 26.2 Most Important Reasons Why Women Run by Kristin Armstrong
I feel like my list is missing some nonfiction. I haven't read a running book since last summer, and I do like me some running books. I started this one a few times and I did like it, so I should finish it. The end. Also, I should be running right now but I decided to dye my hair instead. Lazy slacker.
Gorgeous by Paul Rudnick
I feel like my life is missing some new YA. Everyone's chatting about this one and it seems like the type of silly romp I could read in one sitting on a Saturday afternoon. One Saturday afternoon this summer, maybe?
We will see. My Saturdays are filling up fast, I might need to start a reading-waiting list. I don't even know what that is, but it sounds awful. Or like another list of books I will never read. Heaven help me.