I think a summer reading list, by nature, has to include at least two kinds of books:
books you want to indulge in
books you've been drooling over
books you know you'll love
books you can dive into and swim around inside
and
books you think you should read but don't really want to.
it's hard to break the "summer break" mentality,
getting in your learnin' before school rolls around again
So even though I have my whole reading life ahead of me and have no such academic structuring my years, I have fallen into such a pattern (or, perhaps, am in denial that no, school will not arrive e'er again)
Anyway, all psychoanalysis aside, here are the books I'm hoping to read before September begins. Some of them are indulgent, and other a response to my inner sense of Reading Responsibility.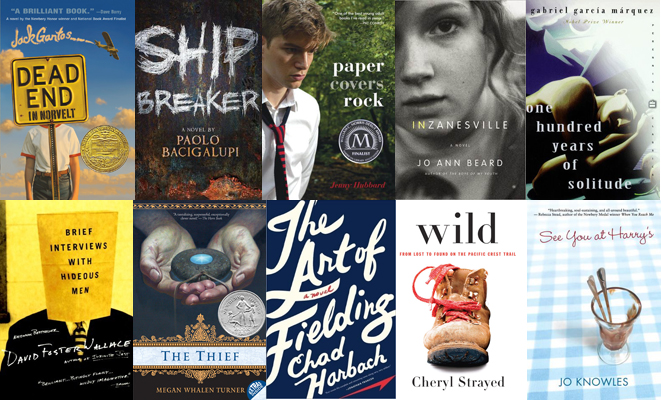 Dead End in Norvelt by Jack Gantos
Posting about awards all semester left me jonesing to keep up with recent winners. I'd prefer this on audio – Gantos reads! – but I am having trouble getting my hands on it, so we will see.
Ship Breaker by Paolo Bacigalupi
I read (and loved) the 2012 Printz winner, so I went back a year to 2011. I've checked this one out 3 times by now, but didn't get around to reading it yet. Although I am, in fact, anti-dystopia, so I'm not getting my hopes up.
Paper Covers Rock by Jenny Hubbard
Again, I read (and loved) the 2012 William C. Morris award winner, so I picked a runner up! I picked this one because it reminded me of A Separate Peace.
In Zanesville by Jo Ann Beard
This was the Alex Award winner that caught my attention. And after months of prescribed YA, adult fiction always pulls me in.
100 Years of Solitude by Gabriel Garcia Marquez
The obligatory "classic." I try to read one a summer. Past summer classics include The Bell Jar, Their Eyes Were Watching God, The Awakening. Last summer was a bit busy. Does My Darling, My Hamburger count as a classic?
Brief Interviews with Hideous Men by David Foster Wallace
I also try to read a random book that has been sitting on my shelf for over a year to finally knock off. The winner. I have read DFW since my college creative writing days, but I'm not going to lie – I mostly want to read this one so I can watch the movie, adapted by my favorite celebrity crush, John Krasinski. How awful of me.
The Thief by Megan Whalen Turner
One last BUT IT'S GOOD FOR YOU!! read: some high fantasy. I'm trying to build up a tolerance, and I've heard great things about this series. I also heard Turner speak a few years ago and was completely in awe of her brilliance, so I'm hoping this won't be as bad as I am anticipating.
The Art of Fielding by Chad Harbach
On to indulgence… this is the book that everyone I know reads and says "Hands down best book I'll read all year." I usually like books like that. I am very high on the hold list, however, and potentially leaving my library district before the summer's end, so this might be tricky…
Wild by Cheryl Strayed
I love contemporary memoir. This one has adventure and drugs! Plus, my mama is reading it, which means it is probably good. Although my mom does have a strange affinity for books about mountain climbers… so maybe I shouldn't read too much into her tastes 🙂
See You At Harry's by Jo Knowles
I have a shiny new hardback of this one. I have heard this one is good and sad, which apparently I like? Did I mention how shiny the hardback is?