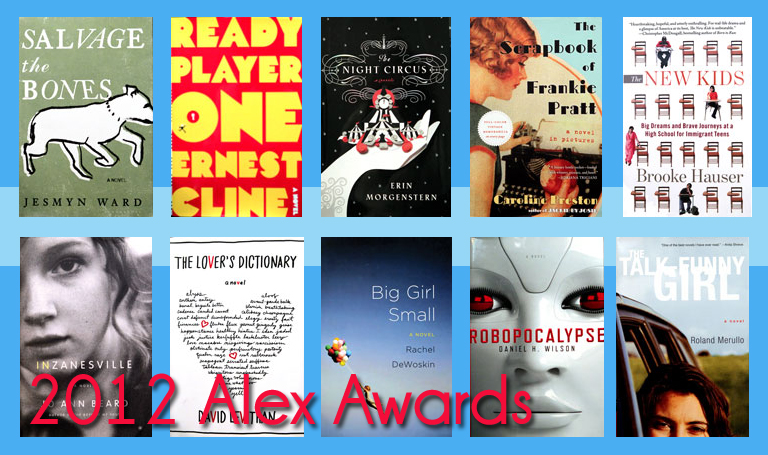 The Alex Awards are a list of books, written and published for adults, that the awards committee deems to have high teen appeal.
I should pay more attention to this list than I do because 90% of the adult books I have read probably fall into this category. And the more I look at this list, the more I want to add them all immediately to my hold list and devour them.
Salvage the Bones by Jesmyn Ward
This book is about a poor family in Mississippi before Hurricane Katrina, a pregnant teenager, and perhaps some dead puppies.
WHAT A FUN UPLIFTING READ!
But it did win the National Book Award, so props! I still want to read it. Dark & twisty Jessica gets sick of happy endings sometimes.
Ready Player One by Ernest Cline
A few weeks ago, I was working on a library class project called Talk to Teens. Part of the process was presenting different teens with the same stack of 10 books to peruse and then take down their opinions and comments. Out of the 10 books I selected – which included all sorts of books, YA, adult, graphic novels, etc – Ready Player One was hands-down the most popular title!
I, however, am not so convinced. The plot summary makes it sound like this premise of the book is The Future, where Life is Actually Like Living in a Video Game.
Sounds cool, but actually I have nightmares/dreams all the time that I am living in a video game, so I am officially scared of this book.
The Night Circus by Erin Morgenstern
Love the cover.
Not so sure I love circus books.
However, I put this on hold, impulsively, in December. I am like, 144 on a list for 44, so we'll see how that goes…
The Scrapbook of Frankie Pratt by Caroline Preston
Oh, one I actually read! This book is heavy and shiny and lovely. I have a bit of a thing for books/movies about girls at college pre-1960s, so I enjoyed flipping through the pages as Frankie tried to find her way as a student and a career-girl and an individual. I read it in an afternoon – this Scrapbook As Book thing has really taken off! I have spotted a few other books like these on the publishing horizon…
In Zanesville by JoAnn Beard
From the Amazon book description: "She is used to flying under the radar-a sidekick, a third wheel, a marching band dropout, a disastrous babysitter, the kind of girl whose Eureka moment is the discovery that "fudge" can't be said with an English accent."
That is exactly the kind of character I would like to read about. Also, that kind of describes 14-year-old me. Or at least 12-year-old me.
The New Kids by Brooke Hauser
This book is nonfiction, about immigrant teenagers at International High School in Brooklyn, New York. Hauser follows five teenagers who have just arrived from different countries as they navigate high school and American culture at large. This book reminds me of some of the journalistic "Let's Follow Teens Around In Their Natural Habitat" nonfiction that I enjoyed so much as a teen. I'm such a voyeur. I think I would like this book, too.
The Lover's Dictionary by David Levithan
David Levithan is one of my favorite authors. Last year, my best friend from high school snuck her way into my Amazon wishlist and bought me Mad Men Season 1 and this book. And even though, yeah, it was my wishlist in the first place, I was SUPER GEEKED!
However, I haven't yet finished this book!!!! I am terrible. But at least I own it. I should get some street cred. I do really like following The Lover's Dictionary on Twitter – the little dictionary-entry style quotes are poignant even without the context of the rest of the novel.
Big Girl Small by Rachel DeWoskin
This book didn't necessarily catch my eye – the plot is about a girl who gets her school involved in some kind of scandal. I saw the narrator described as "half Holden Caulfield, half Lee Fiora, Prep's ironic heroine." I am not sure how I feel about that. To me, that combination is Kind of Crazy/Whiny/Hormonal + Quiet/Smart/Low Self-Esteem. They are both pretty self destructive. I feel like this would make for a strange read.
Robopocalypse by Daniel W. Wilson
I think I am also afraid of reading this book. Artificial intelligence takes over everyday technology? I think I watched too much Twilight Zone as a child – I remember this episode, where a guy's car tries to run him over, an electric razor chases him around… gives me the heebie-jeebies.
The Talk Funny Girl by Roland Merullo
A girl is raised by a family in such isolation that they have their own dialect (like).
A girl ventures outside of her family home and gradually discovers what is out there, waiting for her (like).
Weird story about rural New England (like).
Random abductions of teen girls going on in the background (dislike).
Three likes and a dislike… that's a pretty good score.