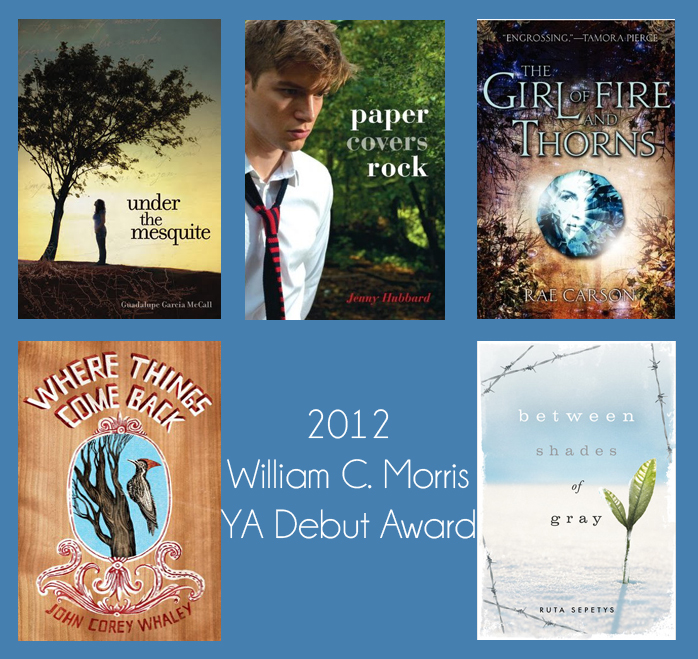 This is a new book award to pique my interest. In the past, actually, I've been skeptical of debut authors. I think I just have a bad case of JudgeABookByItsCover-itis, actually – whenever I buy a book by a new author, I usually make my purchase because I am blinded by the cover art and then get let down with the content. And being that I'm the stingiest human in existence, I remember every single instance that I feel my money has been wasted, and it hurts my soul.
However, after reading a handful of Morris Award finalists for a class last year, I was pleasantly surprised. I think if you're going to read a debut author, might as well start with the cream of the crop? Plus, as a future-librarian/children's-lit-professional, it's important to stay on top of what's new – so I'm adding this award to the list of Awards To Get Geeky About.
I know, like I need another one.
Award
Where Things Come Back by John Corey Whaley
I think I have talked long enough about this book, which in addition to taking the William C. Morris also won the Printz award, and snagged a top spot on the highly competitive Books Jessica Read in 2011 Championship.
Honors
Under the Mesquite by Guadalupe Garcia McCall
This book went under the radar in the blogosphere, but has received really positive reviews in almost every review journal. It reminds me a lot of Inside Out and Back Again, because A) they both take place within families of non-American cultures living in America B) they are both written in verse C) they basically have the same cover. Anyway, the journal reviews are incredibly glowing – "beautiful debut," "authentic," "emotional," etc.
Paper Covers Rock by Jenny Hubbard
This is a book about an all-boys boarding school, the tragic accidental death of a student who was doing some dumb teenager crap, and the guilt/redemption of the friends who watched it happen.
A Separate Peace? Finny? Have you been resurrected?
The Girl of Fire and Thorns by Rae Carson
I will say that although my indoctrination to the science fiction and fantasy genres has softened me to the idea of reading books about Things That Just Don't Exist, I still feel awful uncomfortable with selecting an epic fantasy quest to read. Even if they are purportedly quite good, which this one is.
My not-so-fantasy-hating-former-roommate did see it necessary to send me an email specifically to tell me about this title, though, even though she knows how I feel about SFF. For me, this is probably the equivalent of a blurb by Tamora Pierce or Megan Whalen Turner.
Which this book also has, by the way.
Between Shades of Gray by Ruta Sepetys
This is the only book (other than WTCB) that I had picked up before the beginning of awards season. However, it was also one of Those Books That Got Away. I tried listening to it on audio, recently, and couldn't pay attention. Le sigh. Some audiobooks are just like that, no?