For a girl who survived an English degree, a Literature Master's, and who regularly receives packages of books that are, more or less, required reading, you'd think that the appeal of the Summer Reading list must have dwindled over time. This is, of course, a falsehood. Whether or not I have time to read books in any given summer (see: Summer Reading List 2013), I still relish the ritual. Summer Reading. It's a time of the year just for books! Fun books, smart books, books of all sorts (see: Summer Reading List 2012, or, 2011). Even though I have not had a proper beach vacation since 2010, when I lovingly craft my annual list of summer reads, I imagine myself reading in my swimsuit, sprawled out with sun and waves and a sandy can of Pringles and everything else beachy. Here is a list of ten books I hope to read this summer, whether I am warming myself on the sand like a bookish sort of pale lizard or shivering in a crowded, over air-conditioned subway train. If you are looking for some of my favorite summer-y YA titles, you can check out this ancient list here. If you aren't looking so much for a summer reading list but, rather, a summer reading compendium of broad appeal, impeccable organization, and great beauty, then I will direct you to the inimitable Janssen at Everyday Reading.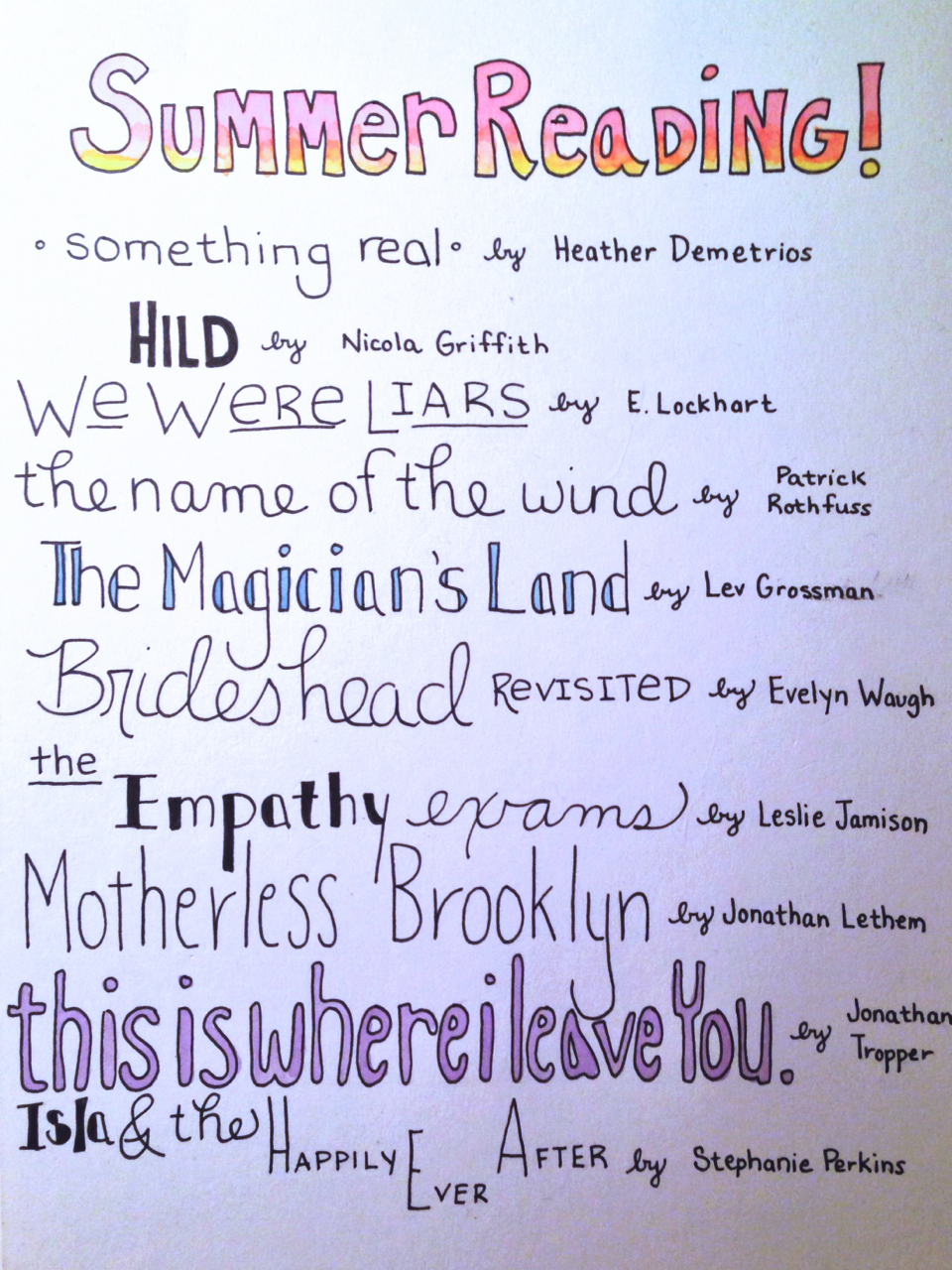 Something Real by Heather Demetrios
I decided to kick this list off with an easy one – a book I already own, and a book I've already started. I didn't get too much of a jump – just a few chapters while riding the train. But it was enough to hook me in and enough to make me feel like this will be a fun, breezy read that will keep me flipping pages. Also, I can only run into Heather so many more times before I will begin to feel embarrassed not to have read her work, and she has like, 7 more books coming out in the next two years so I need to get a jump before the deluge.
Hild by Nicola Griffith
Um, is it time already to make a summer reading confession? Confession: I never read all of my summer reading books. It's just not a thing that I can physically do. This will never stop me from making summer reading lists, naturally, but life is what life is, you know. Well, I hate to say it but Hildis probably the book I am least likely to actually read this summer. NOT because it is the least interesting book of the bunch! Oh no, that is not it at all. I will probably not read this epic feminist high fantasy tale because you know who else wants to read this epic feminist high fantasy tale? Every other citizen of Boston. I was on hold for this book for nearly a year, if you will believe that. I finally got my hands on it, and then I had to return it because I am mostly incapable of finishing a book without the option of multiple renewals. Now I am number 20 in line for just a few copies. Sad story. Sob story. Super Sad Summer Sob Story.
We Were Liars by E. Lockhart
But what is summer without a good summer re-read? Nothing. Summer is nothing. My usual summery beach re-read is Judy Blume's Summer Sisters. However, I revisted Vix and Caitlin just a few short months ago. We Were Liarsis a book that, upon completion, just BEGS you to pick it up again and start again. So I think I just might do that.
The Name of the Wind by Patrick Rothfuss
This is a fantasy book for adults. It's the fantasy book for adults that everyone says you should read if you like Game of Thrones. I can't talk anymore about Game of Thrones on this blog, so I guess I can't talk about this book either. Except that I want to read it, and also I tried to read it on my phone but I just wanted to feel a freaking book in my hand. Sincerely yours, An Obnoxious Luddite.
The Magician's Land by Lev Grossman
I should probably not talk about this book anymore, either. This is becoming a blog about books where I am not allowed to talk about any books! EXCITING! Anyway, I've mentioned it like, 5 times in the last 5 months. It's a series that I like. I will check out this third installment and read it when it comes out in August – no worries, I am high on the holds list and there's no way I'm letting 2 weeks go by without devouring it. No freaaaaaaking way.
Brideshead Revisited by Evelyn Waugh
The obligatory "classic." One must maintain the intent of intellect throughout all seasons! I have become slightly fixated with following a writer's "genealogy of ideas," as termed by Austin Kleon in Steal Like an Artist. (I am also slightly fixated with Austin Kleon, but that is a long term affliction at this point…) Anyway, when an author writes a book I like and then admits later, in an interview, to have been influenced by another book, I take note. And Brideshead Revisitedkeeps popping up, again and again, in my notes. Therefore – I should read it. (Also, it will make me feel smart. The end.)
The Empathy Exams by Leslie Jamison
Last month, I listened to Ann Patchett's This Is the Story of a Happy Marriage while I was traveling to New York for BEA. I should have read some Ann Patchett at this point in my life. God. Everyone loves Ann Patchett. Or at least a large enough portion of the people whose reading tastes I *really* trust love Ann Patchett. Shame. Shame! I have so much reading shame! Anyway, I read her freaking essays. And I freaking loved them. I want to read more essays now. The Empathy Examsis the essay collection everyone is reading right now. I will read that one. (Assuming I can best that monumental holds list, that is. We've had to re-order this one at least once – holds were climbing….)
Motherless Brooklyn by Jonathan Lethem
The first of two Jonathans. I listened As She Climbed Across the Tablenot too long ago. I liked it. I thought I might read some more by this author. I selected the most visible and widely enjoyed and acclaimed volume from his oeuvre. Cheers.
This is Where I Leave You by Jonathan Tropper
The second of two Jonathans. I listened Everything Changes not too long ago. I liked it. I thought I might read some more by this author. I selected the most visible and widely enjoyed and acclaimed volume from his oeuvre. Cheers.
Isla and the Happily Ever After by Stephanie Perkins
After I decided to read two books by authors named Jonathan, I felt a surge of testosterone flow all over my summer reading list. That was a gross metaphor. Anyway, I am absolutely, definitely going to read Isla and the Happily Ever After even though I keep wanting to call it Isla and the Boy Next Door but that is not a book. This is a book, though. I'm not going to read that one. I'm going to read Islabecause we have all been waiting so patiently for Ms. Perkins to stir up her romantic YA genius again and it's coming out in August so hurrahs all around.
~
Thus concludes my annual summer reading list. Now that June 22nd has arrived, I will sit down immediately and begin reading. I will not cease until they are all completed. That is obviously a lie. I still have a stack of required reading to tackle, and I am just a fickle reader. I still really want to read Noggin and Everything Leads to You and Since You've Been Gone and Grasshopper Jungle and all of those galleys I got at BEA and, oh, every other book that is currently IN my apartment taking up space. Or I might enter my usual summer doldrums, where I want to read nothing whatsoever. ONLY TIME WILL TELL. I know you are all in great suspense. Keep tabs on me on Goodreads.