First up for January… finishing up a few dangling review books. One of these was left in Michigan. While I was bed-sharing with a wakeful crib-climbing toddler at 9 p.m. on New Year's Eve, my spouse was left in charge of packing for our early morning flight… and somehow, my I-Must-Read-This-By-The-End-of-Next-Week book was left behind. Thankfully, my place of business had a copy for checkout, but here's something – I had to text my Mom and ask her what the title of the stupid book was. Welcome to the end of Guide Season, where I cannot remember the name of the book you are currently reading. Also, welcome to 2017-2018, where contemporary YA titles are equally vague and entirely interchangeable. Here's a brief sampling I've come across in my reading lately:
These Things I've Done
Things I'm Seeing Without You
This is Not the End
Now is Everything
Where I Live
You Don't Know Me But I Know You
If There's No Tomorrow
The Beautiful Lost
Mind you, I did not troll lists of YA books looking for the most meaningless titles. I actually read all of these books. And no, for the most part I can't really remember what they were about.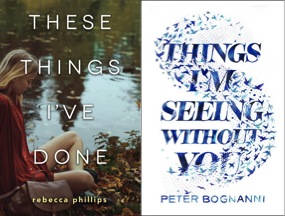 So I finished two of these meaningless titles in January – These Things I've Done and Things I'm Seeing Without You. Book about "Things" A was about a dead best friend and survivor's guilt. Book about "Things" B was about a dead Internet boyfriend and the alternative funeral industry. I read. I wrote reviews. I moved on with my life.
And what did I move on to?? The exciting world of Books for Adults!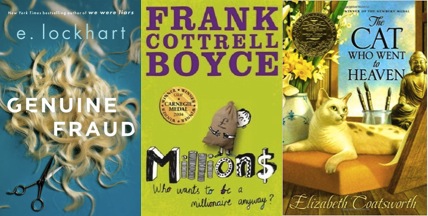 I mean, after I finished three books for Younger than Adults: two about criminals and one about cats. I've been wanting to read E. Lockhart's latest, Genuine Fraud. It's a rather action-y thriller with a really emotionally distant protagonist, which feels like a departure for Lockhart and did put me off somewhat. But it's also about class and rich folks that live on the Vineyard, which is familiar territory. About half-way in, the tension really got me, and I sped through the second half feeling entirely uneasy.
I finished reading the winner of the 1931 Newbery Medal on my Kindle – The Cat Who Went to Heaven with Elizabeth Coatsworth, which is the world's shortest book. It's about a Japanese artist and his helpful genius cat who really knows what the Buddha was about and – spoiler alert – dies at the end. That's really all I can say about that one.
And then, my book club's choice for our February meeting. We are officially reading Sputnik's Guide to Life on Earth, but Frank Cottrell Boyce's debut – Millions – is an optional choice. And of course, when you offer me two books, I will read them chronologically. Millions was quite charming – loved the single-dad-to-boys family dynamic and the just preposterous enough premise.
Next, the adult books: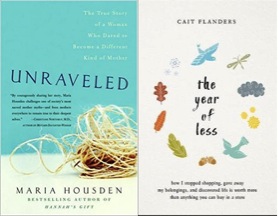 I listened to two memoirs on audio – Unraveled, a story of how the author went from happy SAHM to divorced and living with her lover in California while her ex-husband maintained physical custody of their three children – and The Year of Less – a story of a twenty-something's choice to give up shopping for a year. Both were good audio fodder, but The Year of Less was definitely my favorite of the two – strangely enough, it felt much more intimate and revelatory than Unraveled, even though the subject matter was more quotidian.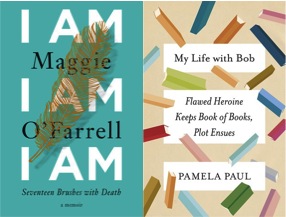 I also read two memoirs… in print. As in, books that don't read themselves to you! My first choice was driven by the sad realization that while I have access to plenty of pre-pub books at work, I never… actually… read any of them. So I grabbed Maggie O'Farrell's I Am, I Am, I Am, and I really enjoyed it. Excellent prose, short chapters, and very… I don't know… womanly. Stories about pregnancy and childbirth, about relationships with men in her life, about caring for children and her parents and growing up. It definitely had a woman's sentiment.
The second was driven by my not-so-brief list of Books I Really Do Want To Read Someday. I picked up Pamela Paul's My Life with Bob on a Saturday when I had cramps and was also coming down with a cold. A perfect couch-bound weekend read. Also, I'm deeply envious of Paul's… um… life. As a whole.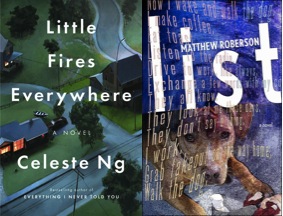 And then two works of adult fiction, both about suburbia, but from entirely different angles. The first was Celeste Ng's Little Fires Everywhere, which I snatched off the Lucky Day shelf at work, which meant I had to hustle to bring it back. So hustle I did, and I wasn't disappointed. I'm not going to tell you about it because you surely have heard about it. Statistically, you are probably one of the 500 patrons of my library who have it on hold! I will say that it had plenty of the domestic commentary and teen POV characters that I find so appealing. The second was List: A Novel, by my beloved undergraduate advisor Matthew Roberson. It's an incredibly up-close look at a marriage – so up-close that it's occasionally hard to tell if you're still in the same character's head or if you've slipped into the home of another vaguely despairing husband or wife. Compelling, but also somewhat horrifying. I finished it and found myself asking my husband over dinner, "So, what can we do right now so we won't accidentally start hating each other and get divorced?" We came up with a few ideas…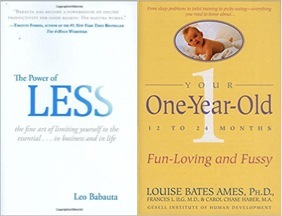 Aaaand…. theeeenn…  two straight nonfiction books. I did conquer Leo Babauta's The Power of Less. I was… Less than Impressed. It was fine, really, but not great. I might write more about it later. And speaking of (pint-sized, rambunctious) productivity-challenges, I also read Your One-Year-Old by Louise Bates Ames, which is a parenting manual written the 80s. I read the first half when My One-Year-Old was just about to be One; I read the second half when he was almost 19 months. Some of the advice feels dated (child leashes anyone?), but it's a bit more holistic than modern baby-raising-manuals, which tend toward the clinical in my experience. It was nice to read about how nutty young toddlers are – in great behavioral and developmental detail – and then have the authors say, repeatedly, "Oh, one-year-olds. Can't teach them anything! Just wait a few months" and feel better about myself.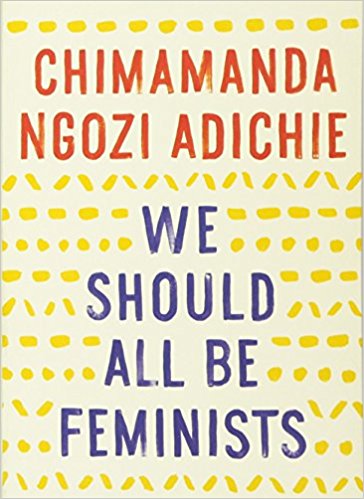 I'm officially out of thematic and format-ic connections. Also: damn. I read a lot this month. I listened to Chimimanda Ngozi Adichie's incredibly brief We Should All Be Feminists while I cleaned my house one weekend, because was Available Now on Overdrive and I was sucked in by an audiobook that was shorter than an episode of the The Marvelous Mrs. Maisel Goys. I remember very little except thinking, "Oh yes, I agree with that," quite often.
You may have noticed that I have skipped from November to January in these (potentially)-faithful reading round-ups. Did I read nothing? No books for 31 days? Au contraire, mon frère. I read about fourteen books in December of 2017. Most of them meaninglessly-titled review books; two adult non-fic re-reads (see: stress); and an adult fic book that topped many Best Of lists when it came out years ago that I just now got around to reading and, of course, loving. See you next month, when I will surely have received the gift of brevity that so blesses most folks who write monthly reading round-ups.