I kind of thought it would never show up. That the crazy-busy winter and springtime would never end. That the snow would never melt (oh wait, it didn't) (update: it just did) That I'd never be released into the freedom that is "Summer Reading."
I spent the official solstice on an interminable flight – San Antonio to Houston, Houston to Baltimore, Baltimore to Boston. It was still bright out when I got home, completely strung out. I stayed strung out for the rest of the week, then got back on an airplane and began the Great European Adventure of 2015.
Don't worry, though, Summer was just on point in Europe. The sun didn't set until 10 p.m, which was kind of delightful for a vacation… except for, oh, the crippling heat. European air conditioning = just as wimpy as European wifi, by the way. In Paris, our hotel brought us a 20 lb bag of ice in a foam cooler – old school AC? – but I still couldn't sleep because sweat kept dripping down my face.
But now I am home, the land where snow never melts and as soon as I finish reading a stack of review books (eta: July 20th-ish) then my SUMMER READING CAN TRULY BEGIN!
Blargh. What kind of Summer Reading doesn't start until July 20th? Book People Problems.
Because of my late start and my unusual circumstances, I've stripped all auspices of ambition from my Summer Reading list. I didn't even aim very high when creating said list – I really just picked the first 10 books that I came across that sounded fun. Free. Fun and free reading. You know what that's like, you unencumbered readers you, and I am jealous.
Also, by 10 books I mean 9. That's the kind of life I'm leading.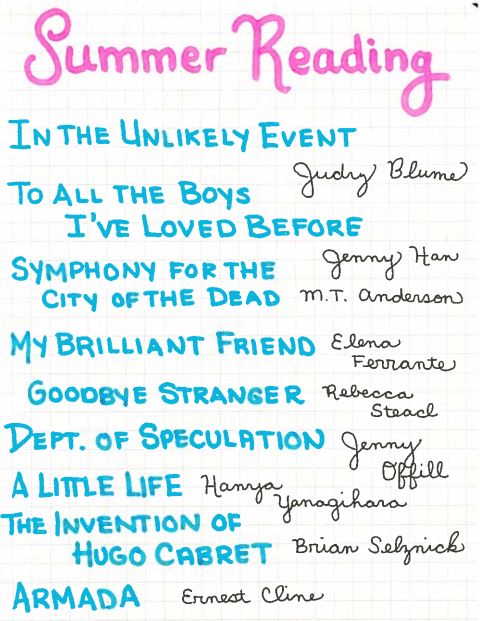 In the Unlikely Event by Judy Blume
Summer Sisters is my ultimate Summer Read, so you best believe I'm excited about a new adult J. Blume. I bought an ebook copy – I tried to read it while I was gallivanting around Europe, but alas, alack, I made 6 flights in 10 days, so no I was not going to be reading a book about plane crashes. I think I'm grounded for the rest of 2015, though, so now's the time for some Judy.
To All the Boys I've Loved Before by Jenny Han
My life has been lacking Directly Up My Alley YA lately. That is code for Girly as Shit (but not vapid whatsoever) YA – this series not only fits the bill, but pretty much all of my friends have read it and think it's great. So I'm going to read it, yes, yes I am.
Symphony for the City of the Dead by M. T. Anderson
You know what else is directly up my alley? A NONFICTION BOOK BY M. T. Anderson. Be still my heart. And I have a galley, so booyah.
This post is getting weird. Apologies. I might need to take a dinner break and come back mature and coherent.
My Brilliant Friend by Elena Ferrante
This is one of those books that I actually know very little about but somehow feel is just The Book For Me. It's the cover,
the mystery
, the Italian…osity, the popularity spike, the fact that it's a story about friendship throughout a lifetime. Yeah, those are all things that I like. I bought my mama a copy for Christmas – maybe if I'm lucky she'll let me borrow it while we're at the beach next month? [insert endearing eyelash batting here]
Goodbye Stranger by Rebecca Stead
The one BEA galley to rule them all. Which has been taunting me from atop a monstrous pile of books on my bedroom floor for OVER A MONTH now. Ugh. It's just gotta be read, guys. It's gotta happen. I'm a fangirl.
Dept. of Speculation by Jenny Offill
Grown up books! Grown up books! Grown up, grown up, grown up books!
(That dinner break was not effective, I'm afraid…)
Anyway. Yeah. Books for grown ups about grown ups doing grown up things. Like getting married and having families and partaking in other domestic-y everyday dramas. Yes please. This one comes with friend recommendations, and while my current family domestic-y drama clocks in at over 600 pages, Dept. of Speculation is blissfully short. Body of a grown up, attention span of a small child – that's me. Also, Offill's previous publications include a sloth picturebook. So this one's gotta be good, right?
A Little Life by Hanya Yanigahara
Speaking of grown up books… here's a bigger and fatter one that I am pretty geeked about for the following reasons:
Yanigahara's debut: so dang great and so dang creepy.
The summary – "…four classmates from a small Massachusetts college move to New York to make their way…" – is just 500% Jessica-bait
The Invention of Hugo Cabret by Brian Selznick
Okay, perhaps I couldn't entirely avoid the obligatory read. But guys, it's kind of embarrassing that I haven't read this one yet, and I really could finish it it in about 2 hours if I put my mind to it. So this doesn't really count as un-fun reading. That's my story and I'm sticking to it.
(Has nothing to do with the tasty galley waiting for me at work. Nothing whatsoever.)
Armada by Ernest Cline
Last but not least, we have the new Ernie Cline. Loved Ready Player One so much, so this should be a no-brainer… but I've read mixed reviews for this follow-up. But you know what Fun Reading is about for me? Seeing for myself. Picking up books that don't have unanimously amazing reviews and finding out if they spark my interest. Taking off my Professional Book Person hat for a minute. Reading an iffy book about video games because why the heck not?
So, that's my summer. And by summer I mean July 25th-ish until September 21st. Or when snow starts to fall – whatever comes first.
Summer Reading Lists Past