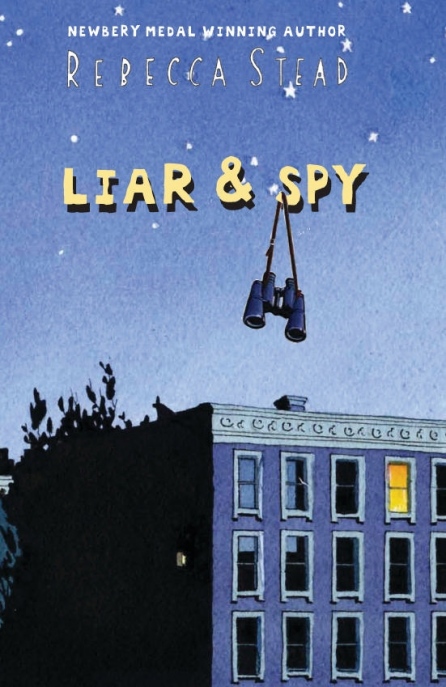 Rebecca Stead, who are you? Where did you come from? You are the Middle-Grade Whisperer, the master of the quiet-yet-somehow-filled-with-tension chapter book, the Patron Saint of urban children.
I loved When You Reach me and I loved Liar & Spy. Georges is similar to When You Reach Me's Miranda – sensitive, observant, New Yorker mired in the social horrors that arise during that tender time that between childhood and the teen age. Georges has lost his close friend to a crowd of popular bullies and lost his house with a customized lofted bed made from a real fire escape. His parents move him into an apartment building in his Brooklyn neighborhood and he meets a family of mildly-eccentric homeschoolers, two of whom run various espionage operations around the building. There's no supernatural mystery in this story, but Georges slowly realizes that nothing in his new life – his friends, his classmates, his family – is quite what it seems. Details unravel at a quickening pace, lies are revealed, and the pages will flip by before you know it.
I may have almost cried when this book ended. Maybe.
Liar & Spy is getting a bit of awards-season buzz, but I'm not sure it will be get as much attention as When You Reach Me – it's not quite as complex, as intertextual, as fresh, as historical. But what Stead does here, again, is show off her seemingly growing talent in portraying the heartbreaks of childhood without resorting to tragic shock story lines; in capturing the everyday problems of her sympathetic characters, she does so much more. I wish you could bottle up a little bit of Stead and sprinkle it on every children's book. This book may have turned me into a bonafide fangirl.