So let me get this straight…
there are books published *after* May 31st, 2015?
You don't say.
Despite my lack of attention to the entire second half of the year (or, you know, the rest of my life and the world at large), here's a handful of books that *still* managed to catch my attention.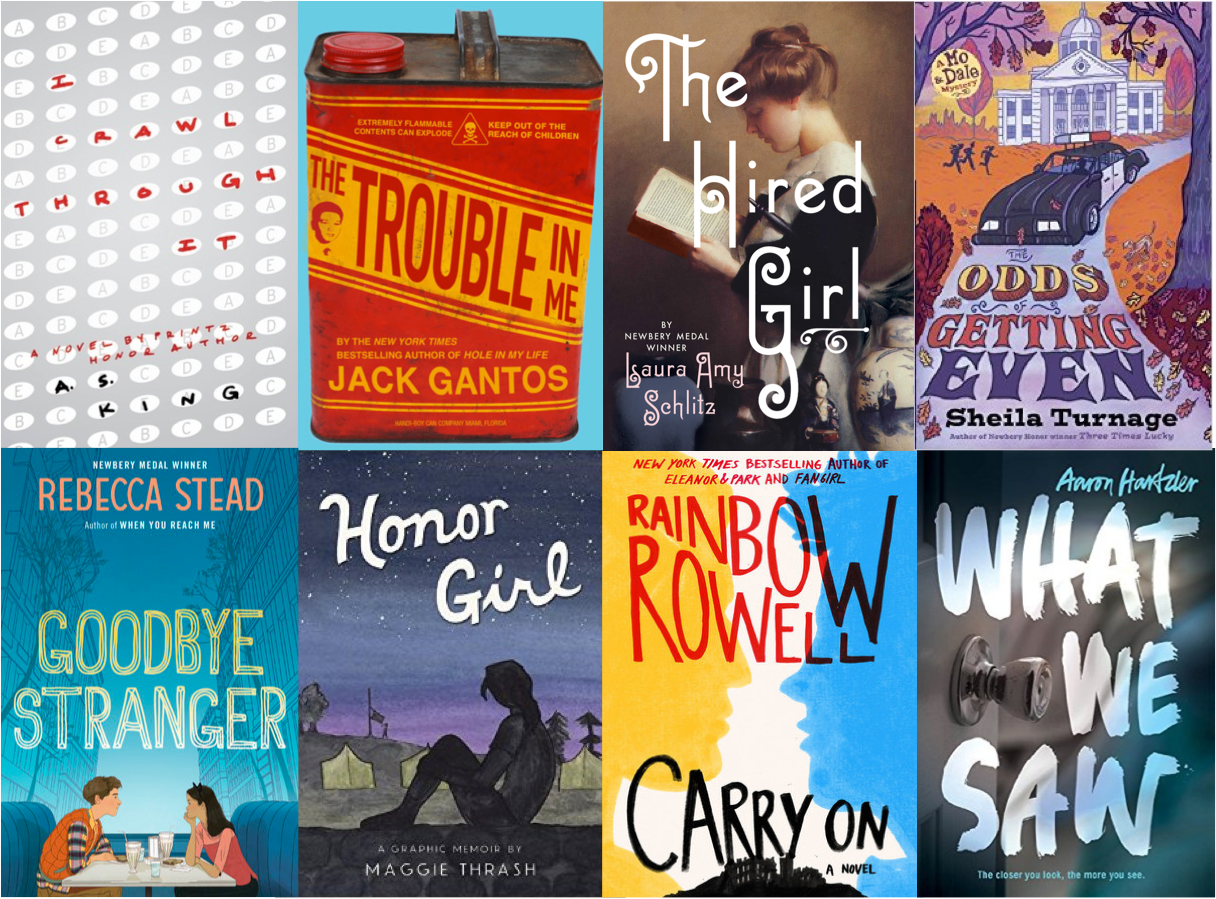 I Crawl Through It by A. S. King
I really wish you guys could have been at SLJ Day of Dialog to hear A. S. King talk about feminism. She's a gem, and I can't believe it took me so long to discover her work. I've heard that I Crawl Through It is pretty weird, even by A. S. King standards, but I remain fearlessly excited to get my hands on it.
The Trouble in Me by Jack Gantos
Hole in My Life is a great book. If some cruel, sadistic individual asked me for a list of Top Ten Favorite Books Ever, I can't say that Hole in My Life would be at the top of my memory… but then again, I've read it probably five or so times and could easily read it five more. It's just a great book! What can I say? Apparently nothing critical or even somewhat cogent, but what the heck else is new. The Trouble in Me is a second Gantos memoir, which means I am already 100% sold. Even if it's about teenage boys lighting things on fire.
Addendum: I just learned that Hole in My Life has been optioned for a film…. by Daniel Radcliffe. I'm sure 90% of film options go nowhere, but really now. Daniel. Radcliffe. Yes x 1million
The Hired Girl by Laura Amy Schlitz
I kind of can't believe I'm putting a big fat piece of historical fiction on this list, but there you have it. This one is about a fourteen-year-old girl who leaves her family's Pennsylvania farm to seek a more adventurous life for herself… as a hired servant for a wealthy family in Baltimore. I get the feeling that Joan will be one of those protagonists who is fun to hang out with, with a great sense of humor and an even better voice. Why do I feel this way? I have no idea. I'm in an airport (in Baltimore!) and I've been up since 3:30 a.m. This post is about to get pretty weird.
The Odds of Getting Even by Sheila Turnage
Oh, Mo LoBeau. You are my favorite underage Southern detective, and I am excited to hang out with you again this year.
Goodbye Stranger by Rebecca Stead
Hello. Huge Rebecca Stead fangirl in the house. I attempted to take home zero galleys while I was at BEA. I ended up with about 12 because sometimes people at BEA just hand you books, but this was the only one I went for voluntarily. I regret nothing. Except for arranging my summer schedule in such a way that I won't actually be able to read this one until at least July. What a big mistake.
Honor Girl by Maggie Thrash
Soooo… at the end of the day at a certain book event that I have been talking about a lot, there was a really promising panel on nonfiction graphic novels. Really juicy author line-up, great topic. Unfortunately… it went on forever and ever and ever. Way, way over time. Maggie Thrash was last to speak, and bless her soul she spoke (eloquently and compellingly!) for about 45 seconds. It was an amazing moment. Thrash's book is a graphic memoir about forbidden summer camp love has been on my radar. Seriously now – can you imagine a book more up my alley? I have high hopes for this one. And thanks again, Maggie. You're really the best.
Carry On by Rainbow Rowell
Ahem.
Sooooo… during this long haul between last summer's Landline, I have become a connoisseur of every public interview or piece of writing that Rainbow Rowell has put out there on the interwebs. More than once I heard Rainbow describe her next project as a fantasy YA with a male protagonist. Never did I put two and two together and guess that a Simon Snow book was on its way to me.
I'll try to contain my emotions somewhat by leaving this at YYYYYYYEEEEEEEEESSSSSSSSSSSSS PLEAAAAAAAAAAASE.
What We Saw by Aaron Hartzler
Speaking of authors who you probably already read and follow and love, Aaron Hartzler of Rapture Practice fame and glory has a YA fiction book coming out this year. I'm interested! What's it about? I don't know and I'm on a plane that has no internet connection. So I'm afraid you'll have to click on the above link and let Amazon do the talking. That is what you came here for – Amazon links, right? By the way, which one of you bought a Vitamix after visiting my site? THANK YOU MUCHLY, I used my Amazon commish to buy a Vitamin D lamp during The Winter that Wouldn't End.
This is what you guys were missing for the last six months, right?