There are 6 books standing between me and the End Of Grad School.
I've already read 4.
THERE ARE ONLY TWO BOOKS STANDING BETWEEN ME AND THE END OF GRAD SCHOOL!?!!!!
We have already talked about how I have no idea what I am going to be doing post-May-2012. I'm sure I will be doing Some Things that are Functional and Good (don't worry, I already have some things in the works…) but one thing I know for sure is that I will be READING. And I will be READING WHAT I WANT TO READ.
What do I want to read right now?
Contemporary realism with female protagonists.
Series in which character evolution and exploration is the Reason You Read.
Writing that is funny/emotional/true/smart.
Books that look good in pink.
I've so enjoyed and appreciated the wide range of YA/children's lit that grad school has provided me, I feel like I've lost touch with the kind of books that resonate with me, personally.
That's completely okay, by the way. I'm a professional. I didn't sign up for a degree in Reading My Favorite Books.
But yeah, I'm basically two books away from returning to the motherland.
Which are, I'm realizing, the kind of books that I'd like to write.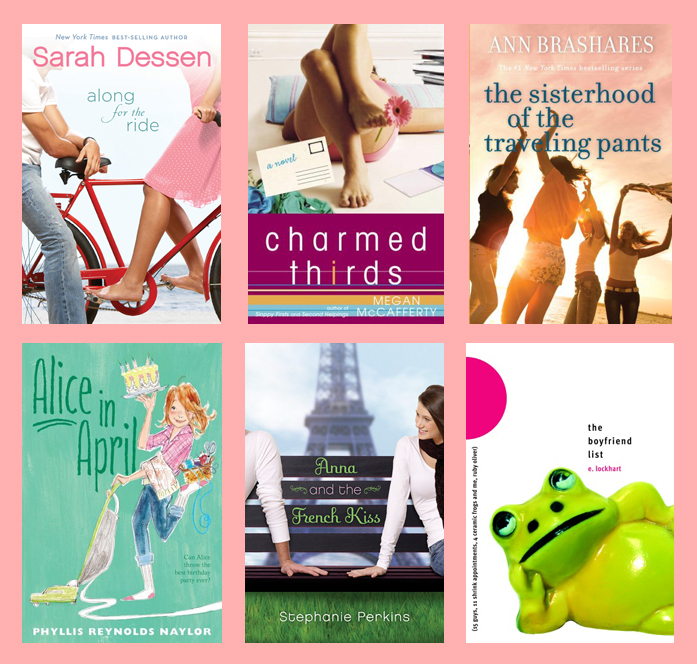 The Ouevre of Sarah Dessen
Last summer, I wanted to re-read all of Sarah Dessen's books in order of publication. Summer is a great time to read Dessen – even her books set in other seasons just feel summery in your hands.
However, there were also other books I wanted to read and things like… oh… classes. Work. Trips. Life. I read That Summer and Keeping the Moon (somehow managing to forget I was supposed to read Someone Like You in between), but then summer was over and I entered The Fall of Sci-Fi Fantasy.
But it's almost summer again, and I want to jump right in. I love how every heroine and story in a Dessen novel is completely distinct, but that the books feel like series-in-spirit. I love the intricate communities Dessen creates with her characters. I love the offbeat love interests. I love that romance doesn't come easy, but the payoff is worth the trouble.
Her books, her style, her career are basically The Dream.
Megan McCafferty's Jessica Darling series
I have written an exceedingly excessive review of this series already. But all personal-endearments aside, I think that it's safe to say that these books' success lies heavily on McCafferty's successful creation of Jessica Darling's voice. It's the same voice that I think can turn people away from these books – the zippy language, the pop-culture jokes, the snark. But there's nothing about Jessica's voice that is ever NOT Jessica's voice. Every line is authentic and reflective of her character, of where she's at in her life's journey. She has a lot of attitude, but she has a lot of pain behind it.
I also like how McCafferty takes the sometimes-tired Diary Format in odd, completely meta directions. Jessica writes in the journal – the pages you, the reader, are sharing – but then she stops because she's worried that she's been too honest. In between two books, she reports she has burned the first one. In Charmed Thirds she only writes during college breaks, because the school year has been too busy, but also because she's done things during the school year she can't justify to herself if she visits the honest-journal space. It's a variation on format, but it always serves the story, which is so difficult and admirable. Lots to learn here…
Phyllis Reynolds Naylor's Alice books
For a recent job application, I had to put together a 2 minutes video pitching a favorite children's book.
No, I am not going to link to that video because I kind of hate myself on camera, but believe me when I tell you I wrote about the Alice books.
These are not necessarily terribly elegant books, the issues are issue-y, the conflicts tend toward the superficial. But I do not care because I am so attached to these characters. I grew up with them. I love that Alice starts as a middle grade series and inches slowly toward YA in a path that seems natural, authentic. I'd love to revisit this series (especially with the fancy new covers…) and I would love to write a world so enduring as Alice's.
The Sisterhood of the Traveling Pants by Ann Brashares
Okay. By this point you probably think I am a ridiculous person. However, The Sisterhood of the Traveling Pants is not just a packaged-concept series, a somewhat stupid title, a fluffy teen movie franchise! This is a series with deft third-person narration that dips into our four narrators heads with ease. And unlike the movie, the relationships between these character don't add up to a  big nostalgic "We'll Be Friends Forever!!" love fest punctuated by moments of unrest. These are DEEPLY complicated friendships layered with personal issues, family traumas, and just life.
I am more impressed every time I read this series, and I would like to give them a re-read before I get around to reading the last book, Sisterhood Everlasting. I've heard mixed reviews, but I must read for myself. I must.
This book has inspired me to "must" read a potentially bad/upsetting/tootoosaddening book. That says a lot.
Anna and the French Kiss & Lola and the Boy Next Door by Stephanie Perkins
This is the only "series" here that I am not personally attached to over a long period of time. But in January, I finally read Anna and the French Kiss. I wasn't instantly hooked, but by the time I finished, I found myself "accidentally" starting to read Lola and the Boy Next Door, Perkins's second novel that very same day. Perkins takes the Sarah-Dessen school of romance and brings it to the city, and also brings a tighter narrative focus. I think this worked against Anna, in some ways, but worked well for Lola.
I'm interested to follow Perkins's career, and I'm also interested to re-read Anna and take a look at the first half that I looked over.
Ruby Oliver series by E. Lockhart
The Disreputable History of Frankie Landau-Banks is the book I love. But what pulled me into E. Lockhart in the first place was Ruby Oliver. The series begins with Ruby losing her first love and also becoming a school pariah. The rest of the series is her recovery… she rebuilds friendships, makes new ones, finds new loves, yes. Yes, this is all to be expected. But this is also a series about Ruby realizing her own weaknesses and negative tendencies… and then trying to fix them.
I can't think of a writer who captures the real-ness of teen romance with more acuity than Lockhart. Horrendously bad, but at the same time horrendously amazing, and always an exercise of loving yourself. She does all this in a miraculously short span of pages. Envy.