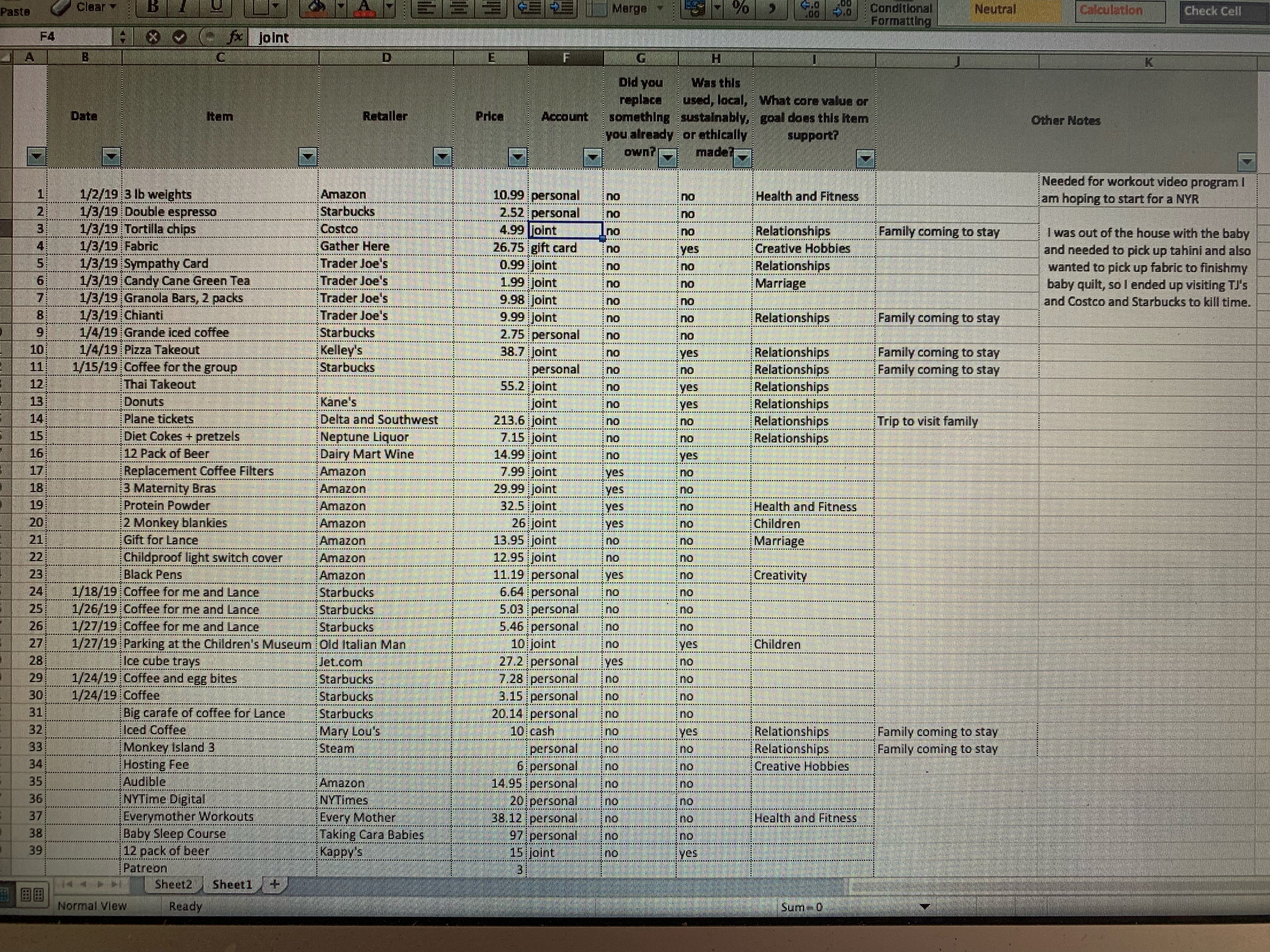 In January, I spent more than 850 dollars in at least 40 different unnecessary ways.
This "mostly frugal" girl is a bit shocked.
I'm not going to list everything I bought. Instead, here are some general patterns I observed in this first month of spending, in order of least complex to most.
Automatic payments for online services
Once upon I time, I signed up to give my money away to various causes and companies in regular, small increments. I'm old enough that this still feels like a novel way to spend money – kind of fun, but also kind of dumb? Over the past few years, I've felt like I'm in a cycle of wanting to cancel all of these automatic "deductions," but then I end up signing up for something new to replace it.
Right now I spend 28 dollars a month of my personal money on such subscriptions. This month my Audible subscription reactivated – I paused my account a few months ago and forgot to "un-pause" it, so add 14.95 to that. I also purchased three months of access to an online exercise program. And of course, there's Netflix – 10.99 paid out of our joint account.
I don't necessarily feel bad about spending this money. Usually this spending brings me small, daily pleasures – like my NYTimes cooking and crossword subscription – or supports artists whose work I admire and enjoy. But they do add up quickly and definitely aren't necessary.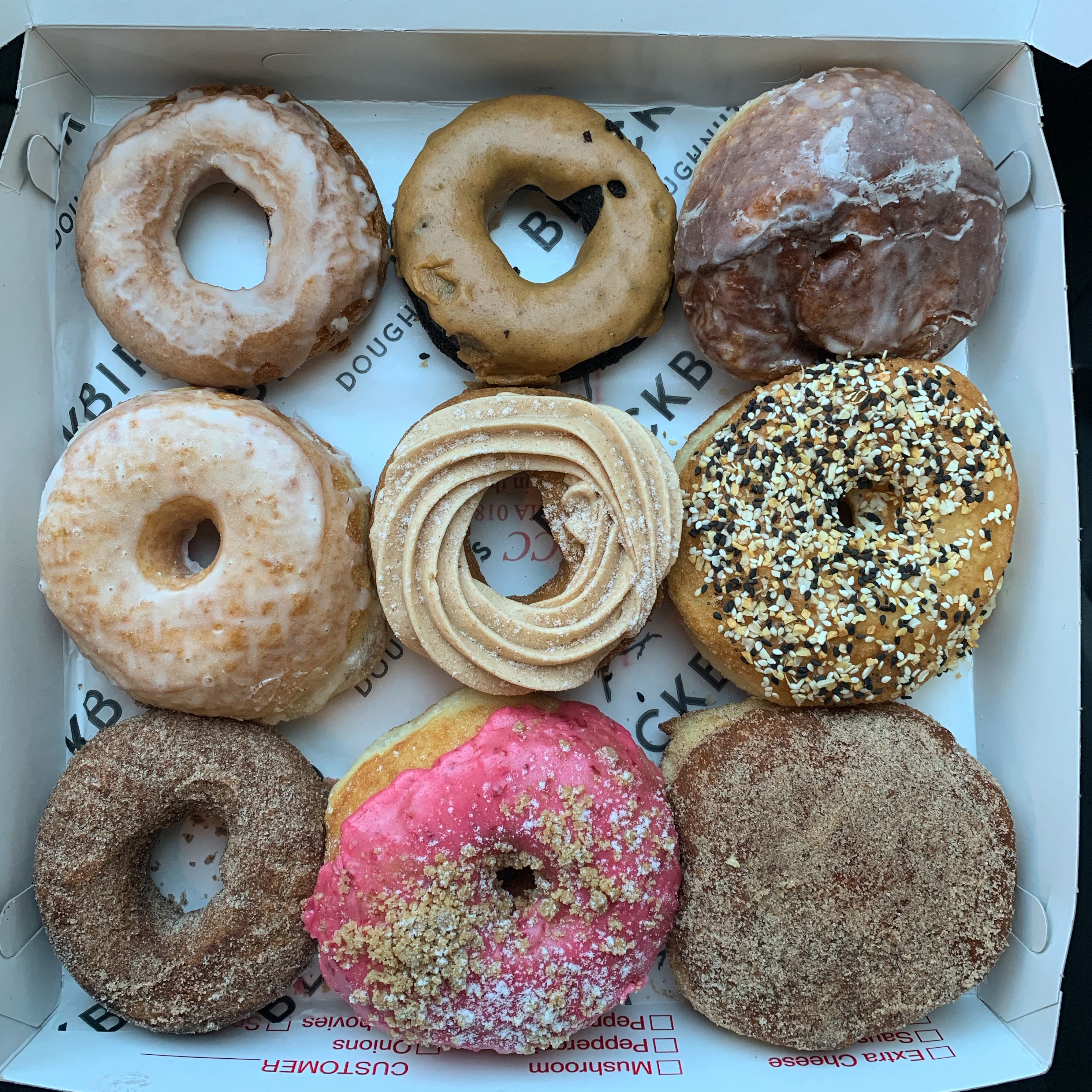 Food products and activities that make life feel more fun – especially when hosting guests
This month I was lucky to have some of my immediate family members come and visit. We spent about 125 dollars this month while guests were in town… pretty much all on food products. Is it necessary to eat at restaurants or buy junky snacks when guests are in town? No. But it does feel celebratory – these folks might be sleeping on my living room floor and staying indoors most of the time with me and my crazy children, but it's still their "vacation!" The reduced time spent on the household labor of preparing meals is also a plus. But to be honest, I mostly I feel called to provide a taste of the East Coast to my deprived Midwestern family members; aka, when in Boston, eat some good pizza, bagels,seafood, and – if you live in my neighborhood – Italian pastries. Food is our familial love language.
Celebratory dining doesn't feel too problematic for longterm budgeting, as long as you don't have guests too often. Celebratory Trips to Starbucks, however, feel more insidious. No, now that I'm on maternity leave I cannot go to Starbucks every day. However, I can – and do – go to Starbucks pretty much every day that I leave the house. Because a cold drink makes running errands feel less like drudgery. Because when my husband is with me going through the drive-through with peaceful children in the back seat feels a little like a date. Because I usually spend my own personal money, so I let myself be more frivolous. Because of habit, poor morning caffeination planning, or because I'm having a shitty exhausting day and maybe it will make me feel better. At any rate, I spent more than 50 bucks at Starbucks last month, which isn't exactly a festive, once-in-a-while kind of expense.
Shopping or coffee to alleviate less-than-ideal scheduling
It's Friday morning. I get up at 6:15, get dressed, get my baby fed and dressed, help get my toddler out the door, and head out the door as a family. Toddler daycare drop off at 7:30, husband work drop off at 8:00. Baby has a doctor's appointment at 9:15. What do you do to kill the resulting hour? Drive all the way home so you can go upstairs and unpack a baby only to pack it back up again? Or do you sit in Starbucks for an hour with a book and a coffee? It's not necessary, but three dollars seems a pleasant way to fill a scheduling gap – especially since you get a cup of coffee out of it.
But then the appointment is over and it's 10:00 a.m. You need to pick something up at a store that doesn't open until 11. You've already had too much coffee and the store is right next to a Trader Joe's. You are running low on milk and eggs, and it's always nice to stock up on TJ's favorites, but you don't exactly NEED to be in a grocery store… Needless to say, such a hapless individual would be impossibly fortunate to spend just three dollars to fill this particular scheduling gap. At the very least, this hapless individual should probably make a list before entering.
"Good Deals" (on items I may or may not buy either way)
The on-sale item is a stupidly common spending trap, and one that my cheap-ass self falls for too often. On one hand, nobody would fault a person for researching a necessary purchase, to find the product that meets your quality standards for the lowest price. On the other hand, "research" often results in more generic "shopping" – once I've decided to pull out my credit card, spending tends to beget spending.  Is it really a good deal to buy a 40 oz vat of hummus at Costco when you could have made it at home for pennies on the dollar… or when you then need to buy a giant bag of carbs for hummus dipping? Or when you walk out of Target having spent 75.00, no matter how many items were on your list.
In December, against my better values, I signed up for Amazon Prime. My justification: I have a new baby who will probably need some random baby items and also prevent me from doing much out-of-the-house Christmas shopping. I canceled it in mid-January, so naturally I wanted to place One Last Order (as though Amazon would be going out of business after they lost my 12.00/month?). 160 dollars later, I now have an adequate amount of my favorite pens in the house, many, many ounces of protein powder, a year's supply of water filters for my coffee maker, and more items of dubious necessity.
Too often I find the line between what is necessary and what is just cheap to be rather blurry. I also don't feel good about purchases born in a vague, consumeristic fear – if I don't act NOW, then I'll end up paying more later! But then again, my coffeemaker probably does need water filters, so maybe I just need to chill out?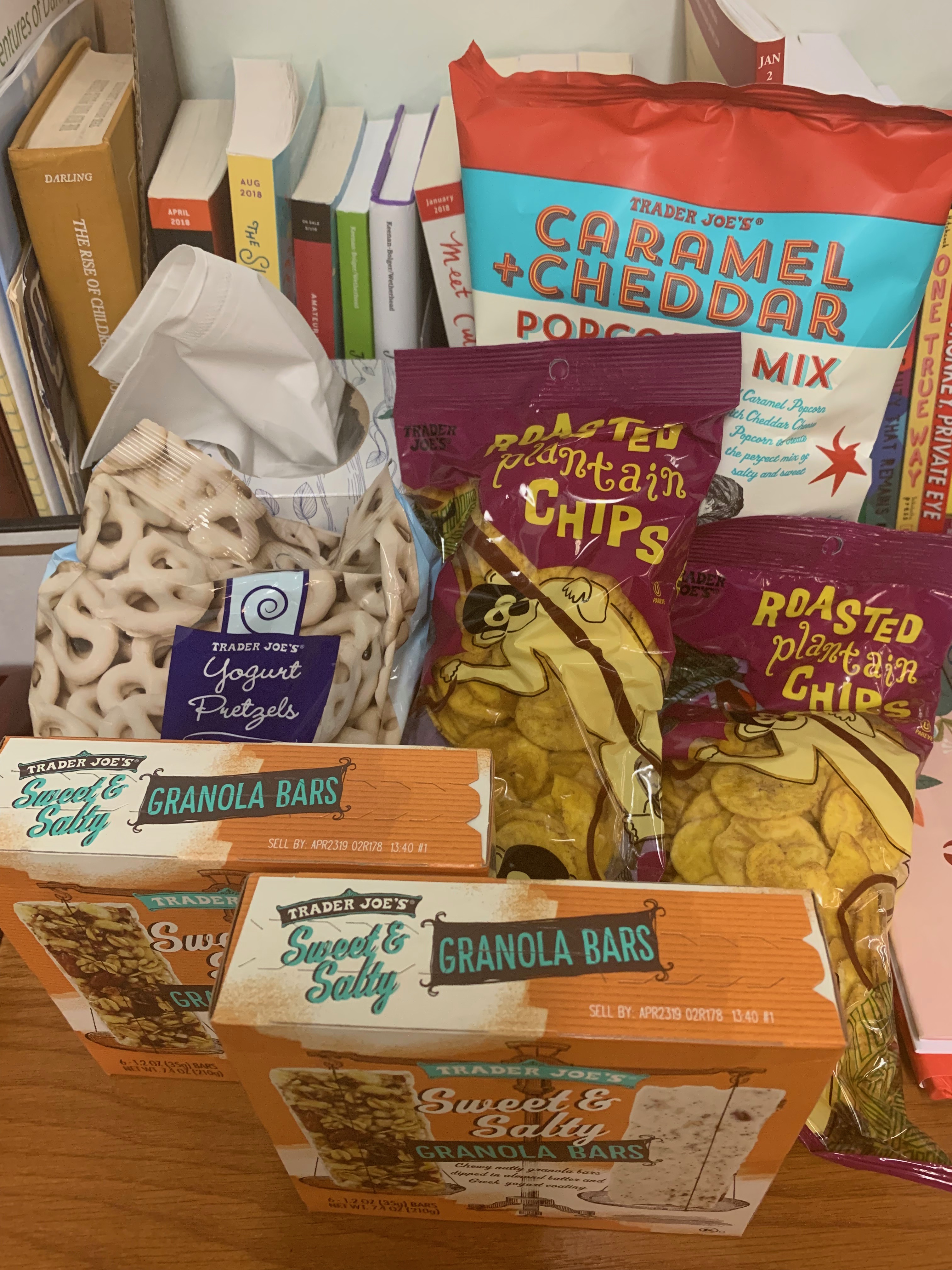 Convenience Foods
I did not find a good way to track my unnecessary food spending this month for the following reasons. A) hanging onto and parsing out unintelligible grocery receipts is difficult for those who aren't at home with very young children most days and B) diving into what form of calories are "necessary" vs. "unnecessary" is a much bigger challenge than other sorts of spending. If I am supposing this food dichotomy, I am supposing there is some sort of way I *should* be eating. As a recently pregnant, currently nursing person, I've been on nutrition autopilot, hoping that whatever I happen to cook or eat is good enough. It's probably time to think more seriously about my family's general nutrition again, but for now, I'm relying on habit and instinct – for better or for worse.
One category of calories that draws my attention, however? Convenience foods – especially convenience snacks. In this busy season of my home, this means Delicious (but nutritionally-questionable) Bars of All Sorts. Granola bars. Breakfast bars. Fruit and nut bars. Protein bars. Bars that pretend to be healthy but are really just Rice Krispie Treats dipped in chocolate with a peanut or two on top. Is any such bar a *necessary* part of anyone's diet? No. But when that  inevitable moment where I am out and about with children and realize I have forgotten to adequately feed myself strikes, a one-handed snack is a really, really nice thing to have in my purse. Ditto to applesauce squeezes for grumpy toddlers. For now, in these Survival Mode months where experimenting with homemade granola bar recipes sounds like a laughably distant luxury, I'm okay with a little convenience, I think. Later this year, I may narrow in on this more complex area of my regular spending.
Impulse purchases, usually to solve a nagging problem (or generally make myself feel better about my life)
This is the the big one for me: the purchases that feel most fraught, that leave me feeling so conflicted about my spending judgment.
Usually, these are household purchases that fall in the middle of the unnecessary-necessary spectrum: less necessary than toilet paper, more necessary than a seasonal throw pillow. Usually, these household purchase purport to solve a problem or annoyance in my daily living. Usually, when I decide to pull the trigger and spend the money, I enjoy having solved said problem, but I also feel bad about it. Why, I'm not quite sure. Because I usually purchase such items in a sudden impulse? Because I feel guilty throwing money at minor problems I should either work around or just endure? Because I usually do such spending at Big Box stores, buying plastic contraptions made in factories on the backs of unprivileged populations that will end up, someday, in a landfill?
Obviously, this kind of spending will take some more unpacking. But yes, I did spend 100 dollars on a baby sleep course this month because I was sitting in the dark for an hour tending to a crying babe who refused to sleep and it made me feel like I wasn't alone. And I did spend 27 dollars on 4 new ice cube trays because I'm thirsty all the time and tired of having mismatched trays fall on me when I open the freezer and also pinching parts of my hands on the ones that are cracked and broken. I am both enjoying and feeling bad about both purchases.