Once upon a time, I prepared for my family's annual sojourn to the Atlantic Ocean by shoving as many books into my luggage as I could manage. Or at least spent a few fun hours thinking strategically about which handful books I might like to read while plane flying, porch rocking, or beach bumming.
This year, I thought I'd set the bar low. Flying and beaching with a baby wouldn't leave as much reading time as usual, and we were flying Spirit – no carry-ons, and limited poundage in the single checked bag I'd now be sharing with two other humans. It would be silly to pack 5 or 6 books for a 5 day vacation. Damn. Parenthood does lead to a certain level of boring pragmatism, doesn't it.
I decided on two physical books. First, A Feast for Crows. I told my sister I'd mail her my copy to borrow when I send her a birthday gift in September – one more incentive to actually make some progress in this series I claim to love and have invested so much time in. I'm about halfway through! There's hope!
Second, Wolf Hollow by Lauren Wolk. I've been feeling a little disconnected from what's going on in kid/YA lit lately, and this middle grade debut has been getting some steady buzz since it came out in May. Also, this is my book club's next pick, so if I can figure out how to juggle a baby with social outings, then I shall be prepared to discuss!
Any supplemental reading would be relegated to my Kindle. I've been doing most of my reading on my Kindle lately – it's possible to nurse while reading a physical book, yes, but only if you can comfortably one-hand it. Library books are tough. Big Fat George R. R. Martin books don't really work out. A Kindle, however, is a breastfeeding bookworm's best friend. I hustled to finish Lucy Grealy's Autobiography of a Face before leaving and queued up another memoir – Beverly Cleary's A Girl from Yamhill.
Once upon a time, I'd pack 10 books for a 10 day trip. Once upon last week, I whittled my expectations down to three. I even started writing a nice little blog post about my beach vacation reading!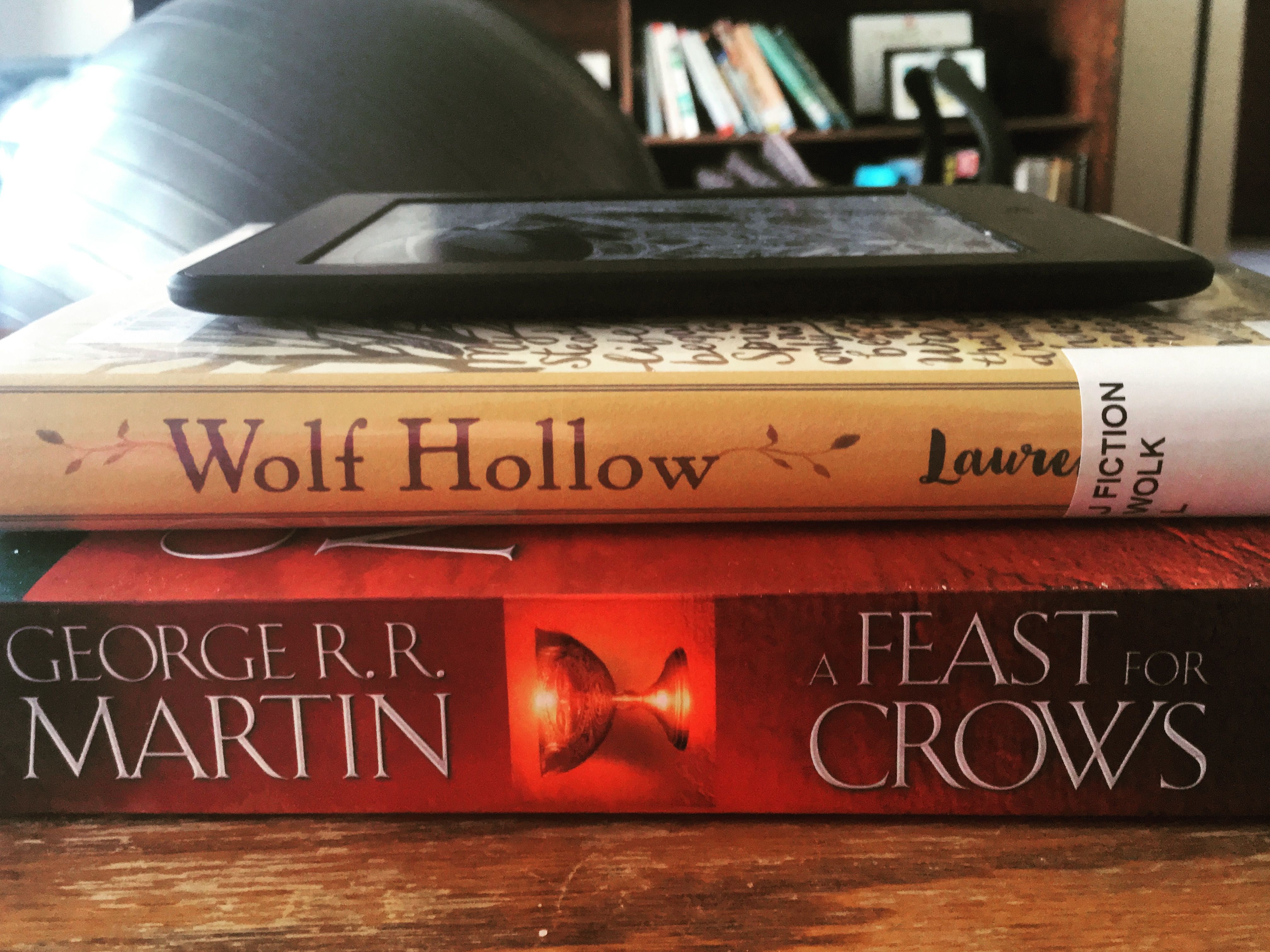 Once upon two days ago, I had to ditch A Feast for Crows because our checked bag weighed 42 lbs.
And left my Kindle sitting at home on the charger.
Ah, parenthood.