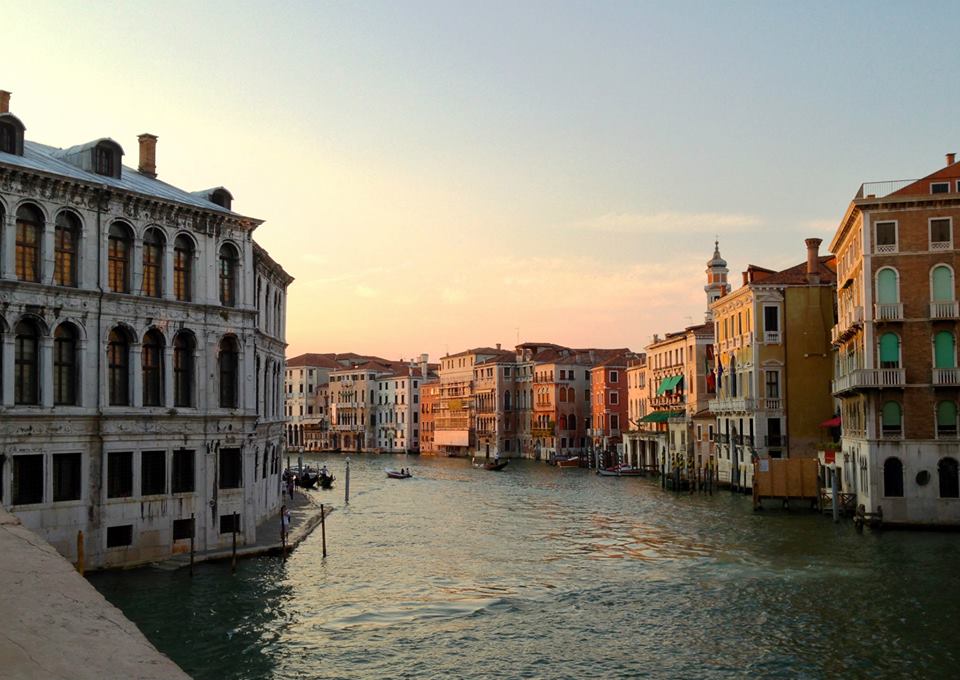 I did not want to go to Venice. Nope. I barely wanted to go to Rome, or to Europe. Then again, after a year of preparation and looming dread, I didn't particularly want to get married. I mean, I wanted to BE married, I just didn't want to GET married. This also sums up my attitude toward travel. I want to HAVE traveled, I just don't want to get off the couch long enough to actually go through with it.
So I deferred honeymoon planning to The Boy. This was supposed to reduce the overall household wedding stress by division of labor, but I'm sure you guys know me well enough to know that it didn't exactly work so well. First of all, I am an anal retentive freak and anyone who has to speak to me for more than 15 minutes deserves a medal. Second of all, at some point I told The Boy that I didn't want to plan anything involving this honeymoon, that he should make all decisions in our best interests, but I also reserve the right to be pissed if things go wrong. Darling wife, love forever, etc.
I agreed to Rome and one other Italian city. The Boy insisted on Venice. I wasn't keen on navigating European rail or dragging luggage on and off boats on my supposedly relaxing honeymoon, but Venice is sinking.
So we arrived in Rome on Monday afternoon, slept and ate pizza and drank wine for two nights. The next morning we carried our luggage down to the Termini station to board a high speed train. Four hours later, we arrived in Venice.
It was lovely and I forgot all of my anal retentive fears immediately upon arrival.
Just kidding. It was 90 degrees, neither of us could figure out where the proper water bus would pick us up or even how to purchase a ticket, and I probably did a lot of passive aggressive scowling at my dear husband for foisting all of these first world problems upon me.
Happy, happy newlyweds.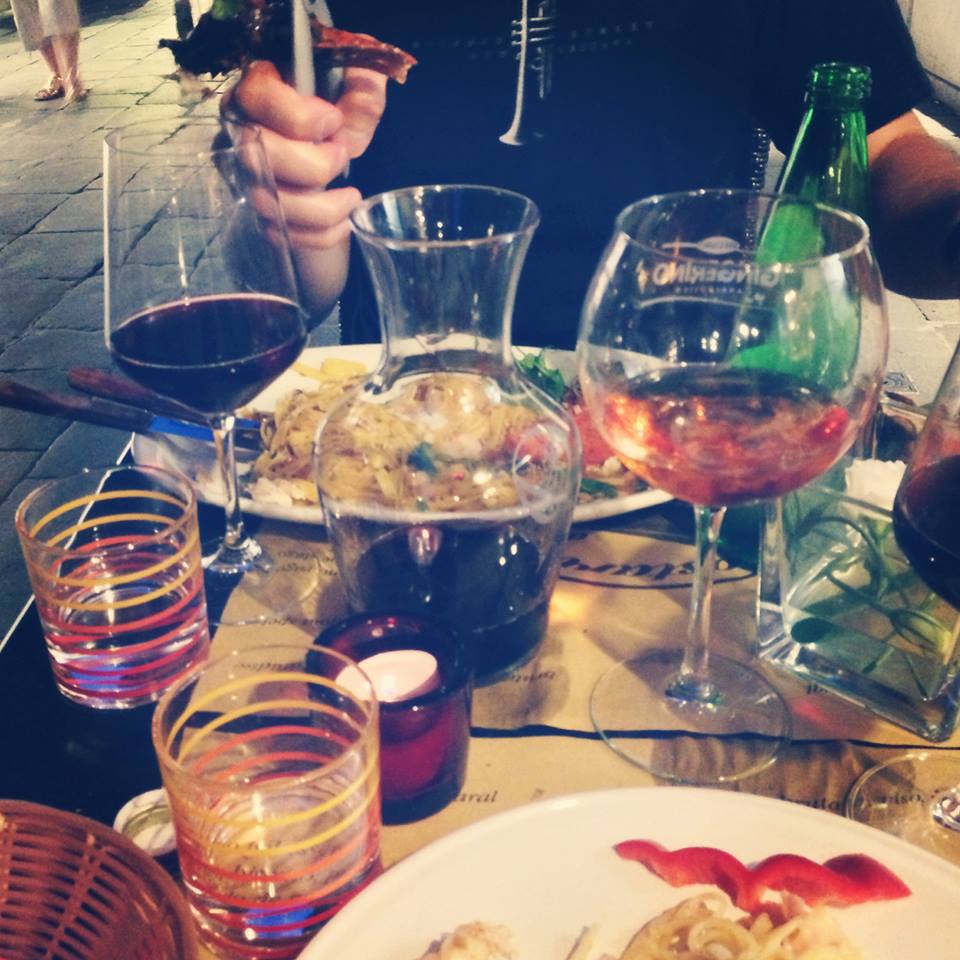 My mood improved significantly after we sat down for our first proper Italian meal. Wine. Bread. Spaghetti Bolognese for me and some seafood pasta for him. We were seated outside, the restaurant tucked away on a narrow side street. Supposedly Venice is known for having the worst food in Italy – chefs of any repute prefer to practice their craft without the practical limitations of acquiring fresh and fancy ingredients off the mainland – but my American taste buds were regularly impressed.
The sun went down and so did the wine and then it felt like vacation.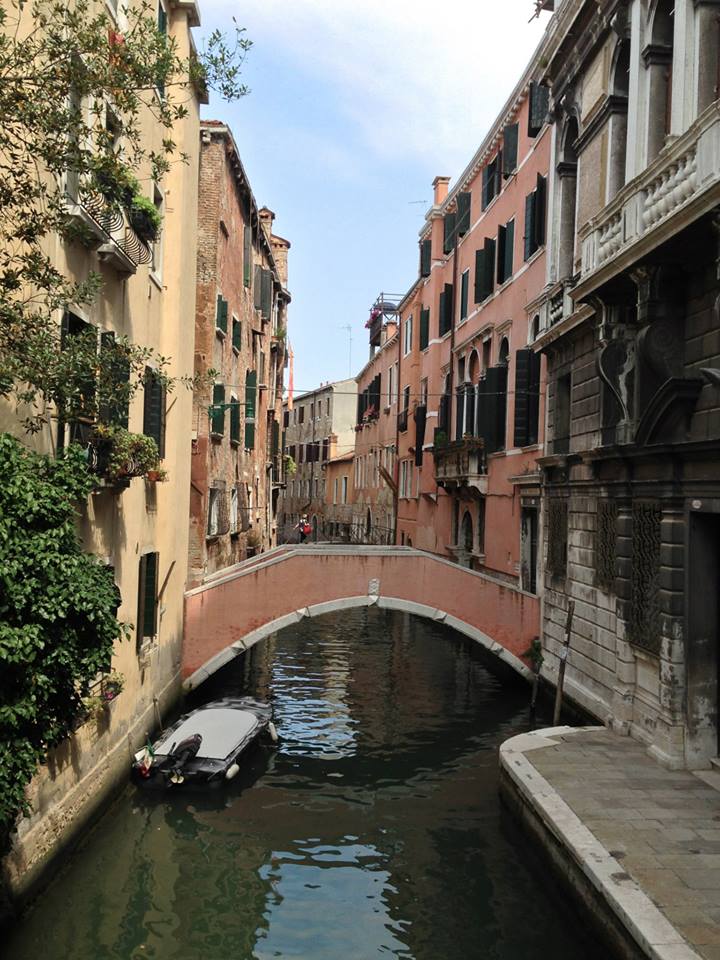 So what did we do in Venice?
Well, we hit as many of the touristy destinations as we could. We rode the vaporetto. We ate the same panini 4 or 5 times. We lounged around our BnB. We attempted to watch the fireworks at Festa del Redentore, but I got too grumpy. We chased Venitian kitty cats through the streets, trying to figure out where they lived.
But if you're going to count the minutes, we probably spent 95% of our time in Venice getting lost, and getting un-lost.
Getting around in Venice is as close to an impossible task as you can get. You can get a map… but the names of the streets are so long and the streets themselves so short that even if the map-maker decided to label that particular street, what's on paper won't match what's posted. And the canals. Oh, the canals. Each canal has a few bridges that cross over, but maybe a dozen streets that SHOULD have a bridge to cross over. So you detour around, looking for a bridge, and in the process lose your path.
You have no idea where you are. You do not speak the language. You are supposed to be having a relaxing, harmonious honeymoon with the one you love, not bicker over which way you should turn at an intersection… if you can call a giant square-ish open space with a toy store, a bar, and yet another ancient church an intersection.
Bring your patience to Venice. Instill in your heart a deep faith that you will find your way home, that you will not spend the night sleeping in someone's boat. Follow the never-ending flow of tourists – they are generally on the easiest path to somewhere recognizable. And look closely at those churches – they're large, they're always on the map, and they will guide you home.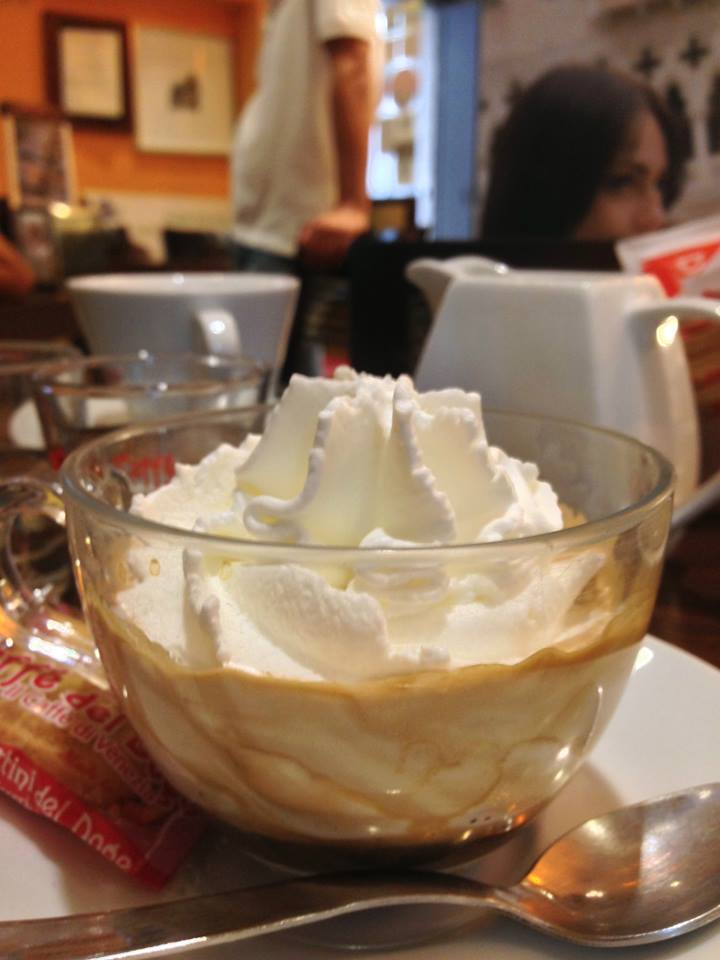 After experiencing the wonder that was the Italian Hotel Breakfast in Rome, we were dismayed to remember we did not opt in to the breakfast portion of our bed and breakfast stay. So began the hunt for the elusive cup of coffee.
For a country that is known for coffee delicioso, BOY did we have a tough time figuring out where to get some. Maybe our American, Starbucks-accustomed expectations were too high. The guide books and websites assured us that any local bar became a de facto coffee shop in the morning, that you could order a pastry and an espresso and take your breakfast standing at the bar, European style. But The Boy and I were either too timid or too lazy – or both. By the time we'd slept off the previous night's vino della casa, dressed, and hit the streets, the bars seemed to be serving food-food, and the standers-at-the-bar drinking cocktails.
Even when I am on vacation, I cannot abide by booze before coffee. After who knows how many hours of stumbling, uncaffeinated through the streets, we finally found Caffe del Doge, which was exactly what we needed. Perhaps it would have been more European to stand in a darkened bar and knock back a shot of espresso to start our day, but I absolutely loved Caffe del Doge. It was just like the American coffeeshops I've grown accustomed to – there were tables, a large menu, folks who spoke English – but just substitute all the shitty caramel frappa-pumpkin-lattes with delicious and creative Italian coffee options.
The boy stuck to Americanos, espresso served with a little individual pitcher of hot water, while I tried a few things on the menu. Iced coffee with star anise was a favorite, but that shot of espresso with a giant pile of whipped cream wasn't too shabby.
Let it also be known that I absolutely drank more black coffee in Italy than I've drank in my entire life. Desperate times, desperate measures. I lived to tell the tale.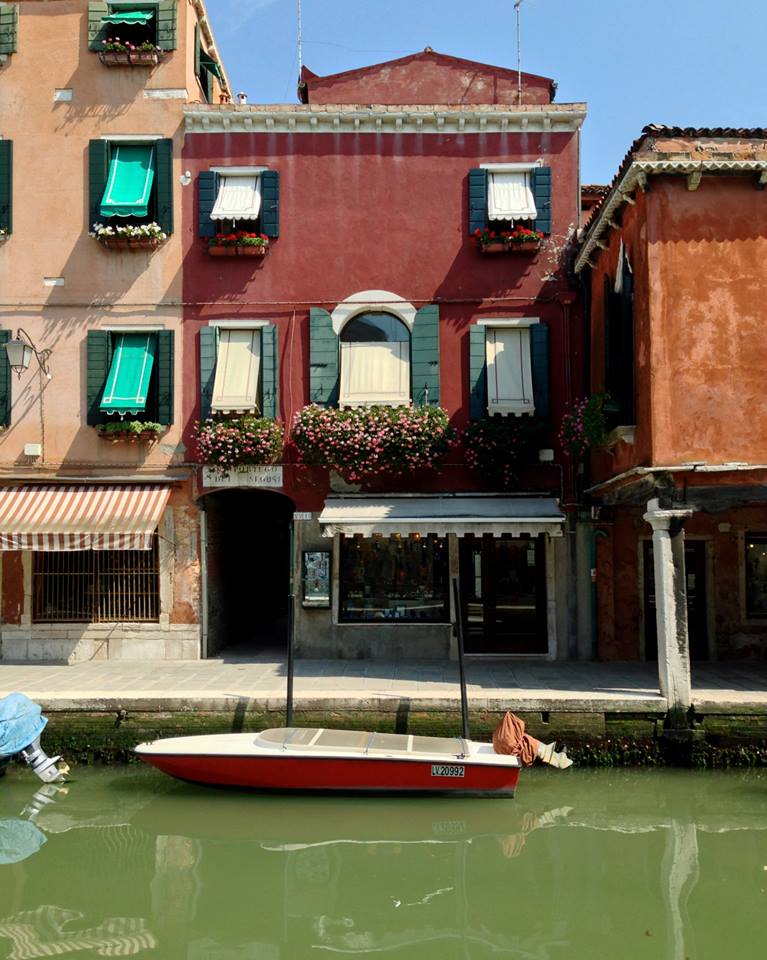 Murano is a cute little group of islands off Venice proper. After riding the water bus over and watching a glass-blowing demonstration, we spent the rest of the afternoon wandering about Murano and talking about glass.
We bought a few souvenirs, but I am pretty sure that we didn't succeed in buying any actual Murano glass. The best I could gather was that if it was real Murano glass, we couldn't afford it.
That did not stop us from spending far, far too long playing the Is this real Murano glass? Is that real Murano glass? game. The Boy?  This is favorite game. Me? I don't like to talk to strangers and I get exhausted when I'm on my feet for too long. I bought my overpriced little baubles and moved on with my day. The Boy haggled and debated and argued until the vaporetto was about to pull away and leave him stranded.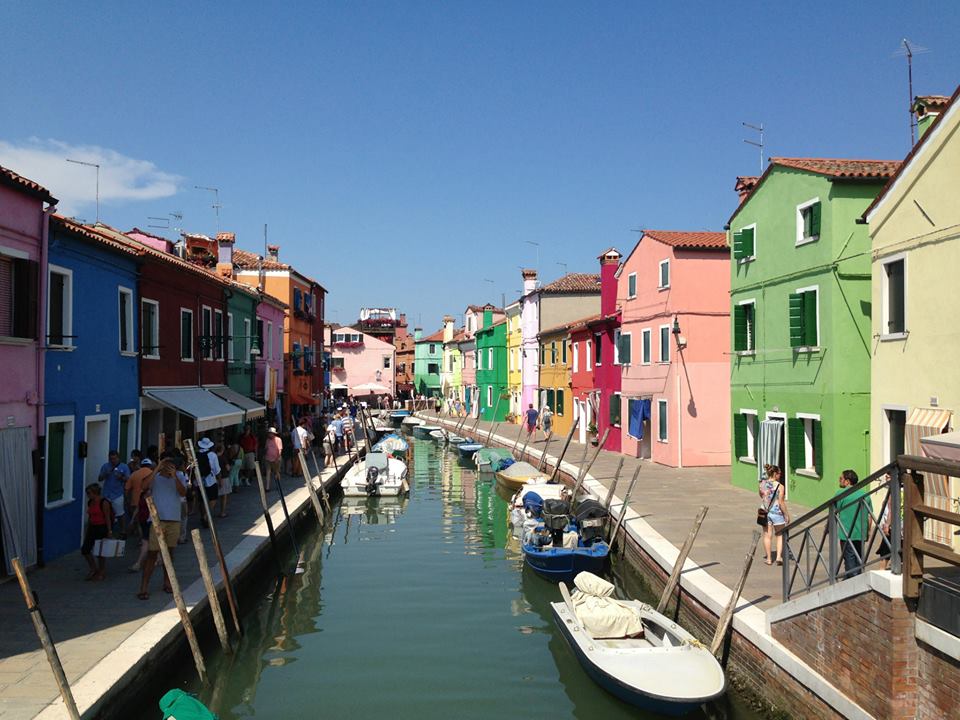 Speaking of souvenirs… they vex me. I don't want to get ripped off on junky nonsense. I don't want to spend an arm and a leg on anything (ever). I don't want to pack an extra suitcase so I can acquire things. I don't want to spend my vacation shopping.
However, I appreciate keeping items in your home that remind you of the places you've been. A few trips ago, we decided that until we feel financially comfortable enough to spend big bucks while traveling we will settle with buying nice postcards and framing them. REALLY nice postcards, you know, the artsy ones that cost like, 3 whole dollars. We were probably having an afternoon of Should we buy this? Should we buy that? when we came up with this scheme – I'm not sure that committing to hanging up random postcards is the best decor decision, but it was something that our stingy asses could agree on.
Anyway, we found a nice postcard of the Rialto bridge in Venice proper, so once we landed on Burano – The Most Adorable Place on the Planet – we did a little postcard shopping.
And by "we did a little postcard shopping," I mean, he did some postcard shopping while I wandered down an adorable street and took photos of front doors and tried to find some cold coffee.
The Boy came back with a postcard. "I asked the woman if she had any postcards of Murano," he told me, "but she said that Murano was too ugly."
Venetian Island Feuds? Apparently a thing.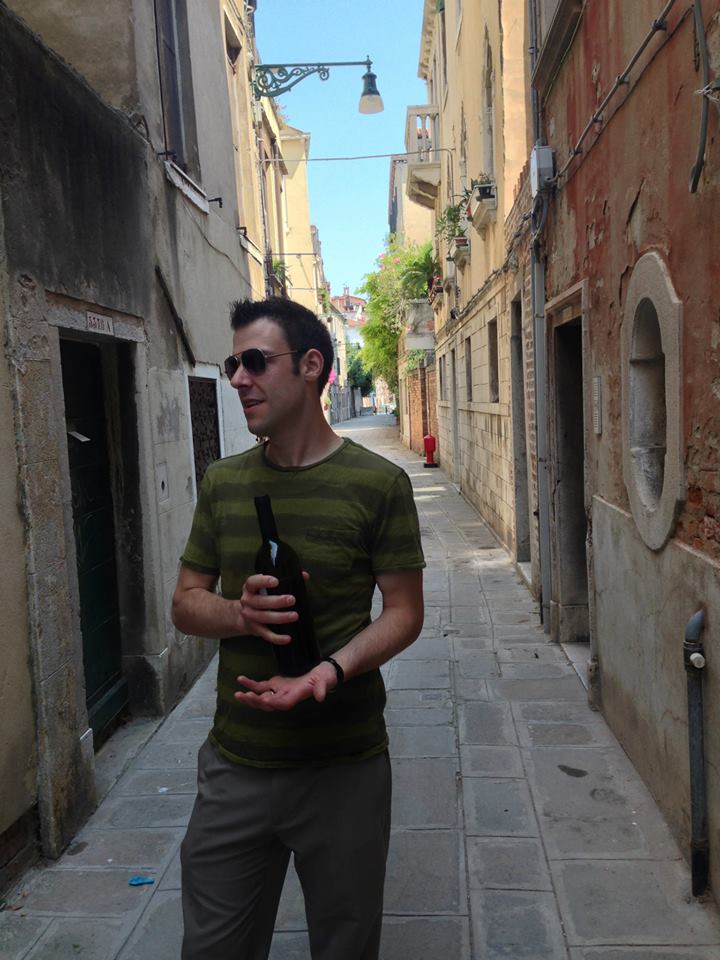 We spent four days and three nights in Venice. I got un-jetlagged. I adjusted to being in another country, drinking black coffee, and being on vacation. I started to feel adjusted, vaguely at home.
I did all that in Venice.
In our corner of Cannaregio, we regularly walked by a store with a maroon awning. We knew to take the alley to the right of the storefront, that we would be almost back to our bed and breakfast.
The second day in Venice, we popped inside the store with the maroon awning and it was a store filled entirely with wine and chocolate. So we came by every afternoon for the rest of our stay in Venice.
Even better? The wine was 3 euro for a liter. What romantic luck for the stingiest honeymooners alive.
~
Thanks everyone for indulging my summer ramblings about my summer ramblings. Glamor and glitz officially over. Now back to my regularly scheduled American adventures, such as  The Boy Takes 45 Minutes to Buy Vitamins at CVS,  Jessica Falls Down While Reading on the T, and We Have a Futon On Our Back Porch.