Hey! The Boston Globe-Horn Book Awards were just announced!
…umm… back in May. When I was completely strung out on wedding shit.
However, that doesn't mean they are not worth celebrating. Especially when two of my favorite YA books of the year appeared on the fiction list! I will be attending the awards ceremony again this year, which is always great fun. Hobnobbing around the old alma mater, children's lit celeb spotting, wine sipping and cheese noshing. And the acceptance speeches, oh, they are the stuff that sparks up the soul. People with considerable talents, choosing to pursue excellence in children's literature through writing, through art, through teaching, reading, and reviewing. It's a celebration of what we all are trying to achieve with our work. It is fun.
I am even more excited to get to attend the one-day colloquium on Saturday. I haven't been for a few years, but I still remember some of the interesting bits of discussion.
Oh, and you might notice that my new favorite author will be in attendance. Yes. Yes. Yes. I will need to recruit a close friend to keep me from fangirling out; the fancy outfits, the spirit of celebration, the wine (the wine), oh, it can be a dangerous atmosphere for keeping one's cool. I'll try to stick to the signed books and admiration from a distance. I'll try real hard.
Picturebook Award
Building Our House by Jonathan Bean
Picturebook Honors
Open This Little Book by Jesse Klausmeiser, illus. by Suzy Lee
Black Dog by Levi Pinfold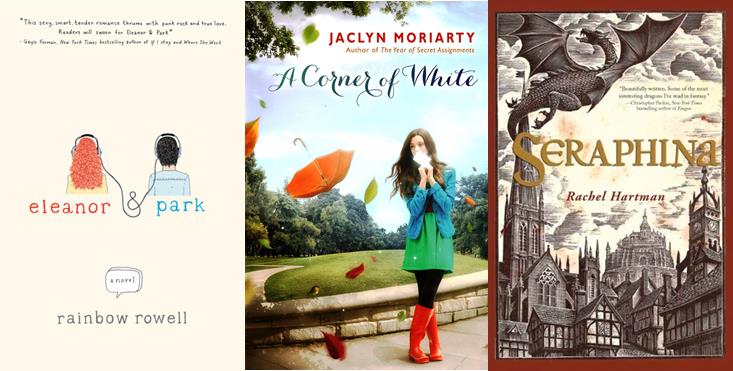 Fiction Award
Eleanor & Park by Rainbow Rowell (yay, rah!)
Fiction Honors
A Corner of White by Jaclyn Moriarty
Seraphina by Rachel Hartman (yay yay, rah rah!)

Nonfiction Award
Electric Ben: The Amazing Life and Times of Benjamin Franklin by Robert Byrd
Nonfiction Honors
Dreaming Up: A Celebration of Building  by Christy Hale
Hand in Hand: Ten Black Men Who Changed America by Andrea Davis Pinkney and illustrated by Brian Pinkney