International travel was about as stressful as I imagined it would be, although I admit the stress was entirely me-related and not travel-related. There was airport confusion, haggling with cabbies, disorderly airport shuttles, and a missed train, but the anxiety surrounding potential problems was far greater than the actual experience. We made it through airports, into and out of cabs, and boarded the next train. It was important to me that I, oh, enjoy my honeymoon, so I actively tamped down the worry-frenzy, with mostly good results. And there were surprising conveniences along the way. Tolerable jet lag. An car service that took online requests and showed up on time to drive us to the airport at 5 a.m. How all you have to do in European airports is hand over your passport and people wave you on to your next destination. Complimentary airport meals, with little bottles of wine! It wasn't all horrible. And you will note that we both lived to tell the tale.
We spent our first two nights in the Hotel Campo de' Fiori, a very nice place to stay with numerous amenities but oh, the roof. The roof! The best part was definitely the roof. Comfy chairs, a canopy to keep off the sun until evening, multiple levels and seating areas,  and the breeze and the noises from the piazza below and the view, the view! Nobody else who was staying at the hotel wanted to spend any time up there, so we had a private Roman rooftop. No big deal. We ordered pizzas and desserts to go, scouted out 3 euro bottles of wine, and dined and drank al fresco while the sun set over the Vatican.
No big deal.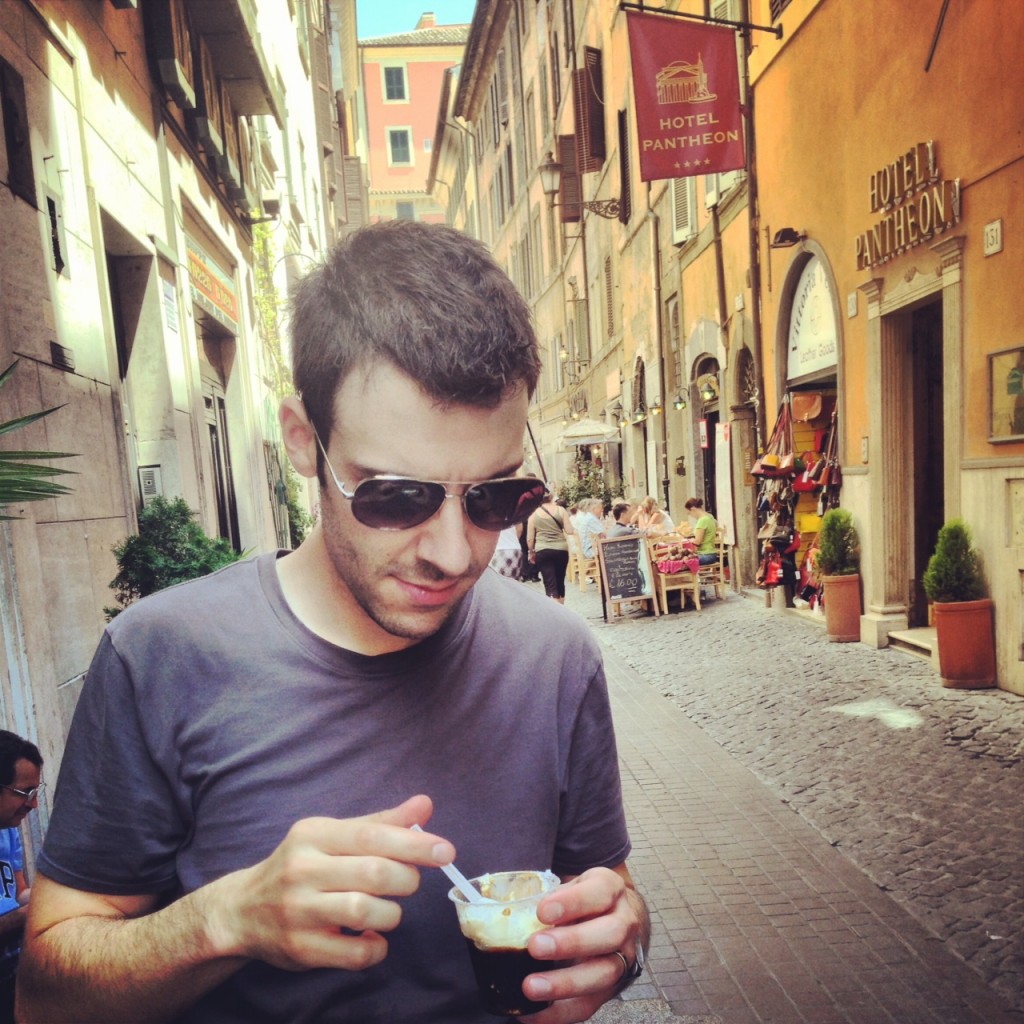 A few weeks before our trip, I logged onto my favorite food blog in search of a recipe, and saw that Deb had just returned from Rome. More importantly, Deb had just returned from Rome and she had found a cold coffee drink that happened to be served at a coffee shop within a mile of where we stayed. Just around the corner from the Pantheon, Tazza d'Oro was our Roman caffeination location. Coffee wasn't too hard to come by in Rome, if you want a shot of hot espresso standing up at the bar. If you are a spoiled American with an automatically reloading Starbucks card and the weather is in the high 80s, then you want a giant vat of heavily iced coffee. Tazza d'Oro did not have any vats of American coffee, but those little espresso granitas were a delicious substitute. I eventually figured out the secret of Italian cold coffee – if you're lucky, your barista might shake up that hot espresso with some ice and serve it to you that way. On our last day in Rome, we went back to Tazza d'Oro and I ordered a shakerado… which was served to me in a martini glass.
No big deal.
I think I am starting to reveal my secret intentions for our honeymoon. An exciting journey across the ocean to spend priceless time with my new husband? Or ten days of Eating Like I Never Have to Fit into a Wedding Dress Again. Prosciutto and cheeses and wine and pasta and pizza and gelato every day. Unless, of course, it was a two gelato day.
For one of our rooftop dinners, I claimed exhaustion and sent the boy out to fetch sustenance – he came back with a seafood pizza, complete with octopus suction cups and clams still in their shells. To get from Piazza Navona to our second location – an adorable Air BnB apartment – you had to walk between two restaurants advertising something called a Tartufo: the restaurant on the left boasted the best gelato and desserts in the world, the one of the right had signs warning of dessert imitators, they were the home of the first and best Tartufo in the world. Don't even get me started on the wine… so, so good. So, so cheap. Rome: a wonderland of sugars and carbohydrates.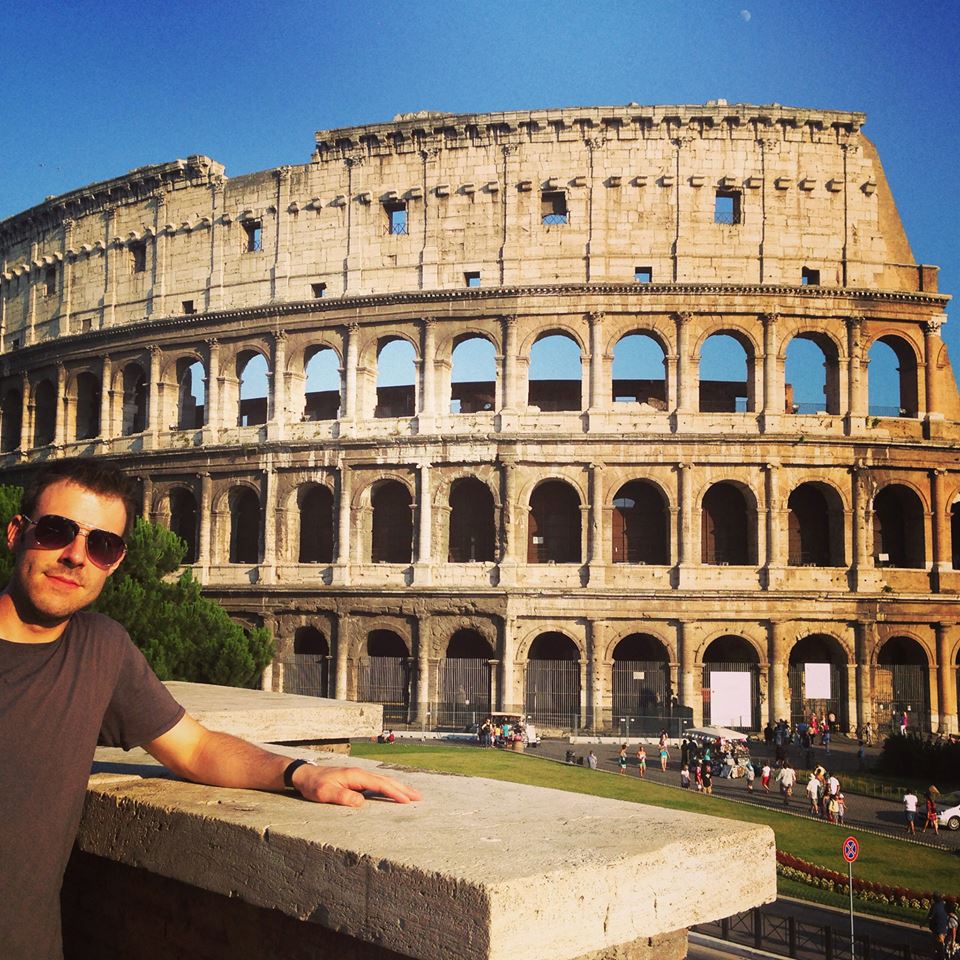 On our second day in Rome we decided to take a long walk to the Termini train station, to see exactly how much fun we would have lugging our baggage across town to get on our train to Venice the next day. On the way home, I told The Boy to take us home whichever way he desired.
Rome was like Boston in that respect – the roads never parallel, always twisting off in strange directions, and often leading past beautiful architecture or something truly ancient.
I didn't know this yet, on that second day. I was truly surprised when he led me off the street and up a strange flight of alley stairs, took a sharp right and there was the Colosseum.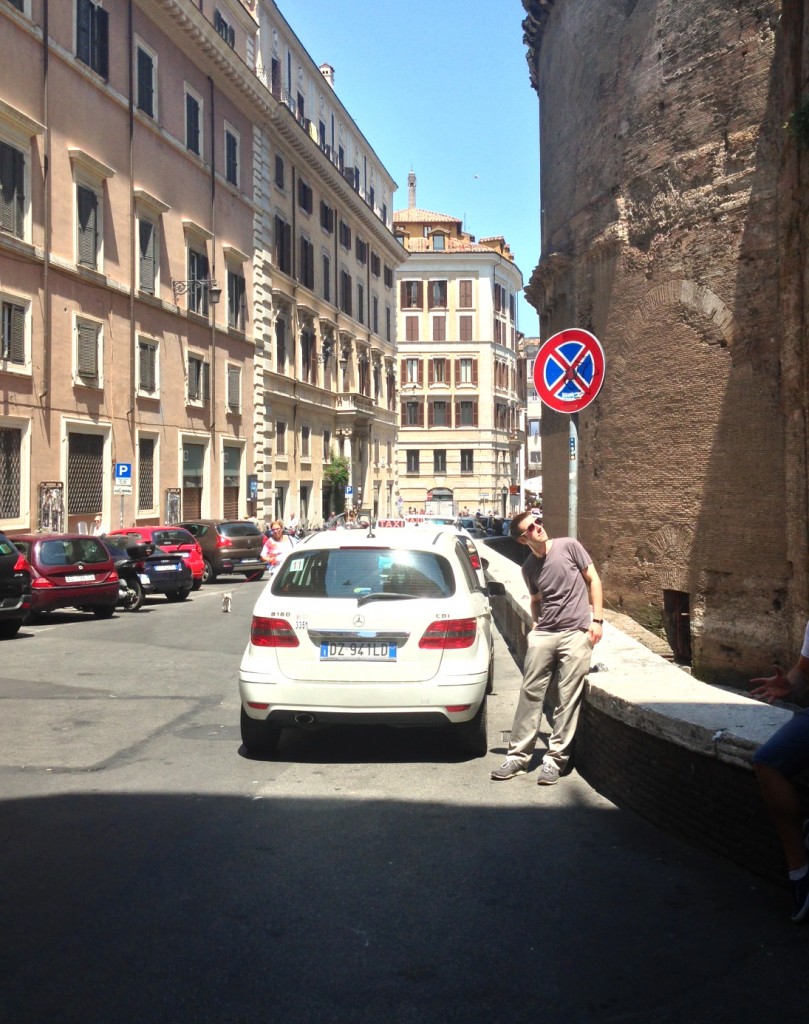 We took off for Venice just a few days after arriving in Rome. Two notable events involving our return to the mainland.
1) We got into Rome late. We missed our train coming back to Venice and were late to meet our Air BnB host. Exhaustion. Frustration. After settling into our little studio just outside Piazza Navona, we wanted to veg out on the Internet and cool off with the AC, both of which were selling points for this particular abode. Oh, and drink a bottle of wine. Unfortunately, the AC was subpar, we never did figure out how to connect to the Italian wifi, and it's impossible to buy a bottle of wine in Rome after 9 p.m. We settled for sickly sweet limoncello over ice, in bed, while we watched the one new episode of Game of Thrones we'd downloaded in Venice.
Which was The Red Wedding.
Romantic.
2) Venice has no cars. Rome has billions of cars and zillions of scooters, and they all love to drive down little twisting roads you thought were pedestrian alleyways.
What I'm trying to say is that we almost died seven or eight times.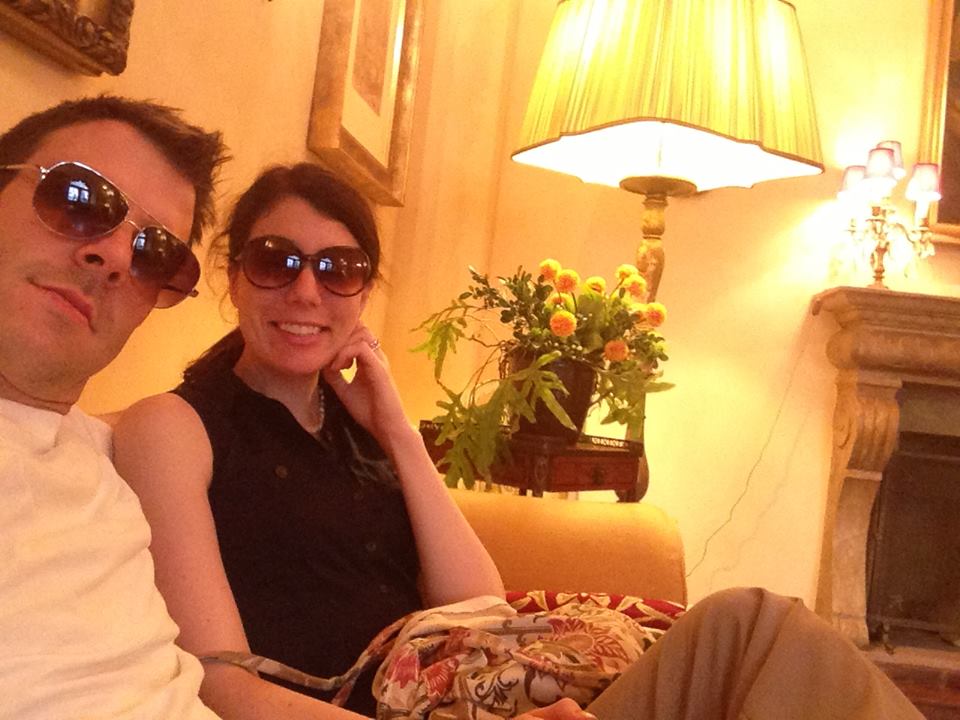 We had never been to Europe. We had never taken a long vacation together alone. We had never spent so much money on leisure, entertainment, and vino della casa.
But I suppose we also had never been married, either. Roma was our first destination, our first challenge. The first place we spent time together as married people.
It will probably be difficult to separate my fond memories of Rome from my fondness for this boy.