Hello there!
I am now a married lady. So that is a thing. More on that when I admit that it happened and it wasn't just a crazy, hazy dream.
I am also on vacation, which is a thing I haven't experienced in quite some time. Our little jaunt to Chicago felt a bit like a vacay, but technically I was there on business. Vacation, I think is, is a time when you do not have to go to work for a predetermined period of time and your only job is to engage in leisure pursuits. Bonus points if you are getting paid via "vacation hours." It doesn't quite count if you are going home to Michigan to stay with your family, especially if you have to plan a wedding while you are there.
My life has been void of such an experience for a number of years, so… yes, vacation.
But did I also mention that I haven't been able to read for a few weeks now? It's been bad, friends. All this talk of plane reading, ALA ARCs, summer reading lists? All for naught. This Summer of Nonsense has rolled me over and my attention span is the primary casualty. I couldn't follow podcasts or audiobooks or watch movies. I couldn't read anything that isn't Clash of Kings on my iPhone.
It's too soon to tell if I am completely cured, but I am on vacation, you guys. And my hotel has a roof terrace. So this is what I am up to.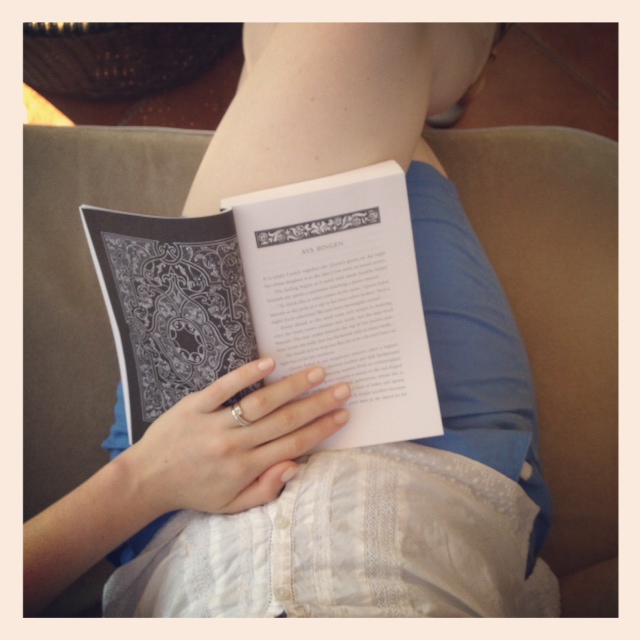 This particular beautifully illustrated galley is Susann Cokal's The Kingdom of Little Wounds, which, twenty pages in is just as dark and Game-of-Thronesy as I'd hoped it would be. But really, I wish I had brought a hundred books about Rome. This city is ridiculous, and I just want to know e.v.e.r.y.t.h.i.n.g. about it.
And now, back to the honeymoon.
!
!!!