Do you have stories that haunt you? Do you find yourself reading book after book about some topic you find completely obscure and nowhere near up your alley?
I've probably posted about this before, but it's one of those weird human phenomena that that just tickles me. I am 95% positive my mother will never climb Everett or K2, would never pick up a book called My Life Climbing Mountains. Nevertheless, she finds herself reading mountain climbing books. Crazy!
I've wondered if I have one of these. Most of the weird repeating topics in my reading life are my own, weird doing.
And then I met the Ivory Billed Woodpecker.
As all barely interesting stories do, this story begins in grad school. I was assigned Phillip Hoose's The Race to Save the Lord God Bird. A good IBWO primer.
A month later, I picked up John Corey Whaley's Where Things Come Back. Suspicions rising…
This fall, the dang bird started showing up every which where. The True Blue Scouts of Sugar Man Swamp by Kathi Appelt. The Good Lord Bird by James McBride. I didn't read the latter, but that's TWO woodpeckers on the National Book Award short lists this year. Strange indeed.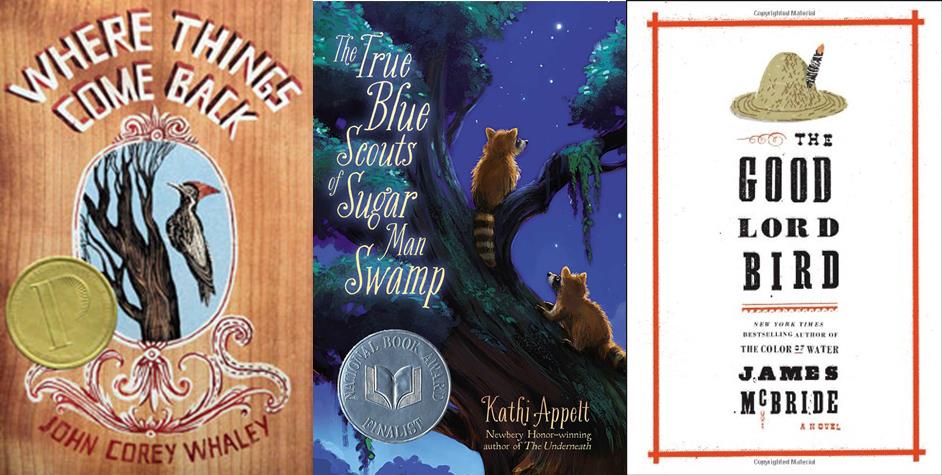 Maybe it's just birds in general? Maybe once one is exposed to one distinct bird, other birds become more noticeable? James Audubon too, for that matter. I learned a little about him in Race to Save the Lord God Bird, then read what felt like an ode to him in Gary D. Schmidt's Okay for Now. When his name popped up in Sugar Man Swamp, we were old pals. That book is like, bird city.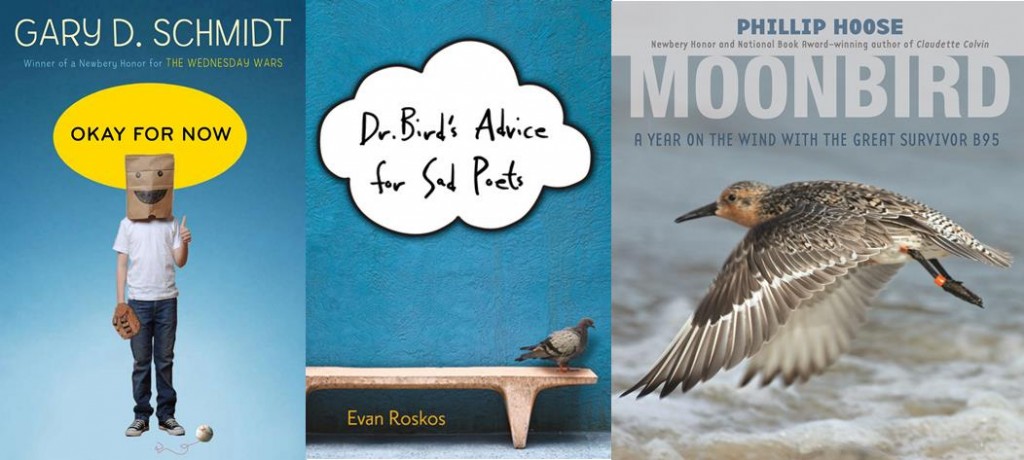 Perusing my Read shelf on Goodreads reminded me that I've also read Dr. Bird's Advice for Sad Poets this year. Does one bird count? Even if he's a pigeon? And imaginary? I also read Phillip Hoose's Moonbird last winter. I would recommend this title to bird sympathizers, yes, but I don't think it necessarily counts for this particular purpose, because A) It's nonfiction and B) It was Required Reading for last year's Cybils award. It lacks kismet.
Perhaps it is possible that I am trying to invent myself a reading quirk? Maybe. Stranger things have happened. I tend to my reading life like other tend to homes, careers, families, children, massively multi-player online role-playing games, stamp collections, fantasy sports leagues, classic cars. I find pleasure in my reading life. I find value in my reading life.  I often ascribe meaning to the books I read that really has nothing to do with that book. And yeah, sometimes, I'm downright weird about it.
Now excuse me, I'm going to make like a hipster and buy this night-light for my apartment.