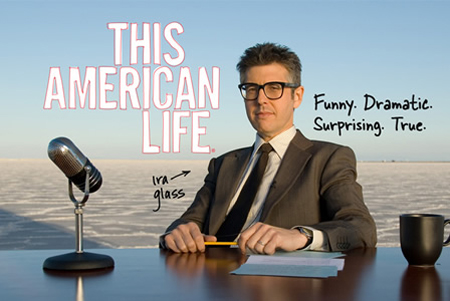 There comes a time in every girl's life when your demand for This American Life podcasts outpaces a measly one-episode-a-week demand.
It's understandable. Life throws you a lot of tedious tasks that simply can't be accomplished without auditory assistance. Like cleaning. Folding laundry. Exercising. Opening boxes of books for hours (just me? huh…).
Or walking.
And sometimes your attention span just can't handle an audio book, you know?
The last time I tried to listen to Non-This-American-Life podcasts, the whole concept of podcasts was fairly nascent. Which means: the podcasts available were pretty crappy. Luckily for me, there has been a boom in podcast quality during the past years! Yippee!
So here is what I have been listening to with relative obsession for the past few weeks. If you have found yourself in a This American Life drought, then these may fill that massive void in your life.
For a basic primer on quality comedy podcasts, I would recommend my friend Ashley's post Podcasts for your Ears.
I will admit that I feel a bit of kismet has brought me to the world of podcasts. As soon as I started listening to some of the more popular comedy podcasts, I spotted references to them EVERYWHERE. It was like this bit of counterculture I was never aware of. Anyway, my introduction to these podcasts also began auspicously – as soon as I said "WAH I NEED MORE THIS AMERICAN LIFE WHAT SHOULD I DO??" I swear, the next day, Ashley made this post. MAGIC!
Ashley covers the big ones: Nerdist. WTF with Marc Maron. The Pod F. Tompkast. I'm not hooked on any of these yet, but they are certainly entertaining, and feature some quality guest stars. Head on over to Ashley's blog for a more thorough recommendations – she's been at it for much longer than I have!
Additional moments of kismet:
If you aren't in the mood for comedy and you have two working ovaries, I would heartily recommend Hilary Frank's The Longest Shortest Time. On this podcast, Frank interviews new moms and dads about the bizarre experience that is raising Very Tiny Babies. Think of this as a well-produced mommy blog for your ears. I was so sad when I listened all the way through this series.
Moment of kismet:

If you ARE in the mood for comedy, allow me to reveal my biggest obsession – You Had to Be There. I saw this article about the podcast in the NYTimes last week and was so intrigued. While I like comedy podcasts, what drew me to this one was the strange premise. The two hosts, comedians Nikki Glaser and Sara Schaefer met at a party and hit it off. They wanted to be friends. Instead of doing awkward lady-dates – or however it is you make friends when you aren't in school I have no idea – the decided to start a podcast. So it's part funny podcast, part two new friends getting to know each other. I am a big-time voyeur, so this was intriguing. And I was SO instantly hooked. In fact, I have not listened to anything else since discovering this one because GUESS WHAT! It's a year old so there are 700 million episodes to listen to.
Moment of kismet:
I am about 10 episodes in and for some reason these episodes have been disproportionately MICHIGAN and KANSAS heavy! I believe my readership here is about 90% people from Michigan or Kansas, so this might excite you.
I will also add these notes:
The musical guests are all… strangely awesome.
It's pretty raunchy. Actually, a lot of these podcasts are pretty raunchy. If you are adverse to the raunch, listen with care.
I love that this is two ladies. Lady humor ftw!
And in a final moment of kismet, just as I entered this Let's Hunt for Podcasts stage of my life, another college friend of mine was like SO YEAH I STARTED A PODCAST!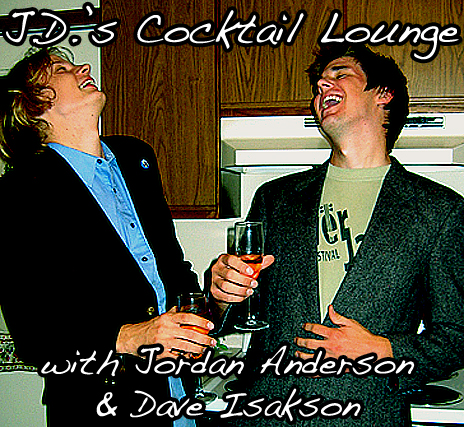 And it is funny. Very funny. Recommend! J.D.'s Cocktail Lounge is available on my friend's tumblr or on iTunes.
This last one has made me miss my college friends something fierce – I need more hilarious discourse in my life.
Additionally, this whole experience has made me want to start a podcast. Every time a funny exchange occurs between me and a friend in real life, I start to wonder "Hmmm… what kind of podcast could we make?" I feel like it may be a sickness, but it also makes for a fun conversation starter at parties.
But seriously. Anyone down?