I realize that complaining about the Common Core is SO last year at this point… but wow, it is SO WEIRD. This New York Times opinion piece is a good primer of how the Common Core standards interact with children's literature, and how maybe that isn't an awful thing. As someone with a soft spot for quality children's nonfiction, I'd love to see more support for writers and researchers to keep up their good work, and the author of this piece agrees!
Sketchbook Project – Filling my Bookshelves
One of my random passions – looking at the sketchbooks and schedules and handwritten ephemera of strangers. The Sketchbook Project is a collaborative art effort where folks submit their sketchbooks to share with the world. Awesome enough as it is, but librarian Sally Gore took it to yet another awesome level: in the style of Ideal Bookshelf, Ms. Gore used her sketchbook to draw her year's reading, arranged by topic. Love, love, love it.
I have had a three year plan, plenty of one year plans, and zillions and zillions and zillions of one month, one week, one day, one hour plans… but never a ten year plan. In this entry from the Blogher book club, Karen Ballum reviews Kate and Dave Marshall's My Life Map: A Journal to Help Shape Your Future and although Karen is intrigued but skeptical, I am completely interested.  I should probably not read this book unless I have a few weeks of free time, because I can only imagine how obsessed I might get in creating such a document. Ten years… can you imagine?
Nina Lindsay's essay is on the topic of "What Makes a Book a Newbery Book," but could really be read as "What Makes Art Art." She talks about the inherent struggle of writing, of critiquing and comparing books, in how she hopes that one day a Newbery-winning author's retirement is covered by the New York Times. I liked this quote the best: "If I can see the author's struggle in a work, then it's probably not distinguished.  If I can see that the author didn't struggle: it's certainly not." Truth in a contradiction.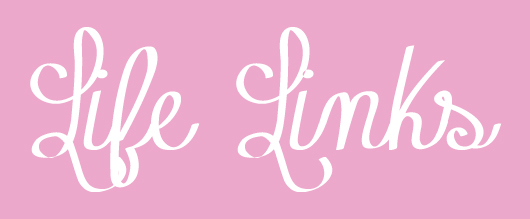 Rights and Responsibilities for That Girl That is Desperate To Be Married
It is hard being a girl who wants to be married: the world agrees that yes, you probably should get married, but don't want it too bad, don't pressure, don't have a timetable. Just sit pretty and wait. Frustrating. This is an article I wish I could have found three or four years ago.
Impromptu Thanksgiving Makeover
I read a handful of home decorating/design blogs, and I've always wondered what happens to these bloggers once the projects are all finished, when their entire house is done. You can keep tinkering with room layouts and upgrading furniture, but at some point, do you just get the urge to move out and start over? Daniel at Manhattan Nest finds the fun happy medium – visit your relatives over the holidays and force-redecorate a room! This makeover was even more fun because Daniel is redecorating his partner's teenaged bedroom, so while he paints and rearranges and designs, he's also getting a peek into a previous life.

The Daily Routines of Famous Writers
Like many pseudo-writers, I have a little bit of jealous fascination for the daily routines of authors, like somewhere in these habits that holds the key to genius and success. This collection is top notch, and reminds me of something important: that creativity and practice and writing looks different to everyone who attempts it. If one routine isn't working, there are others that might better suit your temperament. Stay flexible, stay hopeful, etc.
I am not quite a gamer, but I am a nearly 28-year-old woman and I still do love video games, I do, and I love the idea of video games as art. With HD and advanced consoles, I've seen video games that look more like movies than movies, video games that get trailers at feature films, but there is something artful about older, less visually-impressive games, too. Ever played Katamari Damacy? This game is just as abstract, surreal, and irreverent as any contemporary visual art piece I've seen at a museum. The Boy and I visited MoMA and they were in the process of building this video game exhibit; we may have to visit once it is up and running!
I seem to have adopted Sara Zarr as my Patron Saint of Creativity/Writing/Life. Her blog, especially, is just the kind of thing I like to read about writing – honest, straightforward, sometimes questioning or doubtful, but absent of fluff or filler. Zarr takes her writing, her practice, seriously. This post ruminates on this quote from writer/director Scott Derrickson – "It's ingratitude that destroys that romance" – that seems to apply to writing, relationships, religion, the way that we all live our lives. I don't know if I will ever be a person who can keep a trendy "gratitude journal" or box or jar whatever else is going around Pinterest, but this article reminds me that the small act of being thankful can change my attitude, my worldview, my life. Be grateful, be grateful, be grateful.