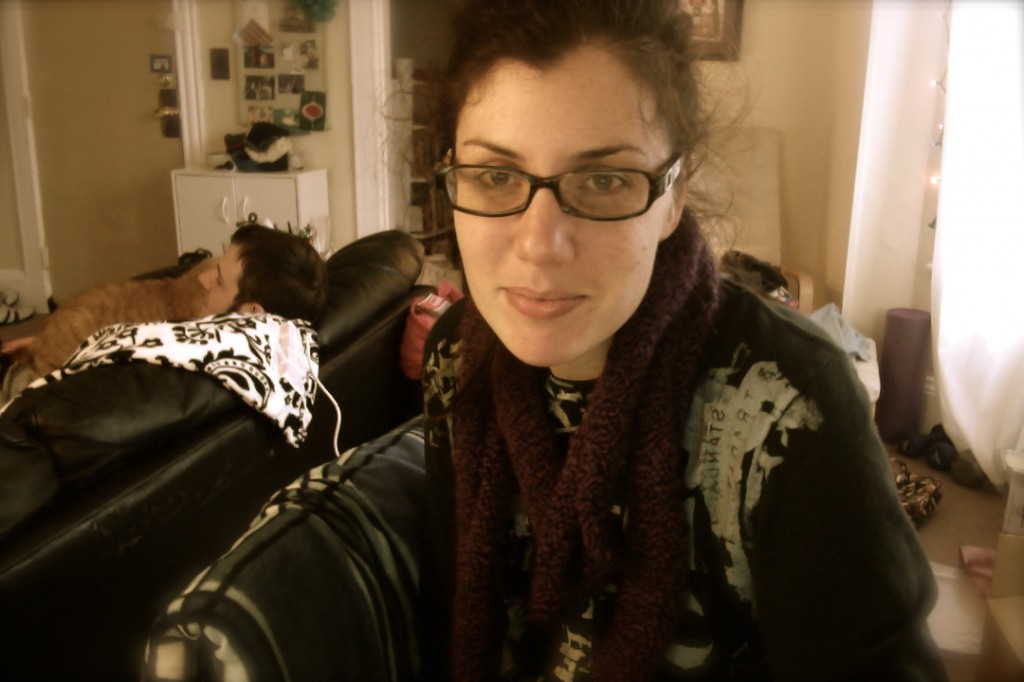 This is the only picture I have from this Christmas; apparently my camera decided to eat them all. No matter, this picture is more than adequate to capture the spirit of the day. We hung around in our PJs. We dressed ourselves in our new Christmas finery as we unpacked (see: a purple scarf from my Smallest Sister). My parents sent us his and hers electric blankets which are divine. Peach, as you might note, agrees. I introduced The Boy to the American classic that is A Christmas Story. Let's not talk about how in the world one can live nearly 28 years without seeing this film.
Our first Christmas without our families. Our first Christmas together. What with an unexpected midweek trip to the Midwest and all, I didn't have a heck of a lot of time to sit around and scheme about what could make this holiday special.
So I went with old standby, the obvious choice for memorializing any occasion: making a shit ton of food. Far too much food for two people to ingest in a reasonable amount of time. After multiple trips to many different grocery stores, I prepared the following menu:
Christmas Eve
Appetizers


Fancy brie and sharp cheddar with toasty white bread
A cheesy frozen appetizer from Trader Joe's

Dinner

Marinated sirloin. Cooked in the broiler despite every internet site insisting that in order for sirloin to be edible it simply MUST be grilled. It came out fine, guys.
Mashed red potatoes with roasted garlic

Dessert
Christmas Morning
Tackett family traditional sour cream coffee cake
Tackett family traditional sausage gravy
Biscuits from the NYTimes (first batch came out flat, second came out poofy! A Christmas Miracle!)
Christmas Dinner
All this talk of tradition, which ones you will bring together, which new traditions will you create. This is strange for us, in particular, because The Boy is the youngest of two – most of his childhood traditions in his home have long been abandoned in favor of sleeping in until 1 pm and opening presents whenever. And me? Well, I don't love traditions as much as require them. I hoard them. Some I likely urged upon my family as a youngster – or more likely, cried my eyes out when that tradition did not appear in subsequent years and then whatever it was would reappear the next year. Lately my sisters and I have turned traditions into sport. For example, as I was Skyping home on Christmas morning, I was informed by my sisters that they had begun a new annual holiday tradition of singing Christmas carols in the style of Abe and Mary Todd Lincoln. I have no idea what this means, but there you have it.
I chose to bring to the table the Traditional Tackett Family Christmas Breakfast, and bought him a Traditional Tackett Extremely Difficult Jigsaw Puzzle for us to enjoy. He enforced his own family's tradition of attending a motion picture in the evening. I forced upon him my own traditional love of musical theater and bought tickets for Les Mis without consultation.
As for new traditions, I decided that my life does not allow nearly enough opportunities for mimosa-drinking, so we cracked open a bottle before noon. Merry Christmas, indeed.