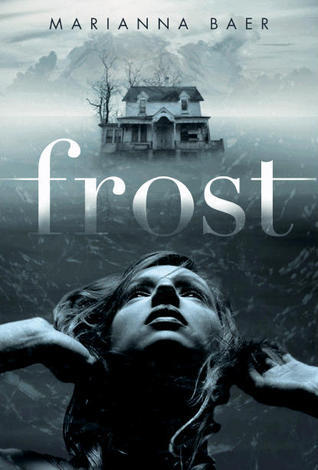 When I was about twelve years old, my parents invited me to watch my first scary movie. For two or three nights, I joined them after small-children bedtime and we watched the miniseries version of The Shining. I was old enough, mature enough, and it wasn't the R-rated Stanley Kubrick version… but it still scared the crap out of me, and to this day, I am still heavily freaked out by "Haunted House" type books and movies.
This is probably why I couldn't read Frost at my apartment, alone, after 9 p.m.
Leena is looking forward to her final year at boarding school – she's a student leader, an overachiever, and she and her three best friends are going to live together in this cute little cottage by themselves called "Frost House." But on the first day of school, Leena finds out that Celeste Lazar – weird, art-freak, loose-cannon girl on campus – is going to be her roommate – Leena and her roommates are miffed that their perfect bubble has been broken. What makes things worse is that Celeste hates Frost House – the windows freak her out, she thinks the closet smells, the creaky old house noises keep her awake at night. For Leena, though, everything in her life starts to go downhill EXCEPT for when she's at Frost House. Leena can't keep peace between her roommates and Celeste, she loses the trust of a valued teacher-mentor, and she finds more and more excuses to self-medicate from her stolen pill stash. Celeste's complaints about the house become more and more bizarre, but Leena sees Frost House as a sanctuary; so maybe the house knows something that Leena doesn't? Maybe Celeste just doesn't belong and needs to leave?
This book is a mysterious-haunting book/psychological-who-is-crazy, who-is-not? book, which again, see: The Shining. Baer also does some freaky things here to just create a sense of Uncanny: Things Are Just Not Right about the book. Celeste's brother David for example, is prominent throughout the book as Leena's love interest and Celeste's ultimate protector. But Celeste and David's relationship is full of family secrets and their closeness becomes kind of… creepy.
On a lighter note, Baer's writing feels very contemporary YA – she gets the language, the issues, the friendships between teens. But for me, that just made the creepiness even creepier, like whatever is going on in that house could possibly show up at any time in my favorite Sarah Dessen book or something. Urghhhh.
You might want to keep this book in the freezer when you aren't reading it. Just sayin'.