Hello there.
I do not believe that keepers of blogs should begin their writing by apologizing to the reader. I'm sorry I haven't been writing is how I want to begin this post, but how I *want* to begin a piece of writing is only occasionally how I *ought* to begin a piece of writing. Snipping that apology seems like easy editing; tighten it up, get to the point, skip over the bits where you have to reckon with yourself as a writer and get writing.
What's more, I don't think the apology should be necessary. You are a keeper of a blog, yes, but you are also a human being living on the planet Earth. You used to be a teenager with entirely too much free time, a college student with a cushy part-time job with few job duties and unlimited Internet time, a twenty-something with more thoughts and dreams than your brain could safely contain.
Now, I am 31. I am a full-time librarian; a professional book reviewer; a wife, a sister, a daughter, a friend.
A real, live grown-up…
who writes a blog post once a quarter.
I want to write more about blogging and writing. I want to write more on this blog in general. But right now, it's my birthday, and I want to write about what is on my mind as I turn 31.
Thirty-one feels like a weird age. A decade-plus-one. Seems like a pointless differentiation from thirty. But then again, *twenty*-one was so exciting! Strange to think I have been a legal drinker for ten years, especially since I am in the midst of probably the longest drink-free spell I've had for a decade. I have a lot of good things to say about life without alcohol, but I also haven't had to watch anyone crack their fresh Sam Summer of the season in front of me yet, so I'll reserve any teetotaling wisdom for the time being.
29 and 30 years old are kind of loaded ages. "Oh my god, I'm almost 30!" then "Oh my god! I'm in my thirties!" Thirty-one doesn't hold any particular emotional for me… but its proximity to 32 does. You see… I discovered that adults have ages when my mother was 32. I would have been about 7. Since elementary-aged children are curious but perhaps not the most attentive to the personal lives of others, I kind of just thought my mom was 32 for like… 5 years. 32 is how old moms are. They just get to 32 and stop there. And yeah, now I'm a year away from that Forever Mom number. Yikes.
I am sorry I haven't been writing here in this particular empty white box, but you know what? I have been writing in other white boxes. Book reviews. Emails. Journals. Morning pages. Other miscellany. I'm reminded regularly of something I wrote here way back when I was a little bitty 26-year-old. That stuff counts. Those words count.
Here's a related thought: in addition to my piles of scribbled-in notebooks, it is highly likely that I will leave behind megabyte after megabyte of bizarre, half-formed Word Docs. Will my children read each and every document and discover… what? What is even the conclusion that anyone might draw from the contents of my Dropbox? Should I be afraid? Embarrassed? Should I try to clean that up at some point, see if there's anything potentially legally damaging? Or worth salvaging? What exactly is my digital literary footprint going to contain?
Oh yeah, I said I didn't want to write about writing today. Oops.
Today I am also – still – thinking about time management. About what I feel like I have time for and what I don't, about how I feel like my life is just winding up and winding up and winding up even though I'm not really getting *that* much more done. I even brought home Laura Vanderkam's book for the 2nd or 3rd time today, looking for some answers. One thing I thought about was travel. I was making a list (another Word Doc for the grandkids!) of all the trips I've taken since graduating college in 2007, and I noticed… a trend. Things started off slowly. A road trip in 2008. A week in DC in 2009. An ALA conference in 2010, a break for a few years, etc. Not counting periodic jaunts back to Michigan, we're looking at a trip a year, if that. Then in 2013… two trips, back to back, one to Europe. 2014? Three. Last year – Kansas City, New York, three European countries AND North Carolina. This year we've already spent a week in Portland, OR, AND I've got two separate trips booked in April – to Denver for PLA and then home for a long weekend. I'm not saying I'm upset about it whatsoever, but traveling isn't a cost-free endeavor, time and energy-wise. Is it possible that I could benefit from some good old-fashioned staying put? I should get some in the second half of the year, however, so maybe this experiment will come true.
Is there any bush left to beat around? Alright, well, here goes. My birthday hasn't really been on my mind this year, but somebody else's has. Somebody new who I haven't met quite yet.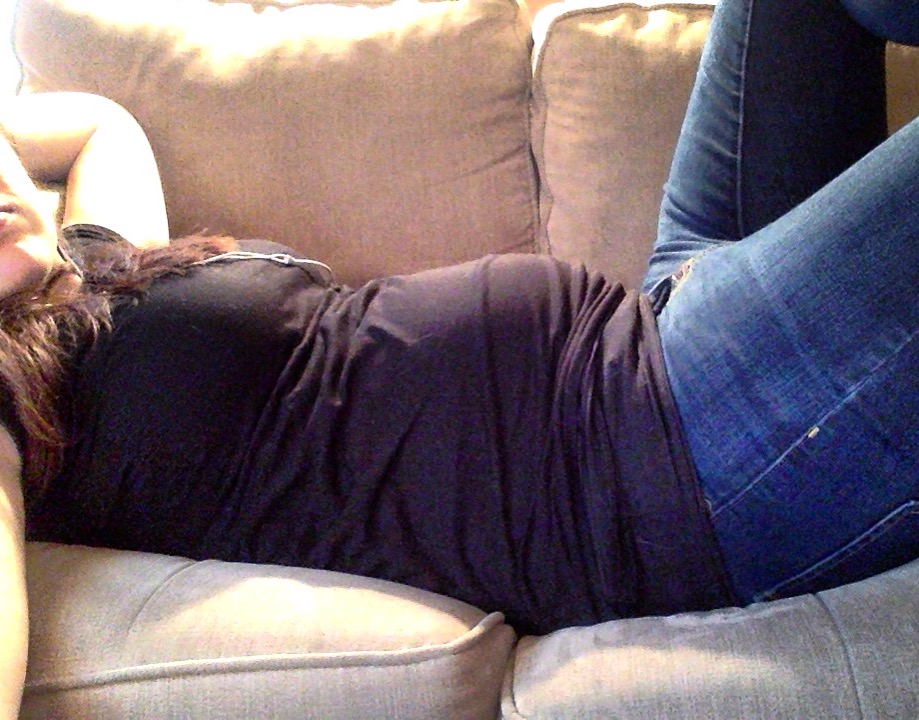 Somebody who is currently rehearsing for an inter-uterine underwater aerobics competition. Somebody who is getting consistently and disturbingly larger as the weeks pass. Somebody who will emerge to share an abode with me, my darling husband, and our ornery orange cat in just over 100 days if you can possibly believe that shit.
I *really* don't want to write about being pregnant right now – not because I'm opposed but because I fear I will ramble on into an eternity. It's been a trip and a half. The pertinent info? I'm due at the end of June. We're not finding out the sex. That's a really misleading picture; I'm quite a bit more gigantic when I am vertical, but alas, my apartment has zero selfie-facilitating mirrors. Also, I am a lazy pregnant lady and the couch is my castle.
I'm sorry I'm not writing here. I'll try to write more about books, about gestation, about reading and everything else. I'll try to write about it later, when I'm not busy traveling or writing other shit or eating Cheez-its. I'll try on a day that's not my birthday.
Today I'm 31.
I'm busy.
I'm excited.
I'm terrified.
I'm waiting for the bus taking pictures of myself because my apartment has zero selfie-facilitating mirrors.
Alright, new year of life, let's do this.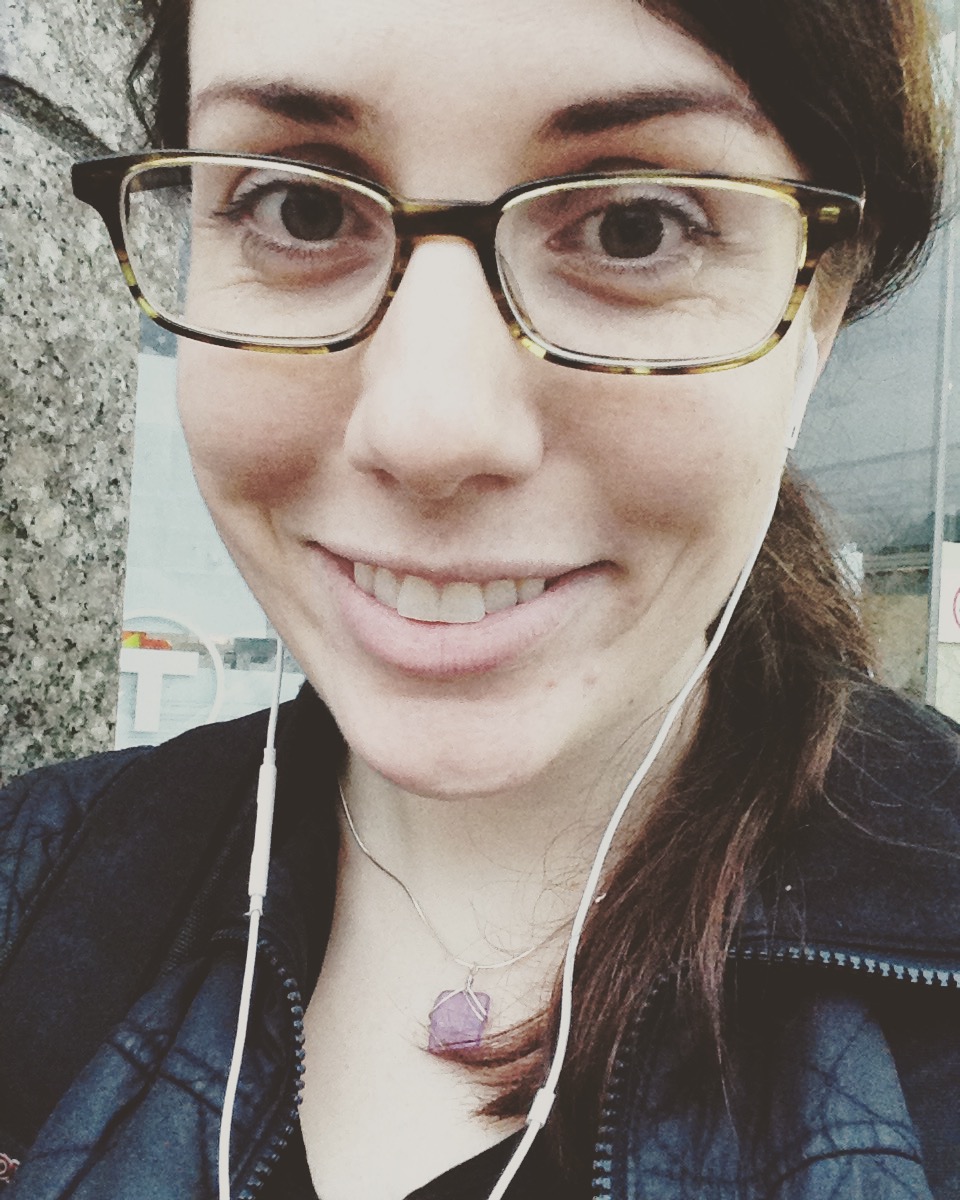 30 | 29 | 28 | 27 | 26 | 25 | 24