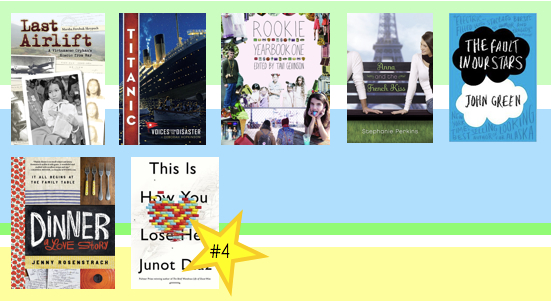 I like book awards good and well, but some book awards I ignore because I assume that since a book has won that particular medal, I will not like this book. Pulitzer, Nobel, Booker, National Book  – awards that supposedly go to the cream of the crop.The dual-edged sword of book awards, I suppose.
Why? Well, I am a curmudgeon with a taste for YA, no patience for the Long and the Dense, and prefer narratives that deviate from the Western White Male experience. Also see: curmudgeon.
Junot Diaz is an author who wins these big awards. But I read The Brief Wondrous Life of Oscar Wao anyway. And instead of gaining a new respect for these venerable awards, instead of saying "Well, these Pulitzer winners must not be all that bad!" Instead of either of those logical reactions, I found myself wondering why in the world these award committee and critics would latch onto  a book that is so… not long not dense, neither Western nor White? Huh?
Now, I liked Oscar Wao, yes. But This Is How You Lose Her won me over. Written as a series of interconnected short stories, This is How You Lose Her is Yunior's life, moving back and forth from his childhood, teenage, and adulthood, and focusing on women. His mother. His brother's high school girlfriends, hanging around the house when Yunior was a child. His own high school girlfriends, his fiancee as he begins a career as a writer and his many girlfriends on the side. The woman who is pregnant with his child.
I wish that I could do this book justice here, but I really can't. If you haven't read Diaz's prose, then you are missing out – it is fluid, readable, clever, and casual. This is a book about love and its many faces, and how people become the people they are – some of my favorite things to read about. I wish that all big award winning books could be like this one, and I hope that your library's wait-list isn't as long as mine.