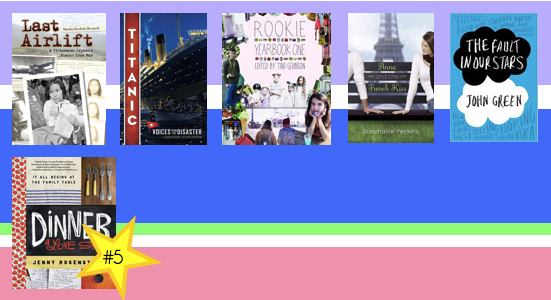 I don't have a tremendous amount of background in this particular breed of nonfiction, but is it just me or are we in the midst of some kind of literary-cookbook renaissance? A few years ago I checked out Alice Waters's The Art of Simple Food looking for a little kitchen inspiration (I'd probably just finished reading Animal, Vegetable, Miracle, forgive me) and read it cover to cover. Read a cookbook. It was a strange feeling, but it sped by just like any other nonfiction text, only when I was done my book was full of post-it notes flagging recipes I wanted to try. I know that cooking memoirs were a thing, but this kind of book was more food than memoir, but just as readable and interesting.
Would it be cheesy to say I devoured this book? Well, I did. Ate it right up. Rosenstrach, who you might remember from this New York Times article or from her popular blog is just a ridiculously affable narrator of her own life. The book moves chronologically. Rosenstrach is a young urban professional looking for impressive dinner party recipes to squeeze in between trying new restaurants. Then she is a newlywed, beginning her life with a similarly foodie husband, their busy professional lives meeting every night at the dinner table. Then she is a new mother with a commute still determined to put something healthy on the table, then a stay at home mom. Probably drawing on her impressive Dinner Diary, Rosenstrach shares the best recipes of each season of life, the ones she relied on most, the ones worth remembering. As someone who can't even remember what she cooked last week much less last year, this is an interesting, thoughtful way to frame a life.
I enjoyed Rosenstrach's life story, yes, but I also appreciated the somewhat multimedia approach she gets at this story. Yes, there are vignettes, yes there are recipes. But there are also family photos, humorous conversations between Rosenstrach and her husband, handwritten bits, must-have kitchen items, etc. I especially liked her How to Feed A Family of Picky Eaters With One Dish technique of deconstructing traditional "grown-up" dishes to please most palates – any mother who can turn a frustrating dinner situation into a culinary challenge is the kind of mother I'd like to be.
This would be a lovely book even if all the recipes were complicated, gross, or inedible. But they are not. They are my exact kind of recipes – simple enough for weeknights, made of real foods, tasty and straightforward. I checked this book out and have renewed it a million times and have probably dirtied it up beyond acceptable library condition. I have little "DALS"'s written all over my own dinner planning sheets. Favorites? Chicken and brussels sprouts and spicy zucchini eggs. You can probably find them on her website, or you could just do yourself a favor and buy the book. But ultimately, I don't think I would have made so many of these recipes if I didn't like the rest of the writing, the package, the Rosenstrach charm. The best part about these cooking memoirs and guides and blogs is that the writing and the stories create a sense of intimacy and trust that "celebrity chefs" just can't do, inviting even novice chefs to try their hand at feeding themselves and their families. I make a "DALS" recipe because I trust it – Jenny wouldn't do me wrong. I am glad that while I learn how to cook, I have these at-home chefs to ease me along and help me eventually trust myself to make tasty food, every night.