When one announces one's uh… ambitious New Year's Resolutions on the internet, it is probably safe to assume that this person in question plans on keeping said resolutions, updating the public regularly, and generally following through, feeling good, and bragging about his or her improved quality of life and stick-to-it-iveness.
I obviously posted once about my progress and then abandoned my NYR dreams to wallow in guilty avoidance. Inner cringing to think of my goals, of how I had to get all high and mighty and post them online and now look – nothing! Nothing. You make goals and then let them blow away in the wind.
As I age, I still make unrealistic goals and then loathe myself when I can't reach them, just like I did as a child, a teen, a younger young adult. But I am getting better at one thing – figuring out what I actually want to do with my life and my time, and choosing goals accordingly.
So when I make New Year's Resolutions – even excessive ones that come in list-form – I can actually just ignore the list for 11 months and still do a decent job of meeting them.
This is one of the best parts about being an adult.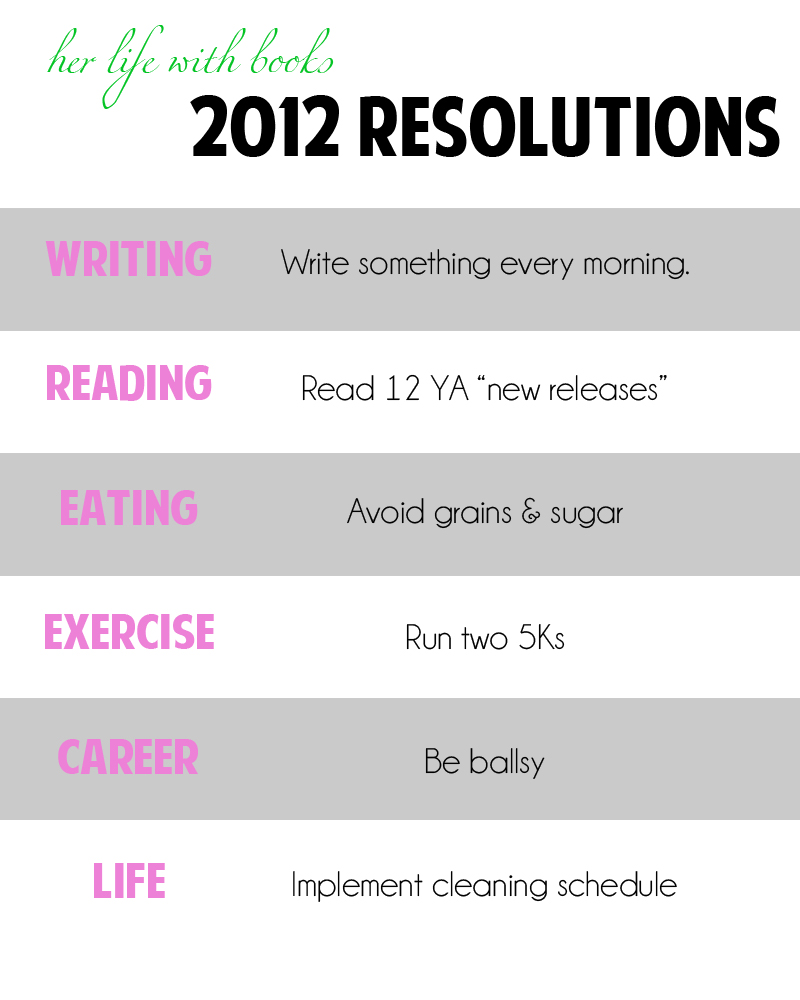 Start first-thing-in-the-morning writing
I do not have the early morning zen writing practice of my dreams yet, but over the course of the year I have, for periods of time, woken up first thing and 1) Did homework 2) Read books 3) Run a few miles 4) Keep a journal 5) Write.
Not all of them at once, but the common denominator is: I'm getting up early enough to do something.
Thank you, French Press. I owe it all to you.
Read 12 new YA releases this year
Knocked. This One. Out. Of. The Park.
Well, that's the first 12 I could come up with. There were more, and I'm not even going to TOUCH the YA nonfiction.
I will say that most of these reads were due to classwork and paying gigs, so we will see if the trend continues in the future, especially since I am in an ARC-drought. I do, however, know when new books get put on order, so maybe my library hold addiction will even out the field for 2013.
Continue to pursue a mostly sugar & grain-free lifestyle
My quest to avoid metabolizing sugars in 2012 has been hit or miss, for sure. But I have not completely reverted to a carb-eater: a sandwich is a treat, sugared coffee is for the weak, sodas are for when you feel like having a headache, pasta is not a legitimate menu option. My Whole30 experiment was fun and one that I will probably try again soon. I have no idea what I weigh, but it seems I hover between two pants sizes pretty consistently – my body does not seem to be spiraling out of control at this point.
I don't think this is a battle that can be won, necessarily, for me anyway. Just a series of small changes that I am still committed to, so I will call that a win.
Run two 5Ks
Objectively, I did not complete this goal. Granted, it is still the end of November, but let's be honest – I am writing this post while under three blankets in bed. I am trying not to spill my cup of coffee on my bedspread. I am not going to go outside and run a 5k in December.
However, the 5k I did run came after I was feeling sick of running. I did two weeks of "prep" leading up to the race, which means I probably ran a few 1 or 2 mile loops, and I think I forced The Boy into a 2.75 at some point. But that was it. And then I ran a (slow and rainy) 3.1 miles on race day, without stopping, without dying. It is no longer beyond my capacity to run long distances. Give me a few weeks, and I'll be back up to speed.
Now, sustaining this high level of fitness while remaining in bed wearing wool socks for the months of December, January, and February will be another issue altogether. But that's 2013's problem…
Be ballsy.
Well, this is certainly the most abstract of these resolutions. Was I bold? Was I ballsy? Should I even be using such a word as ballsy because although it is a good sounding word, it is somewhat anti-feminist or whatever?
I don't know. Career-wise, I certainly applied for a lot of jobs. I did some high-stakes interviews. I did a lot of thinking about my career trajectory, the kind of work I like to do, and the kind of life I'd like to live.
Most of the time, it didn't feel like being "ballsy." It just felt like saying yes, felt like getting by, felt like doing what had to be done. Nothing ever felt triumphant, I never felt bold. Everything felt scary.
But, here we are, at the end of 2012. I have the job I wanted, the opportunities I wanted, a life that is a good fit for me right now. I'm not going to spend too much time analyzing my methods.
Work on a cleaning schedule
January through February: made minor progress.
March through August: gigantic fail
September through November…. surprising win?
It is much easier to keep our slightly-bigger apartment clean; more places to store things, to put things, it looks nicer even when it's still a little messy. I am also working very hard to un-wire my lifelong bad habits. I am also trying to put some love into this falling down building of a home because when I take the time to hang pictures, arrange furniture, and sew crooked curtains, I want my space to look nice and not covered in dirty dishes.
That being said, we haven't done dishes in three days. It's a process, and I probably should have pushed myself harder this year, but I definitely feel like I am finally on the right track! Slob no more!