Part III: The Action… and the Baby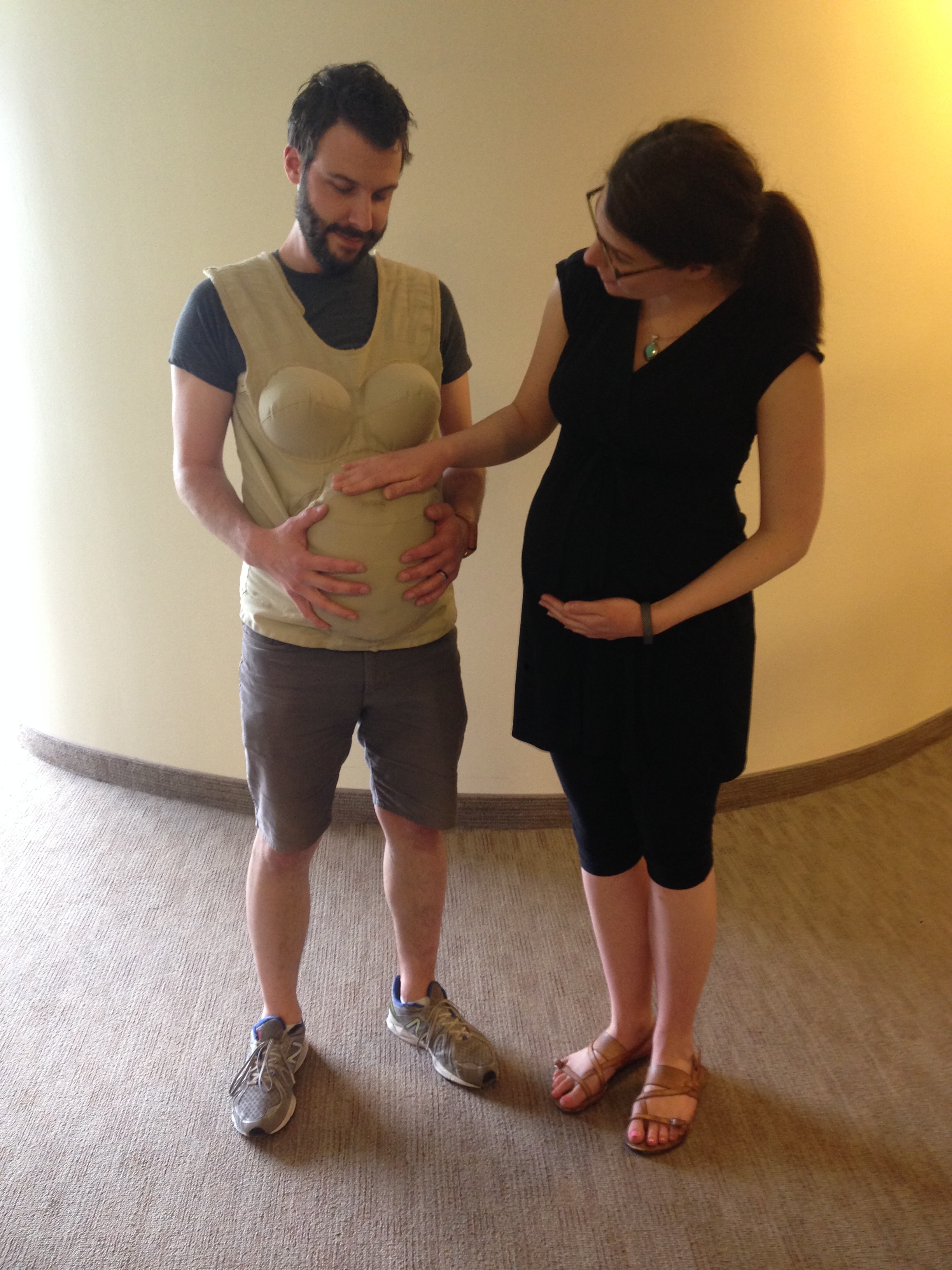 It was almost 7 p.m. I'd been at the hospital since 9 the previous night, on Pitocin since 8 in the morning. Some point during that time, I stopped fussing with the monitors and talking about musicals and started… well… laboring.
I tried some different labor positions throughout the afternoon and into the evening, but nothing beat just plain standing up. I probably spent 75% of my active labor on my feet, with my arms draped over my dear husband's shoulders. I was so tired – I wanted so badly to sit down and rest – but I couldn't, because I wouldn't have enough time to heft myself back up to standing before the next contraction hit.
Aside from standing, my main method of pain management was a little psychological trick I read about on some random website: supposedly, contractions "peak" at about 30 seconds and then slowly subside. I tried counting to 30 on my own but it felt horrific – the distance between the numbers stretching further and further apart as I counted. But I asked my husband to count without telling me, and just inform me when 30 seconds had passed. It was surprisingly effective – his words were a cue that the pain would soon be over, so I could calm down.
At the evening shift change, two midwives popped in. My labor was probably still boring according to my medical professionals, but to me, it was starting to get miserable. Contractions were less than a minute apart. I was so, so tired. I was crying. Not that long ago, a tiny, slithering voice had whispered in my ear. You could always ask for an epidural, it said as I stood, swaying exhaustedly. It's a thing you could do. Now the midwives were there, standing with me, and I asked if I could be taken off the Pitocin. It had clearly done its job. I was definitely successfully induced.
They looked at me sympathetically. "Your labor is progressing," the daytime midwife said. "Contractions more intense and closer together. This is what is supposed to happen."
I'm sure I responded by having a contraction, maybe moaning unintelligibly, maybe weeping. Time may have passed. I have no memory. I do, however, remember the new nighttime midwife asking me a kind, kind question: "If you could have one thing to make this easier on you, what would you want?"
The answer: "I want to be off these monitors so I can get in the motherf@#$ing shower!"
Although I was situated in one of the most hospital-dense cities in the world, it hadn't occurred to this First Time Mom-to-be to do any  "hospital shopping." When I got a positive test, I called my primary care physician, who transferred my call to the OB/GYN department. I asked if they had midwives. They did – most of their patients alternated seeing an OB and a midwife at appointments and could choose which group to deliver with. Their home base was Beth Israel Deaconess Medical Center – a large teaching hospital in Fenway, right down the street from my alma mater – so, sure, I would deliver there. Why not. My Internet research revealed that this was definitely a hospital environment, but what seemed like a nice one. No swanky birth center vibe, but private rooms throughout. No tubs, but showers! I could handle a shower. Plus, I'd planned on doing a majority of my laboring at home and arriving 9 cm dilated, so who really cares about amenities?
The bad news: my stupid water broke and I was GBS positive and now I was on Pitocin so I had to have stupid pink and blue monitors strapped to my belly and attached to a rolling cart of electricity so no, I couldn't get into any showers.
And by the way, your room doesn't have a shower, it's a shared shower that is actually down the hall.
I mean, nobody is in it because everyone is lying in bed with their epidurals except for you idiot. But you still can't get in.
Or so daytime midwife had insisted. Nighttime midwife, it seemed, was a little more game.
"Maybe we can make that happen," she said. "Let's check you and see just how far along you are."
My second cervical check. It was probably 7-8 p.m – a full 12 hours since my morning check had gotten me hooked up to Pitocin in the first place. This was it: the cervical check delivered at the peak of desperation that would be so disappointing, so demoralizing, that I'd lose what little grasp I had on my pain and succumb to that little voice. I knew the narrative. This is how birth stories went. I'd be anesthetized within the hour, a C-sectioned before midnight.
I, however, didn't care about any last thing except a remote chance I could get into the shower. Or, really, get anywhere that wasn't in this exact room, standing in my terrible, pain-wracked body, where I had been for 100 years and seemed doomed to remain forever.
"You're at 8 cm!" nighttime midwife said. "That's great news. I think we can let you off the IV and monitors for and let you in the shower for a while. We'll monitor you intermittently and I'll check back in an hour to see if things keep rolling. If they slow down, you'll have to come out, but we'll see."
Rejoicing! Tears of relief! Excitement! Somebody unhooked me from my various medical paraphernalia. I wanted to barrel out the door immediately, in the tiny window before I had another effing contraction.
"Oh, but you need something to wear on your feet," nighttime midwife said. "Fungus prevention, you know."
A contraction hit. I couldn't believe what these people were talking about. Fungus!? I don't care about fungus! Give me a fungus, PLEASE, if that's the price I have to pay I will gladly pay it!
"Maybe we can hunt down some paper slippers?"
Seriously. I will take a fungus over wearing PAPER SLIPPERS IN THE SHOWER that sounds DISGUSTING what is wrong with you people?
The contraction passed. "I have flip-flops?" I said.
Those were the magic words. Finally, finally, I was allowed to strip down and enter the shower, and it was as glorious as any experience I've had since. So hot. So wonderful. And did I mention hot? Hospital hot-water heaters are magical.
My husband joined me, wearing swim trunks and flip-flops of his own; while he was mainly on Spray-Wife-Down-With-Movable-Shower-Head duty, I also recall that he opted to hang halfway out of the shower curtain every so often to continue monitoring my contractions on the timer app… on my brand new iPhone. Questionable decision; good intentions.
I quickly realized that it wasn't just the magic of the hot shower that brought me such relief – it was the sudden absence of Pitocin. While I hadn't had any pre-Pitocin contractions to provide a frame of reference at that point, laboring without the drug was just so… mellow. I'd have a contraction. It would end. Then, there would be… a break? A pause? The electronic data did show that my contractions were somewhat further apart; on Pitocin, they could be as close as 30-45 seconds, off was more like a minute or a minute an and a half. Maybe that extra 30 seconds between was more valuable than it seems? Or maybe the contractions were just less intense, so I didn't spend my between-contraction time recovering or dreading the next onslaught. Either way, I was suddenly nearly having a good time. I'd spent all day in a hospital room experiencing more and more pain. Now I was in a private, steamy room with my husband, hanging out. I distinctly remember making a joke and feeling like it was the first time I laughed all day.
My nurse came in a few times to check the baby's heartbeat with a Doppler, and everything was fine. I must have been in there a good long time because I think I also remember the midwife arriving and doing another cervical check. (Can you even envision the contortions required to check a hugely pregnant woman's cervix while she's fully naked in the shower? It was weird…) I was 9 cm! Huzzah! Things were still moving forward. I could stay in the blessed shower. (TMI for seasoned birth junkies only: besides timing contractions, my grand overachieving plan for keeping my labor progressing? Nipple stimulation. This paragraph is full of appealing visuals. You are welcome.)
The magical shower of unparalleled glory featured a metal bench. At some point, I finally sat my exhausted ass right down. When a contraction hit, I slid off the bench and into a squat; when it was over, my husband – still diligently spraying me and risking the life of my beautiful new phone – hoisted me back up again. It was totally manageable. Wonderful. Great. Maybe I even started to feel like I wanted to push when I was down in that squatting position? Just maybe. I wanted to keep the urge to myself, to just push silently. Stealthily deliver my baby into the magical shower room, alone. But it got too freaky, the feeling of your body taking over without your consent, so I uttered the magic words.
"I think I'm pushing?"
The midwife was back. She checked my cervix again. I was fully dilated. Go time! And since shower deliveries are not approved hospital practice, I was headed back across the hall to my room.
"You need a hospital gown," the midwife said.
A contraction subsided. "No, I don't," I said. What I needed, clearly, was to get any sort of ambulation done before I had another contraction. "It's fine. It's right across the hall!" And I'm wearing flip-flops, for goodness sake. Who knew medical professionals would be so concerned with my wardrobe…
I did make it, eventually. I was hooked up to the monitors, again and cleared to push during contractions, if I felt like it. I wanted to try the whole sit on the edge of the bed + slide off the bed maneuver, but after one or two contractions it was clear my belly bands just wouldn't stay put that way, so it was vetoed.
"Maybe side-lying," I said, hoisting myself back on to the bed.
"Yeah!" my husband said. "Just like they suggested at birth class!"
I lay on my side. I had a few contractions and "pushed." And then I fell asleep. Life without Pitocin, man. It was wonderful.
In my mind, I was resting between contractions, just like everyone recommends! My midwife-to-be sister says I was "laboring down." According to my husband – who was standing there with the nurse and midwife – I was just plain asleep for like, a half hour.
"Maybe we should try a more active pushing position," the midwife said, kindly. I acquiesced, and my legs were then hoisted up to my ears and it was time to do this thing, lithotomy-style. I cared about nothing except getting this baby out of me. Actually, that's a lie. I was so exhausted, I didn't even care about that. I was a tired, wet noodle of a human being. Throw my legs where you want, I don't care.
In case you have somehow made it 5,000 words deep into this adventure and not yet found it too revealing, here's a big fat T. M. I. for you. Turn back now or be forever scarred by the horrors of vaginal childbirth!
I was also terrible at pushing, surprise, surprise. "Push like you are taking a big poop!" the midwife said. I tried, but has anyone on this planet ever taken a big poop while lying on their back in front of their husband and two medical professionals with their legs up in the air? On purpose, anyway… This seemed like a musculo-skeletally-unreasonable recommendation. But I was an impressionable noodle-human. I tried, but it didn't work. Nothing I tried worked for an interminable amount of time.
The weirdest thing about pushing was how much pain I wasn't in. I could barely tell when I was having a contraction, which was annoying because I was only supposed to be pushing when I had contractions. In between, there was just… silence. At first, I started drifting off again. "That's great," my midwife said. "Really relax between contractions. It's fine to fall asleep." But I totally did not want to fall asleep again – I did that for like, an hour and nothing happened! I would never wake up! This would never be over! I needed to keep my head in the motherfuc%#$ng game! So I started making awkward small talk with the nurse and the midwife in between contractions to keep myself alert, and  because yes, it was really awkward to be standing around in silence in the middle of the night while everyone was waiting for you to suddenly get good at a task you were clearly sucking at. I also solicited my husband to play DJ, but like many laboring woman, I was incredibly exacting. Carole King, but not the Carole King musical, what are you thinking?? Tom Waits, but not the creepy Tom Waits. The nice, singer-songwriter Tom Waits.
While Tom Waits hoped his pony knew the way back home, we tried the squat bar. When a contraction hit, my team of hoisters hoisted me up to grab onto the bar. I hated it. It was the scariest thing I had ever felt in my life. My midwife cheered as I was lowered back down to a supine position – "You made more progress with that one push than you've made in an hour!" she said. Looking back as a labor post-strategist, it seems obvious that everyone should have hoisted my ass back up to that bar despite my protestations. I didn't like it because I was exhausted and didn't like being hoisted, and also because it was working. I was too afraid to push for real. Nobody called me out on it… so I ended up pushing for more than three hours.
Regardless, my baby was, in fact, coming out, albeit at a snail's pace. The head was visible. Did I want a mirror? Mirrors can be motivating. I had thought probably not – who needs to see the carnage up close? – but Wet Noodle Jessica would say yes to anything if there was the tiniest sliver of a chance it would get this baby out of her uterus so she could go to bed. There it was: the tiniest, TINIEST sliver of a head, covered in hair. I didn't find it disturbing OR motivating. I did feel somewhat tickled to see the reason for my truly excessive amount of heartburn, though.
Speaking of heartburn, despite becoming reliant on OTC heartburn meds late in my pregnancy, I had somehow forgotten to bring with me anything stronger than a Tum. I became convinced, mid-pushing, that if only I had a Zantac, I would be a better at this. I have a bit of a vomit phobia and when you have a gross acid reflux-y feeling at the back of your throat and then you start using every muscle in your body to facilitate the ejection reflex of a foreign object? That feels kind of like throwing up. So maybe I wasn't giving it my all, because of that. Because I was scared. Because I was scared, because I was scared, because I was scared. A Zantac seemed like a reasonable request to me, but the nurse and midwife looked at me like I'd requested a Ketamine shot. "Did you bring any with you?" they asked. I remembered the Saga of the Cough Drop from so many hours ago. I gave up hope.
Here is the point of the story where a baby's head entered my vagina. It stayed there for what felt like an entire hour. I asked my husband later – it was actually almost an entire hour. This was incredibly unnerving, uncomfortable, unbelievable, unpleasant, uncomfortable, undesirable, uncomfortable and all sorts of other un-words. It was there when I was pushing. It was there when I wasn't pushing. This did not feel like a ring of fire. This felt like a baby's head inside of my vagina. I wanted it out. There were probably tears. I remember saying "ow ow ow ow ow ow ow" a lot. The sliver of hairy head in the mirror was getting larger, but not large enough. I asked if there was anything that could be done to just… you know… pull the baby out of me. No. No there was not. I thought it would never end – this day, this labor, this head in my vagina. This was my life now. I tried to push when I had a contraction. I tried to push when I didn't have a contraction. I tried screaming, I tried being quiet, I tried tucking my chin, I tried everything.
And then, all of a sudden, what ever I tried worked, and there was a baby.
It felt like his whole head and body came out in just one push. An entire human, with arms and legs and skin. Skin! A baby that had been there all along with me, for hours and hours and hours of labor, for months and months of pregnancy. Skin inside of my skin! A real person!
Sure, I'd had a long day, but how had I forgotten that there was a person inside of me? Maybe I hadn't ever really known. Maybe I couldn't know, but now it was undeniable.
He was undeniable.
It was a boy!
It was Leo.