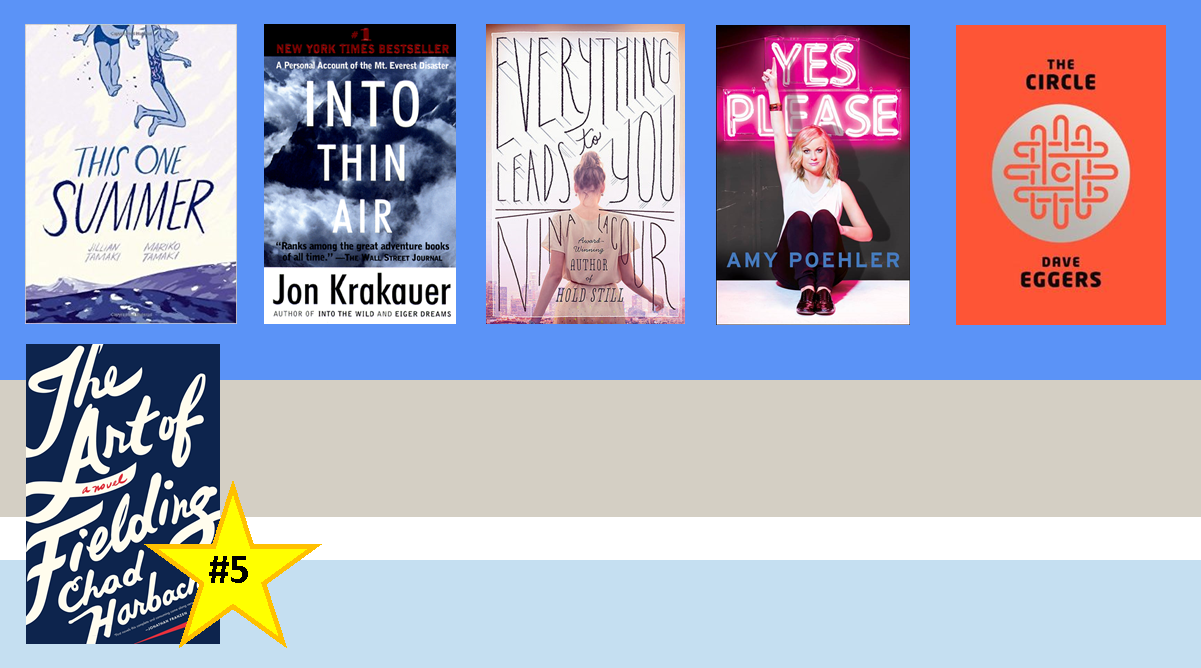 Hey! Back to the countdown! Woohoo!
Thinking about Chad Harbach's The Art of Fielding this morning has me yet again questioning what I value in a book; or, more specifically, what I value in a reading experience. There is a difference between the two measures. To me, evaluating a book as a book is all about gathering evidence and building a case. You can point to places in the text that support your opinions or challenge them. It requires clear thinking and an active engagement with one's own book-biases. Evaluating a reading experience is different. A reading experience is subjective and highly personal. It's not impossible to evaluate a book based on the reading experience is provides – in fact, this is a large portion of the essential task we librarians like to call Reader's Advisory – but it definitely flexes different critical muscles. It's less about the quantifiable and more about story elements, appeal factors, and other less tangible qualities.
When it comes to my personal reading, I tend to unconsciously value certain types of reading experiences. One thing I like is for a book to surprise me. I think this is why I accidentally write a lot of "Well, I thought this book would suck BUUUUTTTT…." kind of reviews. I like broadening my reading tastes and learning about new things, yes – I'm not the kind of reader who likes to read the same kind of book over and over and over. And I especially love it when a novel lures me with great writing and storytelling, showing me the fascinating inner-workings of parts of life I'd have zero interest in otherwise. Like birds. Or mountain climbing. Or baseball.
Yes, this is yet another Best Book Of Many Years Ago, just now arriving on Jessica's radar. It's a good things books don't expire at the end of the year, eh? So what to say about this book that you haven't heard before? Probably not much. This is a book about baseball, yes, but also a book about what it's like to live and work in a small college town.  There's a professor turned college president with a strange relationship with Herman Melville. There's a freshman baseball recruit with unprecedented skill as a shortstop but who struggles with… you know… the other parts about being human and existing in this world. Other characters flit in between these two protagonists – the president's wayward daughter, the baseball player's rarefied roommate, the older guy on the baseball team responsible for summoning team spirit and keeping everyone in line. It's a well-paced, character-driven novel with a lot to say about goal-setting and goal-achieving, about the perils and joys of pointing your life in one single direction, and about failure.
But yes, baseball. Harbach writes with such a charming, engaging tone that even I started to find baseball interesting. I was surprised and delighted, and ready to read anything else Harbach might deign to write about in the future.