Question:
Did you do anything fun over this holiday weekend? Black Friday shopping? Sleeping in? Eating out? Visit a bar? Hang out with friends? Do anything cool enough to redeem the fact that you played a largely text-based computer game that doubled as a history lesson for far too much time, restarting and saving each and every time you contracted cholera or your boat sank as you came around Cape Horn or you accidentally stole a mule and was hanged?
Answer:
No. I read a butt-load of nonfiction books. Here are some exceedingly short reviews.

by Dennis Brindell Fradin and Judith Bloom Fradin
Last summer, I read another story about Zora Neale Hurston, a fictionalization of her childhood called Zora and Me. I then attended a speech by the two co-authors that proved their tireless, inspired research into Ms. Hurston's life, as well as their absolute insistence that the mythology of Hurston's decline into obscurity and poverty was just that – a myth. Fradin and Fradin ascribe to this mythology to an extent, which detracted from my overall reading positive reading experience; however, this biography does an excellent job of portraying Hurston as a creative, independent, and complicated lady.

by Phillip Hoose
Dear Phillip Hoose,
I do not normally give two shakes about birds of any sort.
However, I read your books, and suddenly birds are the most interesting thing I have ever thought about.
How do you do this?
Sincerely yours,
Jessica

by Anita Silvey
Weirdo scientists who took death-defying trips into the jungle to collect plants? Cool topic. And this book is real pretty – full of hilarious old time photos of said-scientists, beautiful plant drawings, and other ephemera.
That being said… I wish that I liked this book more. I think it was a bit repetitive, "one-note"-y. Ah well.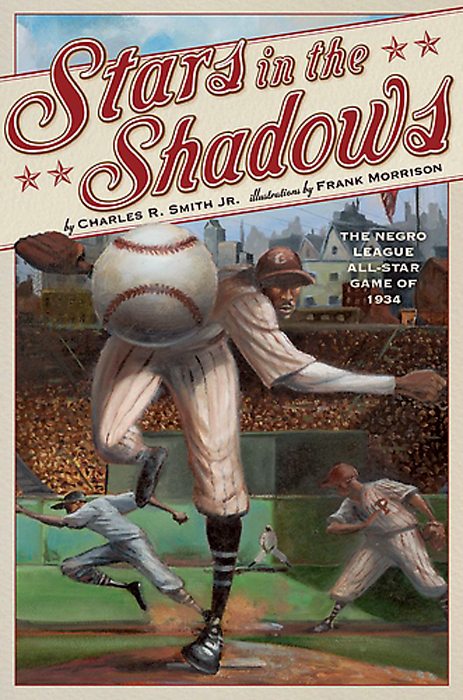 by Charles R. Smith
I have little or not interest in baseball, but Stars in the Shadows gets mega-points for a cool format – it's a slim little book, recreating a single baseball game, capturing both the on-field drama as well as the surrounding cultural excitement and involvement. It's told entirely in rhyming verse – cool! It is heavily illustrated – cool!
The format is fun, Frank Morrison's illustrations are just amazing, buuuut at the end of the day, the poetry was just too much of a stretch. The rhymes were often forced and the rhythm hard to latch onto. Maybe if you are an actual sports fan, you could ignore this, but it was just too much for me to keep track of.

by Linda Barrett Osborne
The Civil Rights Movement & surrounding racial history of America is important, important, important.
However, if I have to read another Civil Right book right now… I might just have an emotional breakdown.
Regardless of my emotional state, Miles to Go focuses solely on pre-Civil Rights era atrocities, which is unique. The images – vintage signage and publications and portrait photography – are especially notable.

by Benson Bobrick
Fun fact 1: The Olympics used to involve no-rules fighting to the death.
Fun fact 2: The Olympics were not actually popular for a significant period of time – nobody really gave a crap until the 20th century.
Fun fact 3: I have been reading too many books and I cannot summon the energy to say anything useful about this book
Fun fact 4: The Olympics were, at some point, a display of ancient Greek athletes doing sports in the nude. Let's bring that back *cough* Michael Phelps *cough*

by Sally M. Walker
This is a little known piece of history – what could have been a mostly harmless harbor accident turned into the biggest explosion before nuclear bombs were dropped on Hiroshima and Nagasaki. Two Canadian cities decimated, countless victims.
Massachusetts was a big help, donating supplied and money, and apparently the big Christmas tree in Boston Common is a yearly gift from Nova Scotia, in thanks.
Otherwise, Death. Destruction. Explosions. Suffering. Sadness. And so it goes.
How long until I can read something about cupcakes or fairies?