This summer was a bit of a warped time situation for me. I went on two vacations and slept in five different states. The Boy was home… a lot. I wore the same five dresses every single week. This summer went on forever. But last week it got cold and I had to wear pants and it's dark out after work and there are freaking pumpkin spice lattes and how is summer actually over??!?
Maybe this is a side effect of going social media dark in August. I missed out on everyone saying goodbye to the summer, so I forgot to say goodbye to the summer. Instead, I'm just gobsmacked by mother nature and having to wear pants. Ugh.
What I'm trying to say is, BOOK AWARDS SEASON IS UPON US and I forgot to get pre-excited about it, so now I am just extra regular-excited. The longlist for the National Book Awards Young People's Literature category has arrived, and I really like it a lot.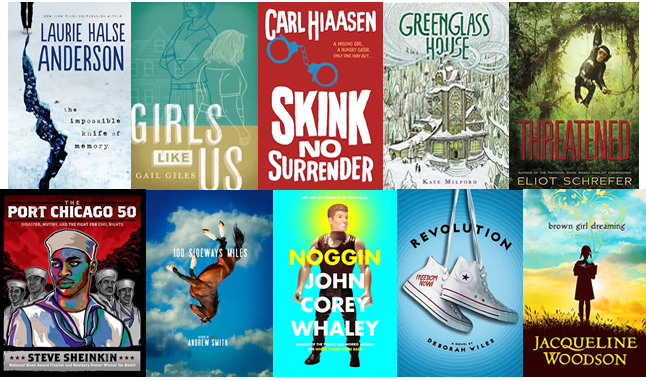 I'm going to brag about having read a grand old TWO of these titles before Monday's announcement. This is big, guys. How many did I read in 2013? 2012? 2011? Zero, Zero, and Zero. I have turned over a new leaf. I am now the queen of books.
Laurie Halse Anderson puts out a new contemporary YA book, oh, every half a millennium, so OF COURSE I read The Impossible Knife of Memory. I liked it. As I revealed in my Printz Prediction mega-post, I didn't think it was the Best Thing Ever, but I liked it just fine. I was much more impressed by Jacqueline Woodson's Brown Girl Dreaming… sorry, LHA, but if I'm betting on you or Jackie Woodson in an authorial cage match? My money's on Woodson.
I was not surprised to see Steve Sheinkin's new YA, The Port Chicago 50 on the list – the NBA YPL committee always seems to have a soft spot for nonfiction. A tiny soft spot. One book per year. I was also not surprised to see Eliot Schrefer's Threatened on the list, since he earned a nod not too long ago for Endangered. Also, critical darling (and winner of the NBC's 5 under 35), John Corey Whaley? You are also no big freaking surprise here. Also, while I didn't read it yet, I would like credit for renewing Noggin over and over again for five entire months. It basically lived at my house. That should count for something.
Deborah Wiles's Revolution and Kate Milford's Greenglass House are both getting great reviews, so no surprises here. There's a lot of YA/MG crossover on this list (the Woodson, Sheinkin, Schrefer, and Hiaasen sit in that 12-14 neck of the woods), but to me, Revolution and Greenglass House are the reps from Team Middle Grade. And I think you could argue that Team Middle Grade has taken the NBA gold for the last five years, so neither of these are to be ignored.
So. The last three. Skink: No Surrender. I do love me some Carl Hiaasen, but nothing about his adult work screams "GIVE ME A MAJOR LITERARY AWARD." (edit: except for the part where he got a Newbery honor for Hoot… oops) But good to see some comedy/mystery on the list either way, lest we forget how powerful and difficult and important comedy writing. Super happy to see Girls Like Us on the list – woohoo for quiet(er) girly YA realism, and woohoo for Candlewick! And last but not least – Andrew Smith. Mr. Smith, you are having quite the year! I checked out 100 Sideways Miles immediately after finishing Grasshopper Jungle a few weekends ago, which meant I read the NBA longlist knowing that a nominee was sitting on my desk WAITING FOR ME TO READ IT and that's when you feel a little bit like a literary rockstar.
Yes, I'm just very, overly excited to have read two books out of ten from a fundamentally arbitrary list. Small, nerdy pleasures.