Happy National Book Award week!
I am always excited for the NBA's as they mark the official start of AWARDS SEASON! National Book. End of Year Book Lists. Alex & William C. Morris, then the rest of the ALA Youth Media Awards. Cybils. Throw the Oscars in there too. It's a happy time of year for this nerd.
This year, the National Book Awards are embarking on an Excitement EXCITEMENT campaign, perhaps to lure in the interest of the less nerdy. Longer long lists, staggered announcements, and I'm sure something goofy with the award announcements on November 20th, too. Come on, normal people, get hyped about books.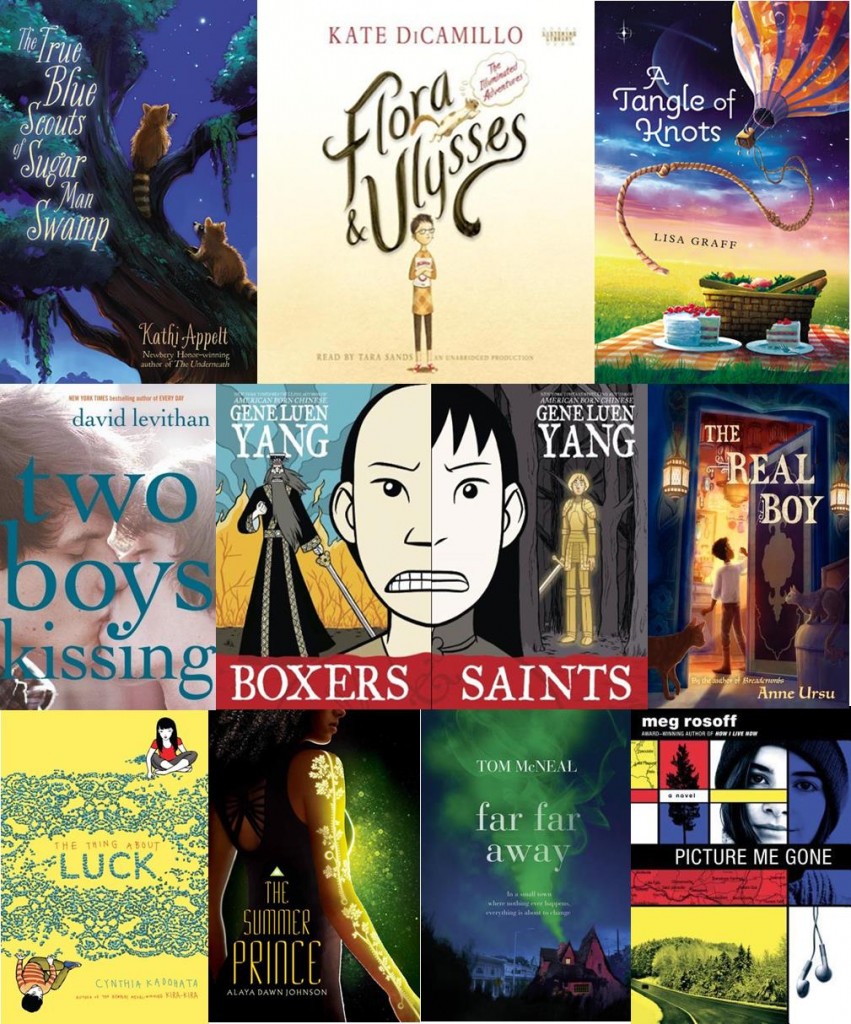 It is no surprise whatsoever that I have read zero of these titles. Unless Clash of Kings is going to get some kind of retroactive nomination (in the young people's lit category??) then the odds were really against me anyway. I am, however, really pleased with the line-up. The Atlantic posted some laughable excuse for journalism yesterday in which they took a repeated claim – that the National Book Awards favors obscure authors and titles – and applied it to this set of books, thus revealing that nobody on the god damn Atlantic staff has read a book for kids since Hop on Pop. This list is a star-studded kidlit smorgasborg.
First, we have Kathi Appelt with The True Blue Scouts of Sugar Man Swamp. Poor little unknown Appelt…. who earned an NBA nod not five years ago with her completely smashing middle grade novel The Underneath. I was just thinking about The Underneath, actually, and how much I loved it. It's about a dog and a mess of cats living under a porch in the swamps of Louisiana, for goodness sake, and if the interwoven mythology and natural mysticism doesn't get you, the language will knock you flat out. I have high hopes for Appelt's bayou follow-up.
Kate DiCamillo is another middle grade hard-hitter I'm happy to see honored. I've had an ARC of Flora & Ulysses: The Illuminated Adventures in my desk for months. I also may or may not use a Flora & Ulysses tote bag to carry around my groceries. You'll have to haunt my neighborhood Shaw's to confirm. Also, Candlewick! Yay, rah! Long live the independent press and Boston-based kid lit!
Did any of you get around to reading Anne Ursu's Breadcrumbs? I loved it, but it didn't win any dang awards whatsoever. Awful. I was glad to see her latest fairytale remix – The Real Boy – getting some attention. Also, glad she teamed up with Erin McGuire again this year for illustrations – love both of her covers.
I feel like the Young People's Literature category typically swings more towards young adult than middle grade (or picturebook, for that matter), so it was nice to see so many younger reads getting honored on this year's shortlist. I haven't heard much about Lisa Graff's A Tangle of Knots or Cindy Kadohata's The Thing About Luck, but they both look like middle grade I would like.
And then the YA contingent. Picture Me Gone – the latest from Printz-winner Meg Rosoff. Two Boys Kissing – the latest from bestselling David Levithan. Boxers & Saints – the long-awaited latest from Printz-winner (and bad-ass amazing dork) Gene Luen Yang. Man, look at all these obscure authors! Even Tom McNeal's Far Far Away has earned a few starred reviews. I feel like the darkest horse in the bunch is Alaya Dawn Johnson's The Summer Prince, and, strangely, the one title I want to read the most. Especially because Favorite Roommate alerted me to one of those scathing, gif-ridden Goodreads reviews. When an award-winning book gets bad consumer-reviews my interest is piqued.
Also see: Jessica's Descent into Fantasy Madness.
Also see: I'm not going to have time to read any of these because Cybils.