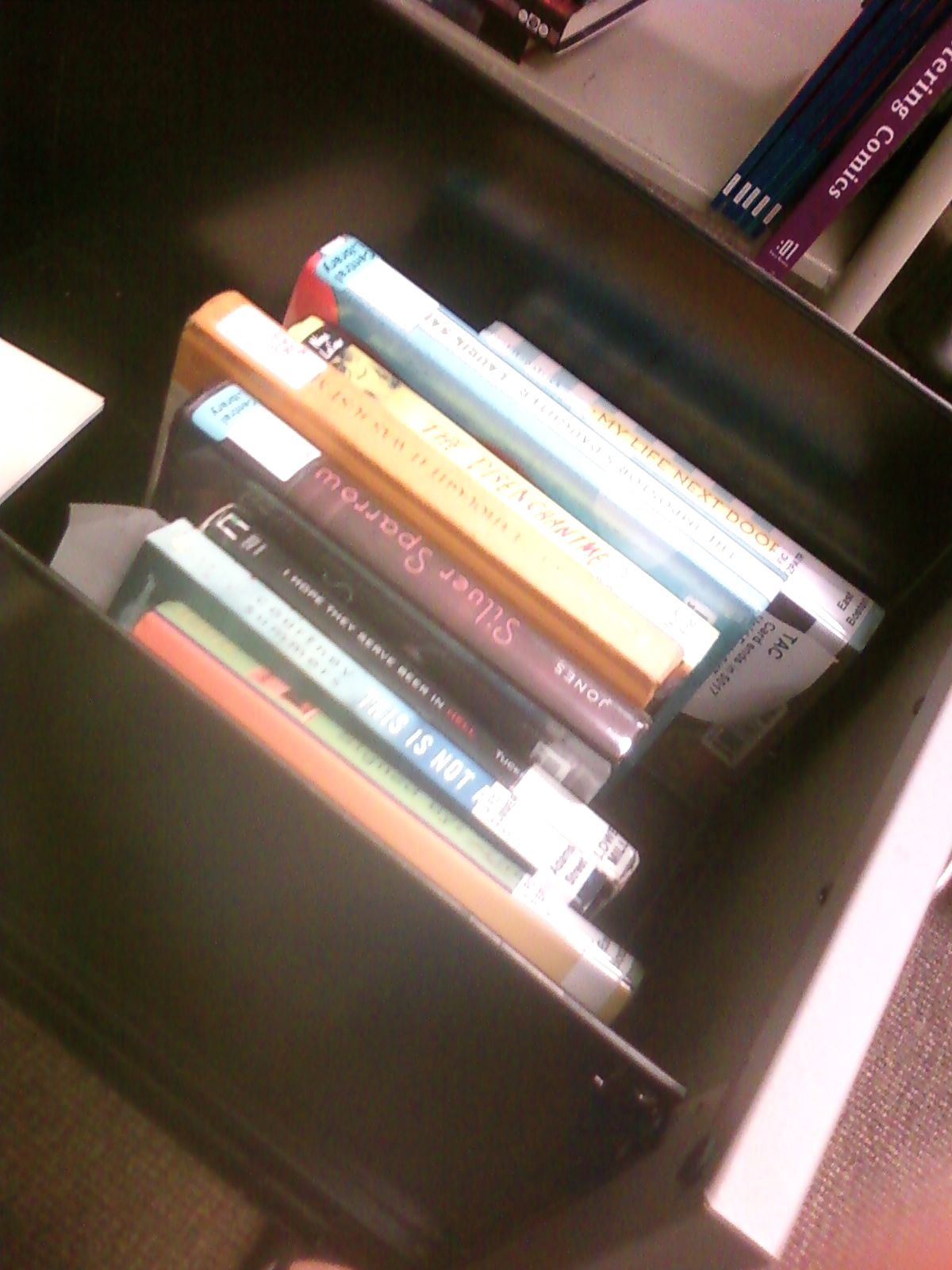 Every day or so, a book appears on the hold shelf for me.
Every day or so, I take that book off the hold shelf and put it in my office to check out later.
Because I cannot physically carry home the amount of books I put on hold.
This is a cycle that will never end.
This is my drawer of shame.
Checked Out
On Hold
Daring Greatly:How the Courage to Be Vulnerable Transforms the Way We Live, Love, Parent, and Lead by Brene Brown
The Future of Us by Jay Asher
My Teenage Dream Ended by Farrah Abraham
Beauty Queens by Libba Bray – audio
Dead End in Norvelt by Jack Gantos – audio
Every Day by David Levithan
A Wrinkle in Time Graphic Novel by Hope Larson
Young House Love by Sherry Petersik
2012 Olympics: USA Women's Gymnastics (I didn't have cable!!)
The House That Groaned by Karrie Fransman
Live Through This by Mindi Scott
No Crystal Stair by Vaunda Michaeux Nelson
The Raven Boys by Maggie Stiefvater
Off Balance: A Memoir by Dominique Moceanu
The Dinner by Herman Koch
Dare Me by Megan Abbott
Happier at Home by Gretchen Rubin
It Starts With Food by Dallas Hartwig
The Little Book of Talent by Daniel Coyle
Shadow and Bone by Leigh Bardugo
Motherland by Amy Sohn
You're Not Doing It Right by Michael Ian Black
Imagine: How Creativity Works by Jonah Lehrer
Where'd You Go, Bernadette? by Maria Semple
How to Be a Woman by Caitlin Moran
The Casual Vacancy by J. K. Rowling
Gone Girl by Gillian Flynn