So I just discovered the best website a few weeks ago and I need to share it with you, post haste.
Y'all are list-makers, right? Organizers, note-takers, chart-makers… the whole lot of you. I can tell.
I am always trying to find the best place to corral my tasks, my goals, and my random thoughts. Actual paper notebooks are great, but they are easily tucked into the wrong purse, too quickly filled up, it's difficult to keep multiple "sections" of a notebook without mass confusion, and writing out elaborate schedules and plans involves ripped out pages, scribbled out sections, and other atrocities that waste time.
I've been looking for a web tool to "take notes" with. I've tried emailing myself, but I never open the messages. I've tried Google Docs, but I accidentally had to shoot myself because I Just Can't Stand Google Docs. I've tried Word docs in my Dropbox, but the formatting gets so wonky so fast that I can't keep up any consistent habit.
Then I discovered WorkFlowy: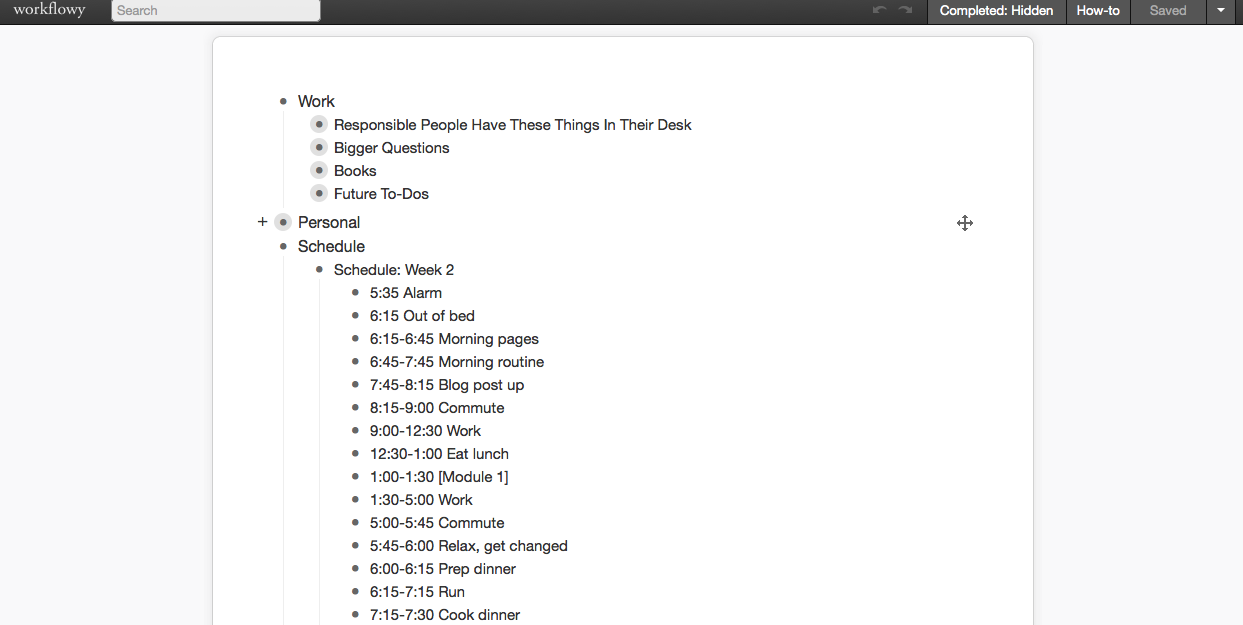 It's just a document that you can add bullets to. You can make sections for whatever you like and then add things however you'd like. Huge, nested lists are easy as pie because the tabs function in a way that MS Word could only hope to ever achieve. You can expand any bullet point to a new document, so you can hone in on one category. You can jot down your ideas, your to-dos, your Next Actions throughout the day and then sort them out later. You can cross things off your lists. You can drag items around.
The best part is the website is just so slim – no ads, no bells and whistles, loads so very quickly.
Just go ahead and make it your new homepage, fellow Type A friends. Thank me later.