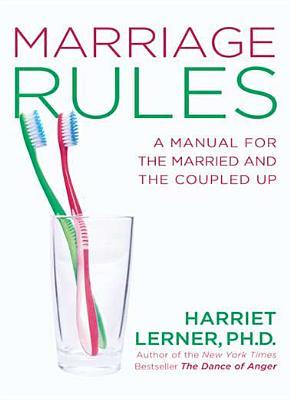 Earlier this year, I read Marriage Rules by Harriet Lerner. Although I was not married, and not even engaged, I was riveted. Smart, practical advice for folks in normal-ish, long-term relationships who aren't having any major crises but are also interested in maintaining functional communication in their household? Yes, please.
This book doesn't hold any ideas that are terribly revolutionary, but the fact that they are common-sense-isms written on paper and well-organized is the genius. Because when you are fighting/feeling nasty toward your loved one, the common-sense-isms aren't just going to appear in your brain – you need somewhere reliable to go to retrieve them.
Anyway, fast-forward to this past trip home, where among other assorted wedding tasks, I spoke with the Pastor who will be officiating our ceremony next year. Our church has had some Pastoral turnover since I left home for college almost ten years ago (TEN YEARS AGO??), so I actually hadn't met this Pastor before, but he is young, friendly, and willing to provide us premarital counseling over Skype.
After I returned to MA, we exchanged a few emails to confirm the date/time/details, etc. At the end of one email, I thought, "Hey, why not ask if there's any Pastor-recommended books to check out? If he's an expert enough to provide me counseling, surely he knows where the best, smartest, most useful marriage books are hiding! Or even some Bible chapters! Heck, I would totally read some Bible chapters!"
Long after hitting send, I realized that I basically asked my Pastor for a Marriage Syllabus.
Because it's been three months since my last syllabus, and SOMEBODY JUST TELL ME WHAT TO READ ALREADY!
Also, I AM GOING TO GET AN A IN MARRIAGE OR AT LEAST AN A-MINUS JUST TRY AND STOP ME!
Marry an overacheiving, forever-academic librarian and this is what you get. For the rest of your life.
(My Pastor recommended The Five Love Languages, in case you were curious. Needless to say, it has been added to my hold list.)