In March, I got a job with a stricter dress code than I've been required to adhere to lately.
And by that, I mean I can't wear flip-flops.
For a few months, my finances didn't allow me to make any purchases above and beyond my daily coffee regimen, so I suffered through an On-Your-Feet job with boots (sweaty above 60 degrees), sneakers (not fashion-forward), or three-year-old Payless flats (I never knew what arch support was until my feet almost broke in half).
Finally, after procuring a bit of graduation money, I made a single splurge: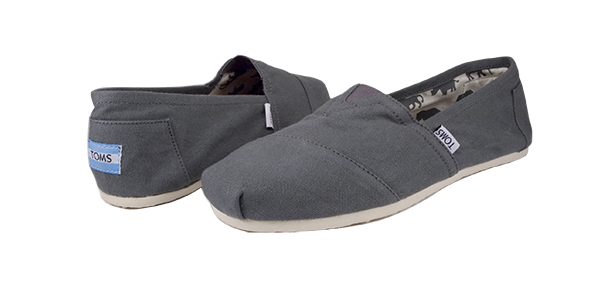 I am the last person on the planet to buy a pair and rave about them. They are a bit goofy looking, but A) no more goofy than the sneakers and skinny jeans I was sporting before and B) when you are the last person to buy a pair, nobody notices.
They are probably the next best thing to my Havaianas, which is exactly what I was hoping for. I think I may try wearing them to my next job interview?
P.S. Two weeks in, they already smell like feet. Any cleaning tips, Everyone Else Who Has Had TOMS For Years, so I can continue to throw them in my bag on-the-go without stinking up all of my belongings?
P.P.S. Please note: this is your reward for finishing two Master's Degrees. Stinky shoes.