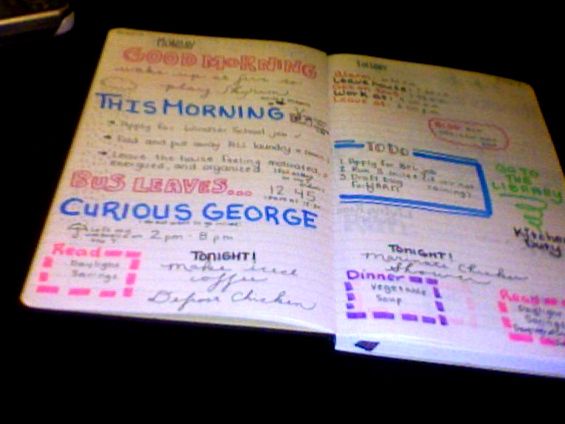 You know what they always say:
when life hands you lemons, go out and buy a fancy notebook.
I haven't kept a daily notebook like this in quite some time. Grad school has been a mix of self-created spreadsheets and printed schedules and elaborate systems with binders and note cards and color coded things.
Yes, there is still the Google calendar, which was necessary to balance three jobs, but there is a limit to what the GCal can do. It can tell you where to be and when to be there, but it can't tell you what to do in the in betweens. It can't keep you on track, longterm, when your days and weeks become less regimented and begin to blur together.
Enter: the daily Moleskine. One page per day for to-do lists, chores, schedules, dinner menus, books to read, notes, recipes, phone numbers. A place to write down what time you need to set your alarm or leave for the bus. A place to flip through the upcoming week and map out your free time. A place to practice your penmanship. To draw little pictures. To scheme. To scribble things out.
To sit down and think about what's important in my week.
This is a luxury, maybe. Something I didn't have time for while I was studying, something I didn't find useful. But for now, I can, and I feel like I should.
A new notebook is good for my soul, I think. Without a pen on paper in my life, I feel like I might drift away.