Three months left in 2015, and I have already read 140 books.
So I decided to take it easy last month. And read one book.
One single, solitary book. A statistical anomaly in my years of recorded reading life. Probably hasn't happened since college, if then. High school? Never? I don't know.
The book I read was Suzy Becker's One Good Egg; a lovely memoir about trying to get knocked up (by way of science!) at 39-years-old. It was brief and illustrated and felt a little bit more like reading a magazine than a book, which I mean in a very good way. It was, indeed, the only book I've read in awhile that tugged at me from the coffee table whenever I passed it by. I know that all reading can't and shouldn't have that effect on me, but isn't it just delightful when it does?
But yeah, that was it. The lonely only. But as much as I love writing the same books over and over and over again, one single book does not a blog make. So let me tell you about the other books I've been reading. The ones that I picked up for a train ride home and never opened again. The ones I've been chipping away at over the months. The ones I'm still on the fence about.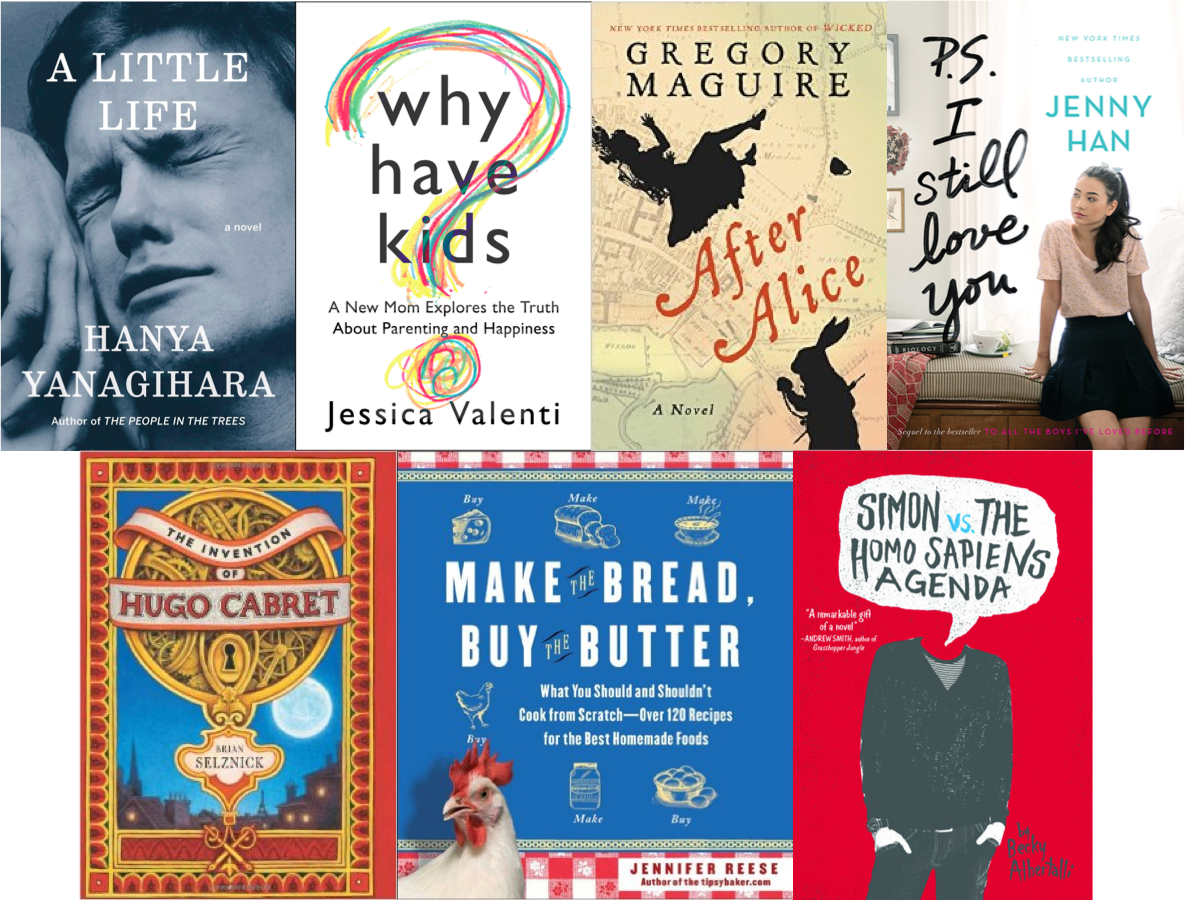 A last gasp of Summer Reading List pick, and one I was quite excited to read. Am quite excited to read! I've been trying to read a little before bed to tire out my brain, and picked this one up. I'm about 75 pages in, and I have to say that YES this is book is just Up. My. Alley. 100%. I could read about packs of 20-somethings traipsing around their lives for days. And Yanagihara's prose is just that delightfully smooth narration that makes you forget that nothing is actually happening and then, bam, how have 75 pages gone by already? Love it.
But you know what? The book is really heavy. I have a galley, and even that is about 100 lbs. Trying to hold it up in bed is tiresome. And also, I look at all 736 pages of it and think to myself "are you really going to spend XXX hours reading a superfluous grown-up book when you could be reading XXX pages of kid lit?" and then I start to rethink my entire life and my choices and that is just not something one wants to do before bed. So I might let this one go.
Do you like reading alarmist or anti-alarmist articles about American domestic decisions? Well I certainly do! I'm sure that is where I heard about this book. I was in the mood for some easy-reading nonfiction one fine afternoon and this one was on shelf, and I read about half of the essays before my attention was dragged elsewhere. I liked them okay, but like a similar read – All Joy and No Fun – I think the book could have been more accurately titled 100 Reasons Why Kids Are Terrible But I'm Trying Really Hard For This Book Not to Be a Downer. So, interesting, but somewhat depressing.
Nothing says "FREE READING" like picking out a nice galley from your drawer of shame to read on the train home. I spent a few commutes falling down the rabbit hole behind Alice… and Ada… and then every other character? I don't know, I didn't finish it yet, but when I left there were a lot of folks down there in Wonderland. And also, above ground, Alice's older teenage sister is gallivanting around. And also Charles Darwin.
I read To All the Boys I Loved Before back in August, when I was still finishing books. I freaking loved it. So what better to bust a reading slump than picking up the sequel, which was sitting *conveniently* on my very own bookshelf?
Well, it worked for a few days, but it wasn't a slump-buster. Perhaps because I read the first installment so recently? For me, this book was all about the warm tone and the enjoyment of spending time with the Song family; maybe some absence would have made my heart grow fonder?
I have no idea. This is turning into a strange concept for a blog post. "Why wasn't this book the exact right book for me at this moment? Why couldn't this book overcome my busy schedule and mercurial moods?" I have no idea. I'll be back for you, Song girls, I will indeed.
Ooooookay. So this one is filed under Epic Library Fine Fiascos. You know that thing where you are trying-trying-trying to actually read the books you've checked out, but somehow 5 renewals are just not quite enough to finish a highly illustrated book with plenty of white space on each page? And then you have so many overdues that your Overdrive account gets shut off?
No? I'm the only one?
So I'm not blogging or reading… so what have I been doing lately? Going medieval on my family budget, with an emphasis on not spending so dang much on groceries. Since I haven't had much time for experimental cooking this past year, I was excited to get back into the kitchen. The intersection of these two desires is Reese's book, which breaks down which homemade goods are worth the sweat and which ones are just too laborious – and, interestingly, which foods are a pain in the butt to make AND cost more money.
I was expecting a useful text, but I wasn't expecting to read this straight through. However, Reese weaves little narratives in between recipes; kitchen fails and successes, stories about favorite restaurants and shops, misadventures in chicken-rearing. Very readable.
But it's also a cookbook, so I'm sure I got to a really interesting looking recipe for ricotta, decided I would become a home cheesemaker, and put the book down and forgot to pick it up again.
Also, forgot to make cheese. But that's just the kind of life I'm living right now.
Toward the end of the month, I was starting to feel a little unhinged. So many unfinished books! None close enough to being finished! Why did I do this to myself? Whatever happened to my four book rule?
So I decided that what I needed was… to start another book entirely.
Yes, this made sense at the time.
But, here's a SURPRISING TWIST ENDING TO THIS OVERLY LONG, NOT THAT INTERESTING POST! –
I finished it this weekend!
So yes. The title of this post is a lie. But that is what happens when it takes you more than seven calendar days to post a blog. I'm not giving up just because I just *happened* to undermine my central premise, folks.
Anyway, what did I think? I thought it was cute. It read smoothly, the plot was fairly compelling, and the romance was the good kind of YA romance. And by that I mean the of romance kind I like. Also, a two-boys romance.
Also, also, I officially need to finish more books so I get back to writing normal-person blog posts.