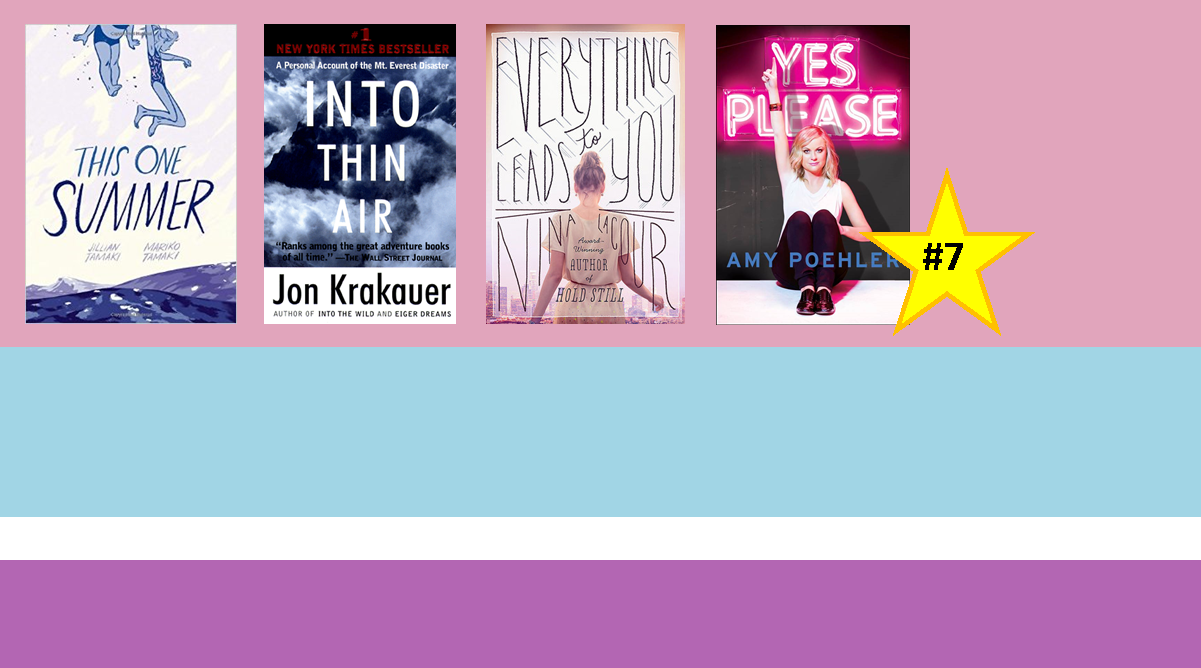 When it comes to handing out awards for media, Generally Circulating Wisdom says the later a book is released, the more likely it will receive an award. While my experience is just one of many (and as I mentioned yesterday, the only criteria or standards I employ here comes from my gut), I have to say that the Generally Circulating Wisdom does not hold for me. Reviewing my own reading year almost always stirs up some strong feelings for books I read in January or February – or even December. My favorite book of 2012 was one I read on Christmas Day, for goodness sake.
Howeverrrrrrrrrr…. Yes Please was the last book I read before my arbitrary cut-off date this year, so maybe I'm not so unconventional after all. I chose this book on a whim, not because I am a huge fan of Amy Poehler. I mean, I don't *dislike* Amy Poehler at all – I'm just not an overly enthusiastic fangirl or anything. I was in the mood for something fun and not super dense to listen to, and I must have logged into Overdrive at the exactly right time because this Brand New Super Popular Book (currently  340 holds on the physical book at my library!) was sitting and waiting for me. And wonder of wonder, miracle of miracles, it was really, really good.
Amy Poehler strikes just the right chord with her collection of personal essays. She's self-deprecating without undercutting her buckets of talent and myriad accomplishments, irreverent without sacrificing her straightforward, intimate tone, and really just a great storyteller. The stories she selects from her childhood and teen years are uproarious and personal and give the impression that she still has a deep appreciation for her family life and upbringing, which is something I like read about. Her stories about coming up in comedy – the first taste, the rejections, the Big Break – capture a deep respect for her industry and how happy and lucky she feels, but also how relentlessly heartbreaking it can be to commit to a creative lifestyle. There's a lot going on in this memoir – if you have the good fortune to listen to the audio version, there are a lot of guest stars, too! – but Poehler's great narrative voice strings the stories together. Just a few stories in, I was ready to listen to anything Poehler had to say. For the rest of time.
And now excuse me, but I have some television to watch. You see, I'm finally getting around to watching Parks and Rec.