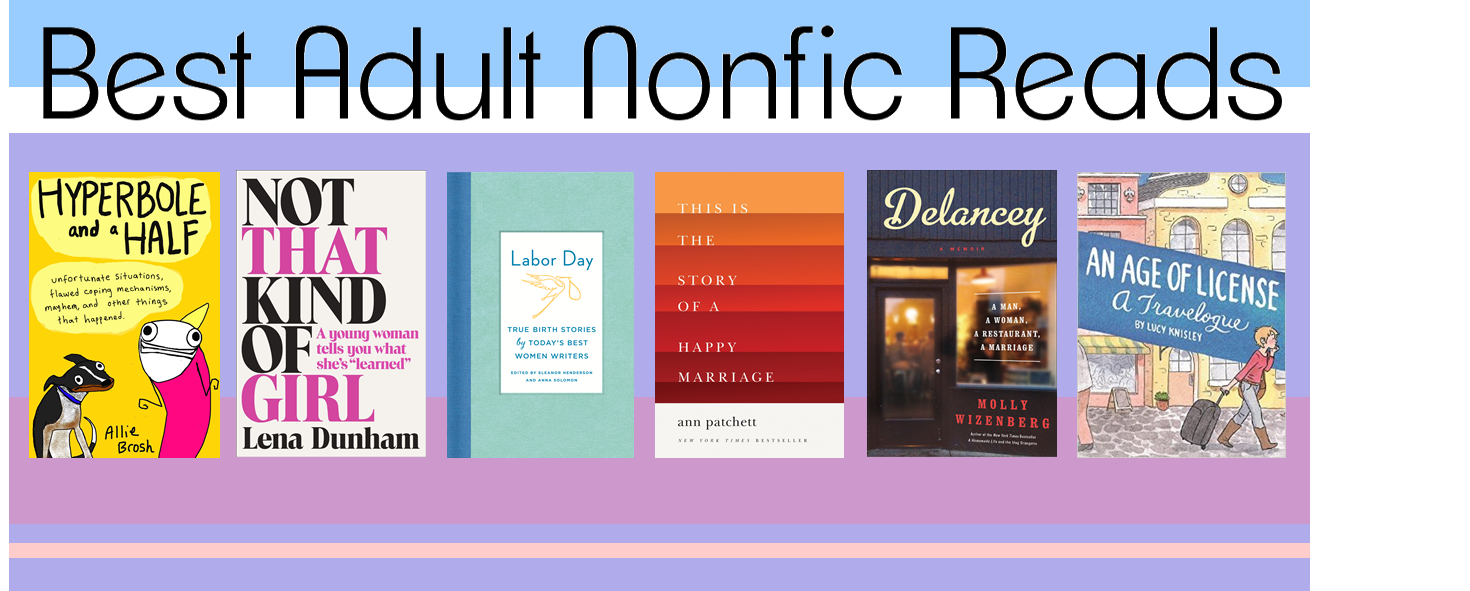 I am a red-blooded twenty-something human on the Internet, so naturally I am an Allie Brosh fan. Her web series – also titled Hyperbole & a Half – picked up traction while I was in grad school – a time when my friends and I were especially primed for Brosh's deadpan remarks on the unglamorous bits of adulthood.
This is pretty off topic, but one of my favorite grad school friend moments went a little like this –
Lady Friend: [something I can't remember]… ALL THE THINGS!
Guy Redditor Friend: That is not how that meme goes!
Lady Friend: It's from Hyperbole & a Half.
Guy Redditor Friend: I don't know what that is, but you are wrong. It's a meme. From the hallowed halls of Reddit.
Lady Friend: I apparently cannot express to you how wrong you are, so I give up.
Anywaaaaaaayyy… I used to be a casual Allie Brosh fan, but after reading her first full-length book I am a full-fledged, raging Allie Brosh fan. Don't let the deliberately childlike illustrations fool you – Brosh is brimming with the effortless, invisible kind of talent you wish you had. Her narrative voice is distinct, dry, and authoritative. She zeroes in on weird, evocative stories from her childhood that are both informative to the kind of adult Brosh grew up to be and a bit unsettling. Brosh is a storyteller supreme, and I hope she keeps at it for a long time.
Speaking of ladies who may be a voice of of a generation… here's Lena Dunham; it seems I was quite the fan of millennial lady writers this year. I am, in general, a fan of Dunham's work. GIRLS is one of the handful of television shows I keep up with, and while I find the characters occasionally infuriating I am still quite interested in how they will manage to pull their lives together at the end of the episode/season/series. Dunham's book is similar in that way – her stories are rarely neat and tidy, the kind of womanly life advice that celebrity memoirs tend toward. No, these are stories about being a weird kid, having a slightly bizarre (and affluent) upbringing, about bad boyfriends and complicated friendships. As a fan of the show, it was kind of fun to see how Dunham takes strands from her life and weaves them into characters and events on the show, but I don't think liking GIRLS is a prerequisite for liking this book. What really resonated with me was how Dunham talks about the particular preteen and teen culture of the mid-nineties that I grew up with – I can't say I've ever read a personal essay about what happens when 11-year-olds discover the Internet Chat Room, but I have certainly lived through that strange moment in technological history. I also admired how Dunham portrays herself as a younger person – plainly, with a sense of humor, and without a whiff of nostalgia, as though she's not looking back on someone that she was but at the person she still is. I'd argue that it's this perspective that sets Dunham apart from other young artists. I do wish GIRLS plenty more success – if the show were to get cancelled before I find out what in the world happens to Shoshanna Shapiro, I would flip – but I also hope that Dunham keeps writing books as well.
If you thought Lena Dunham was polarizing, well, how about a bunch of birth stories? Is it possible to be neutral about birth stories? I feel like either you like reading them or you would never poke one with a ten foot pole. Well, I like birth stories. A lot. They are personal, filled with all sorts of tension. Reading birth stories makes me feel connected to the rest of woman-culture, all of those ladies alive and gestating now, just like they've gestated since the dawn of time. If even looking at the word "gestating" makes you queasy then by all means look elsewhere for a good read. Otherwise, this was a really great collection of contemporary birth stories written by writers who actually know how to write. No offense to all of you birth-bloggers out there – I still love reading your stories as well – but before I picked up Labor Day it never occurred to me that there was such thing as the "literary" birth story. And you guys know how impossibly snooty I am about "literary-ness." That was a joke. I think. Either way, this book rose to the top for me because not only was it directly up my particular alley, it also introduced me to quite a few new women writers – I'm excited to explore their non-birth-related prose. I mean, I'd read more birth-related prose, too, but you know, there are only so many babies that one group of women can produce. If only the Duggars were talented writers… Okay. Officially ending this review NOW.
Boy, did I read a lot of essay collections this year! Of the bunch, this is probably close to being my favorite. I am the only person on the planet who has not yet read and loved Bel Canto, so this was my first introduction to Ann Patchett. I was hooked. So hooked that this embarrassing scene happened: I began listening to the audio version of this book because it was on my TBR list and it was available when I needed a book. I listened to the first few minutes, the introduction, where Patchett gives that mandatory overview of what is to come in the book. She mentioned all of these fascinating articles she'd written, and I was so intrigued that I actually stopped listening and started searching the Interwebs to see if I could find one of these articles to read. I missed the bit where this was an INTRODUCTION and that all of the articles she was teasing would… ah… comprise the rest of the book. Anyway, this was my first exposure to Patchett, and I was completely taken in. The essays range from stories about growing up, stories about being a writer, stories about training to join the police academy, stories about her marriage, her dog. Patchett is the kind of essay writer that would inspire me to read her grocery lists, and I really loved listening to her read her own work on the audio version.
Delancey by Molly Wizenberg
Is it obvious from this list how much I enjoy memoirs? Well. It's a scientific fact. I do love me a good memoir. I also love Molly Wizenberg – Orangette – an awful lot. I read A Homemade Life waaaaay back in the day, so I was pretty excited for this follow up. I was definitely not disappointed. From what I recall (many, many years and many, many books ago), A Homemade Life was a kind of encompassing, snippets from an entire life kind of memoir that ends around the time she meets the man she wants to marry. Delancey picks up with Molly's marriage to her husband, Brandon. As a young married lady myself, this is juuuuust the kind of memoir that turns all my cranks. It's a memoir about getting what you want out of your life, but then what? For Molly and Brandon, the "then what" ends up being a restaurant. The restaurant – Delancey, a pizza restaurant in Seattle – takes over their married life, in good ways and in bad. Wizenberg writes as a chronicler of the fascinating (and occasionally horrifying) work required to get a restaurant up and running, but also a chronicler of the ways this major project affected her relationship. It's an honest, personal story about a particular couple, but it's also a story about discovering your passions and pursuing big dreams with another person by your side.
And did I mention the recipes? The recipes. Oh my word. There are only a dozen, but it would be worth the price of the book to have them even if you don't read it. There's a sriracha shrimp recipe that was so good that I can't even explain it. I made it again… and again… and again… and now that you mention it, I might make it again tonight
I was not as blown away by Lucy Knisley's 2013 graphic memoir – Relish – as was the general public. I enjoyed it – and I do think that her chocolate chip cookie recipe IS, in fact, the best chocolate chip recipe in existence – but it as just a little more nostalgic that I like to see in a memoir (especially those written by under-30s). But an Age of License? Yes, yes please. I was a big fan of Knisley's first graphic travelogue – French Milk – and this follow-up travelogue really reminded me of how much I enjoy Knisley's perspective of her own life, and also her lovely drawing style. An Age of License covers Knisley's first mostly solo trip around Europe, where she attends a comics convention as a presenter, travels about France with her mother, and meets up with a sexy vegan Swede. This is a fun – and gorgeous – account of Knisley's trip, sprinkled with brief meditations on the transformative nature of travel – and the transformative nature of your late twenties.
Up next… Books for the Young Adults