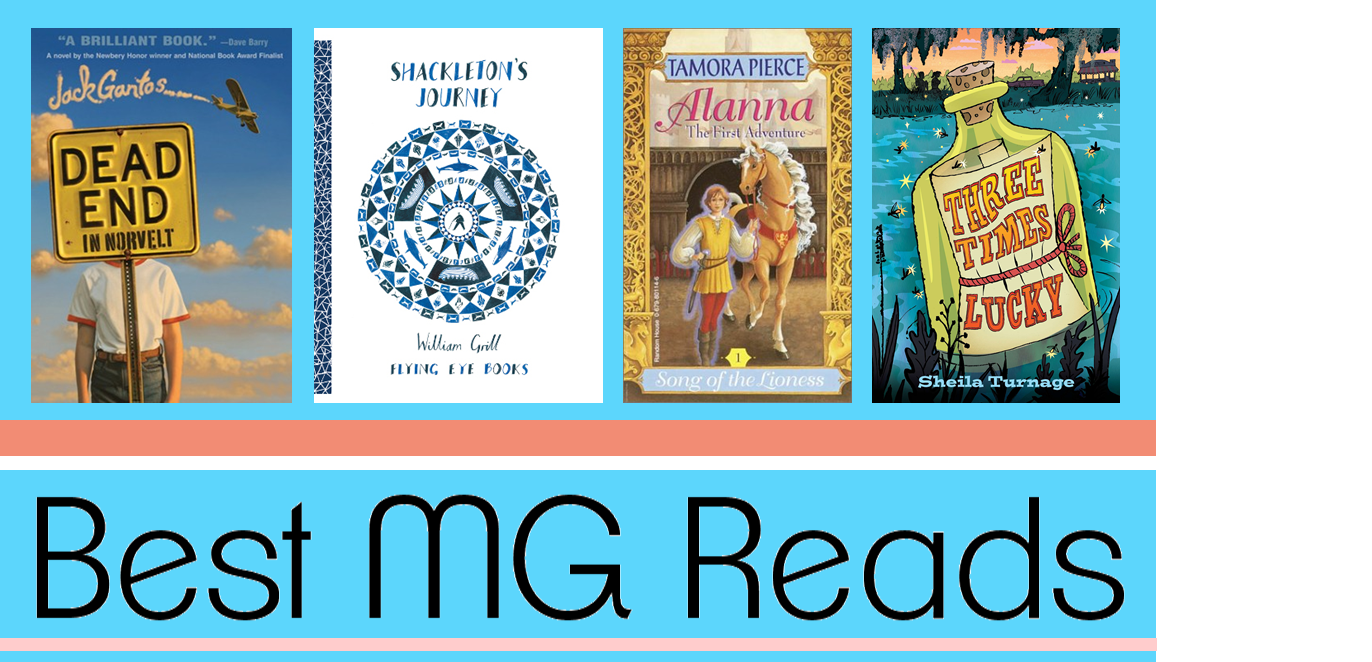 So, it took me about seven years to finally read this book. I had an advanced copy way back in January of 2012, apparently. I tried to read it that summer… and the summer after that. I even took that galley with me to Italy……. where I did not read it. And then when it came time to pack up and head home, I purposely abandoned it at our Airbnb to make room in our suitcase.
Over the years, I've had a taste of pretty much everything literary that Jack Gantos has to offer. Some Joey Pigza, some Jack Henry. I read half of the Love Curse of the Rumbaughs and Hole in My Life more than once. Dead End in Norvelt had all of the fearlessness and oddball humor that I've come to expect from Gantos, but then there was just this heavy layer of chaaaaarm that just did me in. Jack's voice was earnest, a titch whiny, prone to emotional outbursts, and completely endearing – pitch perfect middle grade, really. This is a historical comedy that reminded me of Gary D. Schmidt… but to be honest, I find Schmidt-like fiction to be a bit… ah… cloying. The kind of books that adults think kids should like. But Gantos paints Norvelt with an edgy weirdness and populates the town with bizarre side characters – choices that definitely cut the sweetness.
So, I'm sorry that it's taking me so long to recommend this to y'all – as if you need me to recommend a Newbery Award winner – but here I am, recommending it, at the tail end of 2014.
So my mother accidentally reads books about mountain climbers and sometimes, I accidentally read a lot of books about Ivory Billed Woodpeckers. And now, I am starting to think I also accidentally read books about Arctic adventures, either fictional or not. Off the top of my head, I've recently read The Impossible Rescue, The White Darkness, Where'd You Go Bernadette, The Magicians, No Summit Out of Sight. That's a lot of ice.
What I am trying to say is, I've read a lot of books that talk *about* Mr. Shackleton. I knew that he made some trips down into Antarctica, that he was a pioneer in Dangerous Cold Weather Exploration before the days of Gore-tex and emergency helicopter flights and other modern amenities that, oh, keep humans alive in extreme weather situations. But in Shackleton's Journey, William Grill shows you exactly (e.x.a.c.t.l.y.) what they did have, in glorious, gorgeous colored pencil drawings. Grill chronicles Shackleton's journey from beginning to end, illustrating every supply, every useful, adventurous man who boarded Shackleton's ship – even the sled doggies. I could talk children's-lit nerdy at you about trim sizes and visual vs textual information and blah-blah-blah, but I will wrap this up by saying this is a gorgeous piece of book that tells a fascinating, true story in a respectful, hopeful way.
Here's something sad: part of my introduction to fantasy fiction is an introduction to how dude-centric fantasy fiction can be. Is it that hard to imagine a power structure that isn't ridiculously patriarchal? Must every fantasy author borrow only the most misogynist bits of history when building their own medieval fantasy world? Tamora Pierce's Alanna is proof positive that you can – and should! – break some gender norms in fantasy fiction. While dressing as a dude in order to attend knight training, Alanna becomes every bit the medieval fantasy hero that you'd expect. You also get the idea that Alanna would kick just as much ass if she were dressed as a lady – she's just enduring the extra work of concealing her sex because the world she lives in is tragically backwards. None of these dudes are even any GOOD at fighting. Eye roll. Alanna, I dug you pretty hard this year.
Now, I am certainly not as widely read as I'd like to be, but here are some sweeping, unsubstantiated generalizations about middle grade fiction: according to the Powers that Write/Edit/Publish/Promote kid's books, there is always room for another
fictional Southern small town populated with quirky locals
kid who runs a wannabe detective agencies
dead mother
Seriously. I invented a lot of imaginative games and entrepreneurial schemes as a child, but detective was never one of them, nor did I encounter any kid detectives in my day to day child-life. Not so much in middle grade fiction-land. Kid detective agencies are just not-so clever ways to tell a decent children's mystery. Every kid is a detective, every town is friendly and goofy, every mother is dead. Poor moms.
But. But. If the book is Three Times Lucky? And the kid detective is Mo LeBeau?
Then I will gladly ignore every other QuirkySouthernDeadMom book out there. Mo LeBeau has a detective agency, but she would really do anything for a buck. She's in it for the money, not the intrigue. Tupelo Landing is home to a large number of helpful, accommodating adults with mile-wide personalities, but those adults also face some very modern, un-romantic adult problems in their lives. They have secrets – some a little sinister. And yes, there is YetAnotherDeadMom, but I'll just leave that one for when you pick up this gem. It might melt your heart, just a l'il bit.
Up next… Fiction books written for adult people to read.