Hey, you know what is both fun and interesting? Talking about the weather!
I jest. I jest with tears in my eyes, tears of hostility, confusion, and disbelief. It has been such a ridiculous long winter. My apartment actually had heat this year, and we've had weather in the 50s this week…but I'm in some kind of freaky state of seasonal denial. It can't be nice yet. What's going on. How will I dress myself? Will I get sweaty? Can I wear my Bean boots? Surely as soon as I decide I like the weather then it will snow again. Even in July. Nothing is sacred.
This is all to say: I'm getting buzz on these books with summer month pub dates and I cannot yet admit to myself that summer will actually arrive. These books will never exist.
That is where I am at this year. In April. Help me.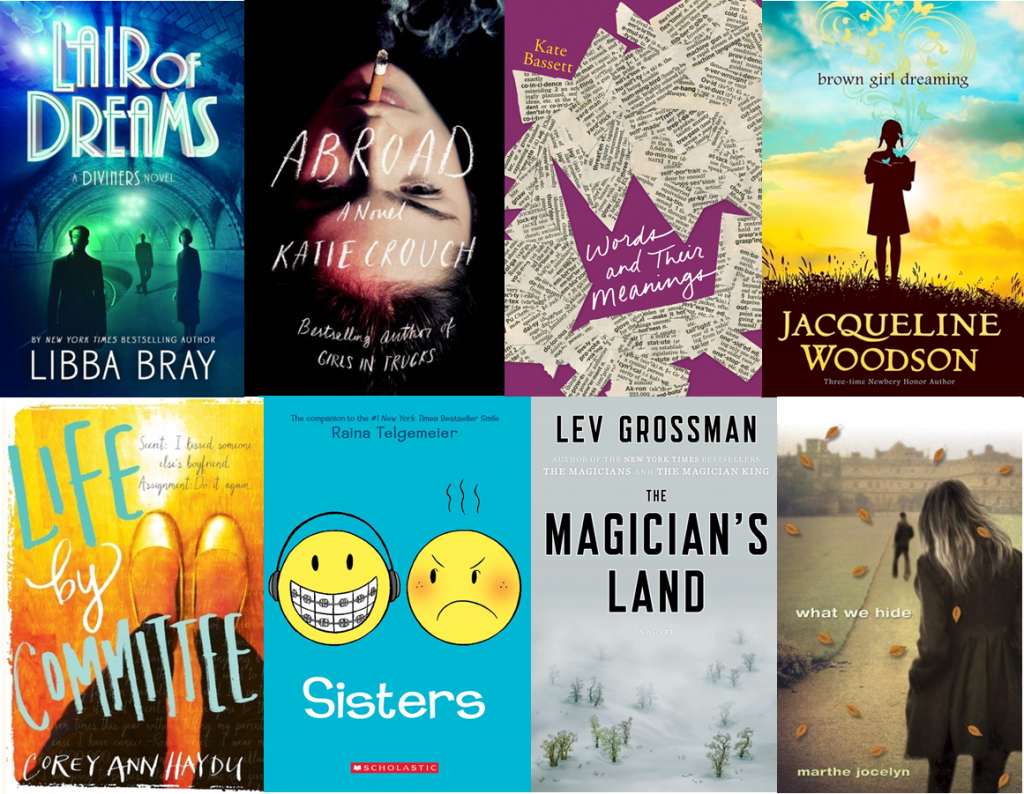 Lair of Dreams by Libba Bray
I have trouble with sequels and series. As in, I rarely read Book 1 before Book 2 is published. Or read Book 2 before Book 3 is published. Perpetually behind. Also see: everything I ever watch on television.
It took me over a year to get around to reading The Diviners, but I read it! I READ IT!! Well, I listened to it, if you want to get technical. Anyway, I feel as though I should read the sequel just because of the principle. I mean, the book was good, too, but I've always heeded the pull of Principle at least as often as the pull of Good Book.
Although I will admit that I am a shameless Judge-A-Book-By-It's-Cover-Girl, and am therefore a little miffed about the cover redesign. As I am about most cover redesigns. Whyyyyyyyyyy must you change covers mid-series WHYYYYYY this is everything wrong with the world I promise.
Abroad by Katie Crouch
This is a book for adults, but oh-boy did the description tickle all of my reading fancies. Teen protagonist? Yes. Set in Italy? Yes. A group of creepy girls who "turn  quaint fantasies into an erotic and dangerous rush through the darkest realms of friendship and love?" Oh yes. A comparison to The Secret History? Well now you're just going overboard, flap-copy writer. I'm officially going to read this book, you can lay off the Jessica-bait.
Words and their Meanings by Kate Bassett
This is a much longer post for a much longer day, but I am struggling with this little niche-genre I so love that is Contemporary Young Adult Realism. Every book that I should love, I don't. I'm perpetually underwhelmed. I'm guessing that I am reading the wrong books – I am trying to like books that fit into some plot or character mold that I admire in other writers, but that just aren't up to snuff craft-wise. Conundrum. Anyway, I'm trying to branch out a little and read some more lesser known/first time authors – books I wouldn't necessarily pick up on my own. I heard Kate Bassett interviewed on Sara Zarr's This Creative Life podcast and added Words and Their Meanings , her 2014 debut, to my TBR list. Bonus: set in Michigan!
Brown Girl Dreaming by Jacqueline Woodson
A new Jacqueline Woodson. No elaboration necessary.
Okay, fine. I will elaborate, with exclamation points. New!! Jacqueline! Woodson! Poems! Autobiographical poems! Middle grade! Amazing!! Wow!!! Will Read!
Life by Committee by Corey Ann Haydu
Ms. Haydu wrote a book called
OCD Love Story
that I really want to read. In fact, it's sitting right over there, in my Leaning Tower of Library Books. I can't tell you how many times I have renewed it because I would be embarrassed. But I want to read it! I do! I have ever since I heard Ms. Haydu on my other favorite podcast,
Narrative Breakdown
.
Since I am officially beginning a season of Required Reading, I'm not sure that OCD Love Story is going to happen… buuuuuttt I will have an opening for a Treadmill Book soon, and from the peek I've taken at her 2014 book – Life by Committee – I think I might skip right ahead to Book #2
Sisters by Raina Telgemeier
I adore Raina Telgemeier. I consider her a Patron Saint of Middle School Girls. A sequel/companion to her graphic memoir – Smile – makes me, uh, smile.
The Magician's Land by Lev Grossman
I have neglected to tell you how addicted I am to Lev Grossman's Magicians series. Apologies. It's a recent obsession, started right at the end of 2013. I have been sitting on a mega-long Magicians post, but I'm having trouble deciphering my own fangirl-ish ravings. This is also why I waited until the last week of December to write about Game of Thrones, and yes, these two loves are somewhat related.
Anywaaaaaaay is there anything better than coming into a series when the first two books have already been published AND the final installment is due within months? Not much! Super excited about this one.
What We Hide by Marthe Jocelyn
Interwoven storylines with multiple narrators. American teens at boarding school in England. The 1960s.
I mean, it's no Series Finale Where Magical Teenagers Go to Magical College, but this one sounds pretty good, too.
Too bad none of these books will be published because there's a big snowstorm headed right to Boston as we speak. I am lying. I am not lying. I have no idea what is going on somebody please send sunglasses, iced coffee, and flip-flops.