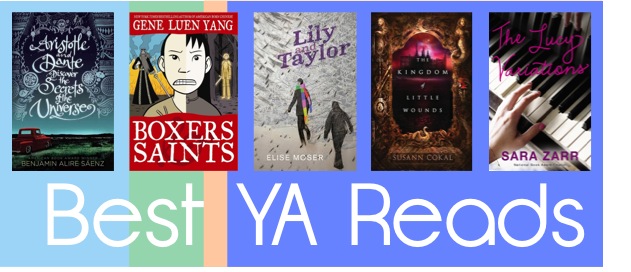 I first met Aristotle and Dante way back in February, but I still remember them very clearly. I feel like "stickiness" is something we could talk about when we talk about book awards. This is not exactly a measurable, definable, or professional term, but I might try to measure, define, or professionalize it in the future because I think it marks the difference between a book that slips through the cracks and one that ends up on a list or with a medal. Nina Lindsay talks about this on the inimitable Heavy Medal blog.  But oh, I really digress. What I meant to say is that Saenz does a top notch job of creating two characters who live their own lives on the page, who are memorable without schtick, who are endearing without melodrama. Beyond that, their friendship is rich and complex in a way that I feel is fairly unique to the genre, especially friendships between boys. A definite stand-out in YA contemporary realism of the last few years… even if this is yet another pick from last year's 2012 picks.
Is this one book? Or two? Do I care? No. I do like a gigantic, meaty graphic novel once in a while. In fact, my favorite book of 2012 was a gigantic, meaty graphic novel, if you recall. Boxers & Saints is not quite as epic as Habibi, but epic enough to require two books, that is for sure. In two opposing volumes, Yang illustrates the 1899 Boxer Rebellion in China. Little Bao comes of age in a small country village. He watches foreigners come into his village, pushing Christianity and justice and disrupting the social order. When a man comes to his village gathering forces for an uprising, Bao joins the rebellion. Oh, and he also channels some supernatural, mythological forces, because this is a Gene Luen Yang book. On the other side of the rebellion is Four, a girl the same age as Little Bao who is not favored in her family. To rebel against them – and punish herself for not being worthy enough for their love – she does the most evil thing she can think of: she converts to Christianity. And talks to Joan of Arc. Anyway a lot going on here. A lot of great art. A lot of overlapping, compelling, competing themes. Each volume stands alone, I think, but are really meant to be read together – if you're going to read Boxers, I'd make sure you have Saints on hand! I had to wait three or four days between the two and it was not a pleasant experience.
Lily and Taylor is a novel about abusive relationships. You might call it a "problem novel," but I wouldn't. I could (and probably should) write something quite a bit longer about the kind of contemporary realism we consider problem novels, but I think the negative connotation has to do with how the central "problem" is treated. If the book seems to exist to showcase a particular dysfunction/disease/crime/anything else that might appear in a news story, it may be a problem novel. Many books about abusive relationships fall under this umbrella, but not Lily and Taylor. The book begins with Taylor watching her older sister Tannis's autopsy; she was Taylor's primary guardian, but after an extend period of abuse, Tannis's boyfriend kills her. Taylor moves in with her grandmother, away from her own abusive boyfriend, but eventually, he finds her. This is intense and gritty and definitely has a cautionary message, but Moser approaches Taylor's life and relationships with such respect – not a hint of condescension. I feel like this is a really strong book that flew under the radar.
Speaking of gritty… 2013 may have been the year for Jessica and the Disturbing Novel. Reading The Kingdom for the Little Wounds was equal parts awful and engrossing. The story spiraled in and around a castle, but what is a Castle Story really about? It's about power. That's what really stuck with me – how Cokal unravels and unpacks the sources of power, for her protagonists Midi and Ava. For the royal women in the castle and the royal men. Does power lie in muscle? In political influence? In lineage, in sex? Is all of that erased if the story ends up written in a different way, by a different person? You can read more rambling about The Kingdom of the Little Wounds here. It is challenging, violent, and complex, but so, so rich.
Lucy Beck-Moreau is a piano prodigy raised by a family of arts benefactors. When her grandmother gets sick, she has a personal crisis and decides to quit piano. Of course, her family of arts benefactors does not approve. Family drama comes to a boil. This is all well and good – Zarr's talent with prose is great enough to weave even this straightforward coming-of-age narrative into something worth reading. However, the stakes are raised significantly when Lucy's younger brother – now assuming the role of Beck Family Piano Prodigy – gets a new, charismatic piano instructor. And Lucy falls for him. Lucy's relationship is fraught (obviously! he is a grown man!) but Zarr writes it straight down the line between black and white – he's an adult, but not that old. Lucy is too young, but she's grown up in the realm of adults, performing internationally. He's obviously in the wrong, but she knows what she's doing. Maybe. The ending is satisfying but not pat. I like all of this. I should really just read all Sara Zarr books always.
Up next… Books I've Read More Than Once. Probably Dozens of Times. Otherwise known as Re-reads!