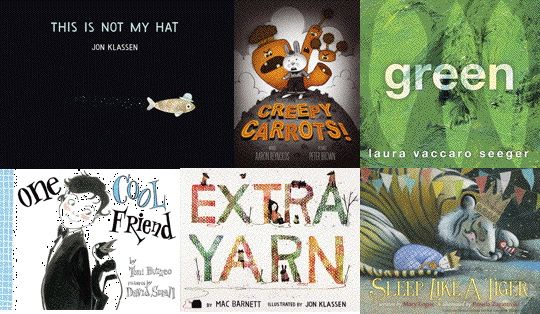 Award
This Is Not My Hat by Jon Klassen
Jon Klassen is a very clever fellow and a talented artist with style that is quite en vogue – spare white backgrounds, simple figures and color schemes, etc. I personally liked the art/aesthetic in I Want My Hat Back better, but I think that's just because there's so much BLACK in This Is Not My Hat. It's jarring. But I am glad to see Klassen get his due. Especially because I am on Team Candlewick.
Honors
Creepy Carrots! by Peter Brown and Aaron Reynolds
I haven't had a chance to look at this book yet, but I definitely flagged it some time during the Fall as one of those books that I thought was uncommonly weird. I can dig uncommonly weird books getting major awards. I can.
Green by Laura Vaccaro Seeger
I love how simple and painterly this book is. A simple concept book that is beautiful and spare. Not even a concept book, really, just a book about green. Green! The concept of green. If you can make a book about green and rock it out, you can get a Caldecott Honor – fine by me.
One Cool Friend by David Small and Toni Buzzeo
Another one I haven't read yet, but I worked for 2 years at a library in Western Michigan so David Small is a hometown hero. Woohoo!
Extra Yarn by Jon Klassen and Mac Barnett
This one, I like. A lot. And I'm not just saying that because I watched these two young men charm the pants off of a room of librarians. I'm saying that because it's a book about knitting that is clever and colorful and lovely.
And also, I was one of those librarians.
Sleep Like a Tiger by Pamela Zagarenski and Mary Logue
Alright, I haven't read this one either. I am bad at reading picturebooks. And also, this one got caught in our library-not-ordering log jam. I will judge a book by it's cover and say that I would like it. It looks like the kind of art you might rip out of a book and frame to hang on the wall of your trendy child's nursery.