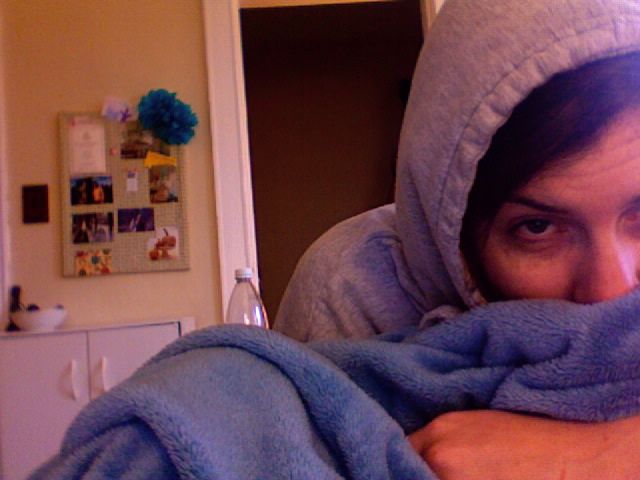 October 28 – November 3
I have to say, in the absence of multiple jobs and assignments and school breaks, it's becoming increasingly difficult for me to recall the activities on any given week.
If I was being entirely straightforward in these weekly posts, they would all be a cut-and-paste version of the following:
Wake up, make coffee in the dark, try to get warm, try to wake up, try to write.
Go to work, do work, listen to podcasts.
Come home, make dinner, watch some TV, call some people, read some books, clean some things.
In bed by 10:30.
That's it.
And this is what I look like for most of it, because it is perpetually fah-reez-ing in my house. Brr.
Reading:
Books about war, being a gay teenager, and Chuck Close.
Smashed by Lisa Luedeke
Happier at Home by Gretchen Rubin
Watching:
Breaking Bad
On Sunday night, we had a highly enjoyable viewing of Hunger Games on our couch. We've had this couch for over a year now, and I don't think we've ever sat down to just watch a movie on it, since we are perpetually on laptops and sitting at computers and in our old apartment we had a futon and a couch in the living room. HOWEVER, I just wanted to say that despite our couch's ugliness and free-from-the-curb-ness and leather-y-ness, it is ideal for two people to lay down together and watch a movie on a Sunday night.
Listening To:
All sorts of Genius playlists, musical soundtracks, random Spotify CDs, and basically I am out of control. Anyone reading, please tell me what CD I should listen to, I'm running out of ideas.