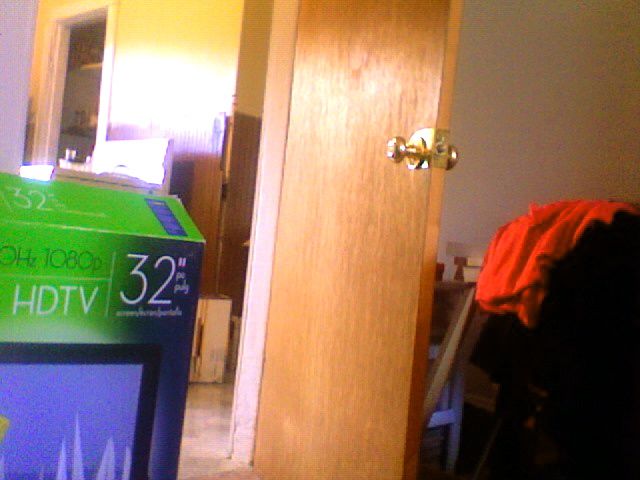 September 2 – September 8
I wish I could say I spent all week unpacking, rearranging furniture, making trips to IKEA, and otherwise settling in to this new home. However, my horrible paint job has yet to be taken care of, so my furniture must remain a few feet from the wall and my boxes full of pictures and other tchotckey-things must remain unpacked and in the way.
The good news? My subtle persuasion skills saved me from another year's worth of printer-paper-white walls. Hello, "Navajo white." The boy called it "vanilla ice cream," which I think is a decent assessment. Not quite as subtle as I'd like, but definitely better than white-white-white.
The bad news? They are not done yet. I am in apartment purgatory. My picture frames remain unhung. My (free from the curb) dresser broke during the move and I am dressing myself out of cardboard boxes again.
The best news?
Peach has become brave enough to hang out in the living room, even with all the scary street noise outside the windows.
I cooked a handful of simple meals in my awkwardly arranged, full-of-boxes kitchen.
My walls are Vanilla Ice Cream.
I squirreled away a $100 giftcard to spend at IKEA next weekend.
On Friday, we sat together on the couch and had a conversation about ordering The Same Dish from The Same Restaurant for dinner, and the phrase, "Well, we can order it because we've never had it in THIS apartment."
The cross-breeze can't be beat.
I am almost ready to be Jessica again.
Reading:
Listening To:
Podcast.podcast.PODCAST.PodCAST. I have a PROBLEM!
Tom Waits – The Mule Variations
Watching:
HBO OnDemand = life is a Girls marathon. What a good little show.