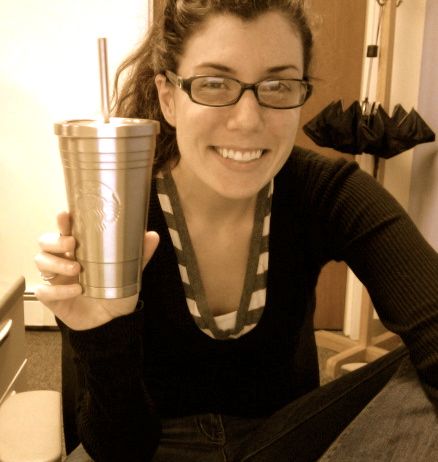 June 17 – June 23
I am really into beverages. I think most daily activities deserve an proper drink to accompany. Besides those grocery trips in college, where I would walk in with 50 dollars and walk out with 2 Lean Cuisines and soy milk, lemonade, hard cider, bottled water, and  three varieties of juice, it hasn't been much of a problem.
However, since I've added an extra cup of coffee to my regime, and since that coffee usually comes in an oversized iced variety that takes me a few hours to finish, I've been feeling a bit dehydrated. I like water, but I am literally drinking too many other drinks to have time/room in my stomach for H20. This is a problem.
This week, I made a good intentioned impulse buy, to encourage my water intake – I bought a stainless steel cold cup. I love it. I love it so much. I want to drink water out of it every second of every day.
It reminds me of the time we went to Wilmington, NC – Dawson's Creek Land – and the air conditioning wasn't working so great in the minivan that summer, so we were hot, and we were hungry. We walked into the first restaurant we found, and they poured us glasses of ice water into stainless steel chalices. I was entranced then, and I am entranced now. I never thought that one might actually buy a metal chalice, but I did. From Starbucks. Did you know you could buy a chalice at Starbucks?
In other, less random news, that guy I live with is home for the summer. Since it seems I occasionally have a morning or evening off, it's been nice to spend some of it in his company. We have also started a house-wide "let's wake up early" plan, accompanied by a house-wide "let's not become obese" plan. Out the door by 7 a.m. to run/walk, Monday through Friday. I suspect we will all be ultramarathoners by September 1.
Reading:
Watching:
A few more episodes of LOST
Started watching the Up documentary series… we are halfway through the 14-year-olds!