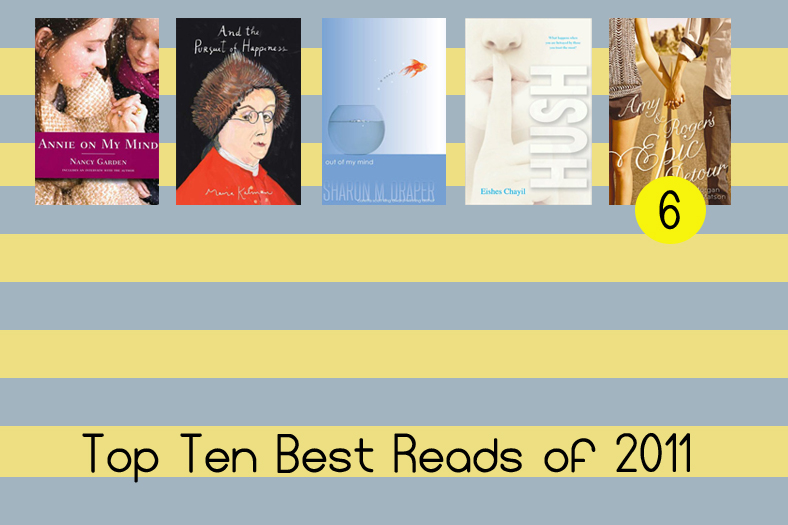 Okay. I've talked about a few syllabus books that surprised me by being really good reads. But you guys… I have like, 30+ books to read each semester. 95% of the books I'm required to read fall somewhere between a monotone kind of "oh, well, that was interesting. I really like x, y, z… " and "Uh… ugh. What the heck." I am so happy to do my reading, I swear, and think it is so essential to read outside your preferences… but the books I read for school are not, typically, the same ones I will buy for my bookshelf, that I will read multiple times, that I will love foreverandeverandever.
Amy & Roger's Epic Detour was the first big exception. This is 100% the kind of book I love, and it magically appeared on my Realism syllabus last Spring as a selection for our "New Voices in YA" class period.
Amy is faced with one of those probably-not-likely-in-real-life-but-hey-let's-roll-with-it scenarios: her father has just died, her younger brother is in rehab, her mother has decided to move from California to Connecticut but for some reason cannot take the family car; Amy, rocked and reeling from all this sudden change and tragedy and only 17-years-old, simply MUST drive the car across the country on her own.
(Because this makes all the logical sense in the world.)
Anyway, Amy's mother makes up for this parental disregard for her offspring by micromanaging her daughter's trip. She will take a thoroughly boring, quickest way from A to B route through middle America. She will only drive X amount of miles a day and stop at specific, pre-paid hotel rooms. And because she doesn't drive anymore, Amy will be chauffeured by a friend of the family – a boy, Roger, who is going to spend his first summer back from college with his dad on the east coast and needed a ride anyway.
The two set off on their journey, stopping in different cities and meeting all variety of local characters. Between CA and CT, Amy confronts her grief and her relationship with her mother while slowly falling for Roger. Of course. Sorry if you thought that was a spoiler, but it wasn't. This is a classic contemporary YA romance – Sarah Dessen on the highway, if you will – but very well done, well-written, etc. There's a bit of multimedia going on with this book as well – Roger's mix CDs, scraps of tickets and receipts, etc. I usually find this gimmicky, but Matson uses it sparingly, like an accent rather than a substitute for content.
And I do love me a good road trip. Next Saturday, I set out on my own Epic Non-detour between MA and MI, and even though it is a long-ass, boring-boring drive through some long, horizontal states… I still get a little excited planning for road snacks and stocking my iPod, and thinking about what kind of epic conversations I might get into. Matson really captures all of this classic road trip excitement and made me want to hop into my car and go.