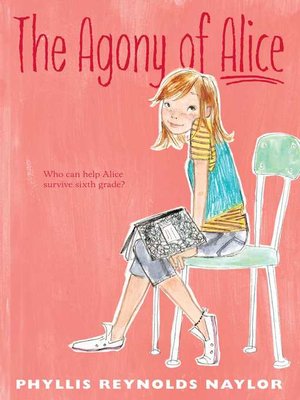 It's the last day of August of my thirty-second year, and I have found myself re-reading Phyllis Reynold's Naylor's Alice series. I began about a month ago. I was looking for a Couch Book. You know, the kind of book that you are happy to open up and read, but is also easy to dip in and out of without losing too much momentum. And it's not The Book you are reading, because The Book could possibly be in your purse or bag or who knows where because it's The Book and you have to read it. A Couch Book stays by the couch.
(Aside: if you have a toddler in the home, "by the couch" may be interpreted as "under the couch," "inexplicably in the coffee table drawer" or "in the very bottom of a toy box.")
Anyway. I started reading The Agony of Alice and it turned out to be a great couch book. I've read it many since 1995, so it's an exceptionally familiar re-read. Like reuniting with the old gang. There's guileless, often filter-less Alice bumbling her way through middle school. Older brother Lester with the purportedly sexy mustache and cadre of girlfriends. Her archetypal best friends – beautiful but prudish Elizabeth and troubled, flagrant Pamela. The chapters are episodic, each one a little story unto itself, but I flipped from one chapter to the next without much effort.
What's best? They are all about 120 pages of easy reading. I'd pick up one in the morning before work, read on the train and while walking through Boston Common. Such slim, lightweight paperbacks! Easy to transport, to hold in one hand while trying not to run straight into fellow distracted pedestrians who are looking at their cell phones. Read on the train ride home, maybe squeeze a chapter in on the couch and oh, look at that, the book is almost done, I might as well finish it off. And in the morning: the pleasure of a fresh new book for a fresh new day.
(An Aside of Ice and Fire: You may have noticed that Alice graduated from Couch Book to The Book. Couch Book is now, FINALLY, A Dance with Dragons. Also a great Couch Book because heck if I'm lugging 1000 pages around town with me. But I'm hoping to finish by the end of September, when book review season will be upon me. I'm only about 400 pages in, so wish me luck.)
Back to Alice. I'm 11 books in, and I'm noticing these later installments are not quite as sweet and speedy as the earlier titles. I'm reading Alice on the Outside right now. It's 176 pages instead of 120, and I think this one mark's Alice's official entrance into The YA Novel. Alice final learns about the finer points of sex from a knowledgeable cousin – not quite the detailed mechanics, but important but adult-y messages about preferences, pleasure, and expectations. Of course she parrots this information back to her eager audience of Pamela and Elizabeth. Then, her school decides to embark on a "Consciousness Raising Week" where an imposed caste system based on hair color proves that even well-meaning white kids don't understand the pervasiveness of "prejudice" (or, more accurately I think, systemic and subconscious racial discrimination?) Oh, and of course – her first gay friend. I don't remember if this book's teetering stack of Contemporary Problems is an anomaly to the series, but I do remember at some point the books started regularly featuring more Issues along with the more entertaining and engaging Plot.
Ah well. Maybe this will mark and end to this little re-read-a-thon. Book Review Season does rapidly approach, when most of my The Books become Review Books. I'm also reading quickly to the end of my personal Alice paperback collection – a break to recharge, and perhaps start scouring used bookstores for out of print Alice single paperbacks, because heck if you ever catch me reading three books published in one binding under a new title. Can you even imagine? Give me the original singles with awful, 2000's covers or give me death.