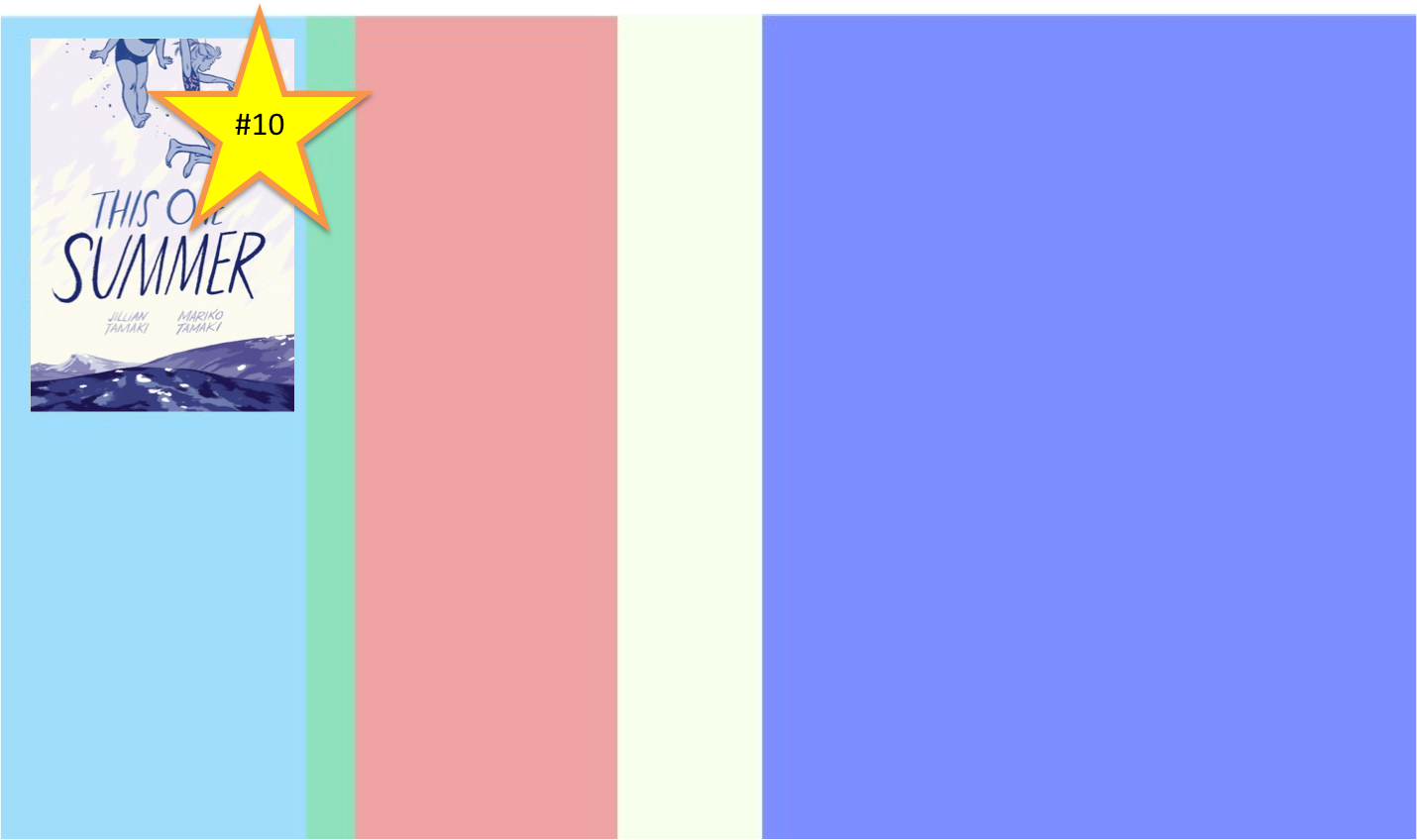 #10 This One Summer by Jillian and Mariko Tamaki
Boy, am I a sucker for a good Summer Read. Seriously. Throw the word "summer" in a book title and I'm in. I blame Sarah Dessen, Summer Sisters, and my parents for letting me go to summer camp.
I picked up Mariko and Jillian Tamaki's This One Summer a few weeks after I returned from my week at the beach, and it was like I'd stepped back into Summer Vacation Land. This graphic novel opens with a series of gorgeous spreads depicting Rose's arrival to her family's vacation home – a cottage at Awago Beach where Rose has spent most of her childhood summers. Rose is our protagonist – a gangly tween who wants little to do with her hippie-ish parents who are struggling with something they don't speak about. Maybe she wants nothing to do with her slightly younger summer friend, Windy, either. Rose's posture speaks volumes – she's all loose jointed and indifferent, her eyes often looking just away from the other characters in a frame, like she's hoping something better might come along.
Both the dialog and the intricate and evocative art work contribute to just bafflingly good character development in this graphic novel. Sometimes I feel like even graphic novels that don't star superheroes tend toward trauma, violence, and Big Stories. This could be the nature of the graphic novel format – it's easier to tell visual stores that involve characters who… oh, you know… move around. But so many of my favorite novels are the interior stories, the books that could never be made into movies. Finally, the Tamakis have captured my favorite breed of quiet, introspective coming of age stories with words and text in this excellent graphic novel. The characters in This One Summer are just as nuanced and distinct as any coming of age novel I've read, and Rose's journey from the last dregs of childhood to the very beginning of adolescence is just as complex.
During one summer, Rose confronts many scenes that put her face to face with the way that adults really live. The guy at the video store maybe knocked a local girl up. Her mother has another miscarriage. She's confused about becoming an adult, and afraid about it, but she's also beginning to emulate it. This impacts her relationship with Windy immensely; Windy is younger, on the the other side of the divide between child and teen, and shows no interest in the kind of things that Rose seems fixated on. Rose pushes Windy around a bit, but Windy has a remarkably – and believably – strong sense of her own character. It's a classic complicated friendship, but I want to say I've never seen a novel handle the nuances of a relationship between older and younger friends quite so adeptly.
What I am trying to say is: this is a graphic novel that is doing things I never dreamed graphic novels could do. It's an entirely different tone than what I've grown used to. The only comparison I can draw is to Craig Thompson's Blankets… which, from me, is a HIGH compliment – his latest was my #1 in 2012 – and alsooooooo…
I might like This One Summer better. Shh.
I would really not be surprised whatsoever if this showed up on the Printz list in January.