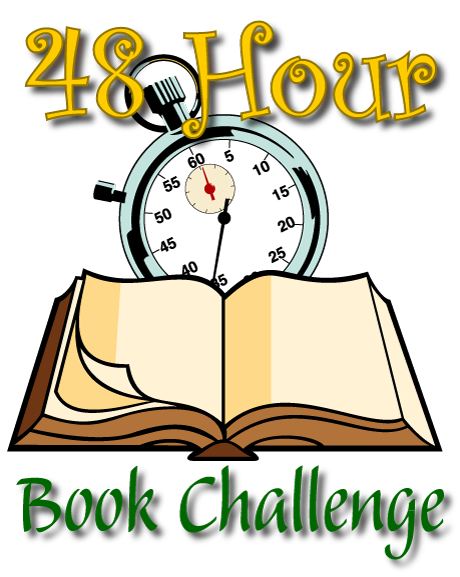 Last week I was thinking wistfully about all the books in my apartment that I never seem to have time to read. Books I've checked out and renewed a zillion times. Books on my Required Reading pile. Those darn delightful BEA galleys. I write from time to time about those months when I don't want to read much and nothing pleases me, but there's also THIS kind of month when I just want to read and read and read and just do nothing other than read. Maybe I just need a reading vacation, I thought. Or maybe just a weekend. Hey, what about that Reading Marathon Thingy that everyone was doing at some point when I was too busy with school to commit? What is that called again?

Well, googling Reading Marathon Weekend Thing Books Blog isn't really helpful whatsoever. I gave up. Thank goodness Bookshelves of Doom shared a link, because, lo and behold, MotherReader's 48-Hour Book Challenge is happening this very weekend! And I am going to participate!
I need my Sunday to A) write a slew of book reviews and B) restore my life to order for the coming week, so I started my 48-hours bright and early this morning. Before work and during my commute, I've already clocked 52 minutes of regular reading (Game of Thrones and Like No Other)  and an hour-fifteen on a new audiobook (When I Was the Greatest). Not too shabby. I'll be squeezing in some audio when I can today, then devoting myself more fully to old-fashioned reading tonight and tomorrow. I feel as though I will be very happy to make it to 12 hours, if I even make it to 12 hours at all, but hey, the fun is in the striving, right? Right. Alright, I gotta go. Books. They are a'calling. See you in 48!